Weekly Overview: Human Rights Situation in Mon State, Karen State, and Tanintharyi Region
First Week of February 2023
This last week, the solemn two-year marking of the coup, was a reminder of the tyranny that continues in Burma due to the junta's systematic violence. War crimes and crimes against humanity are being perpetrated with impunity and unending force. While the United States, Canada, Australia and the United Kingdom announced new sanctions to mark the anniversary, these actions came too little too late for the thousands of people killed by the Burma Army. A referral of the military to the International Criminal Court is needed to ensure that there is an end to military rule.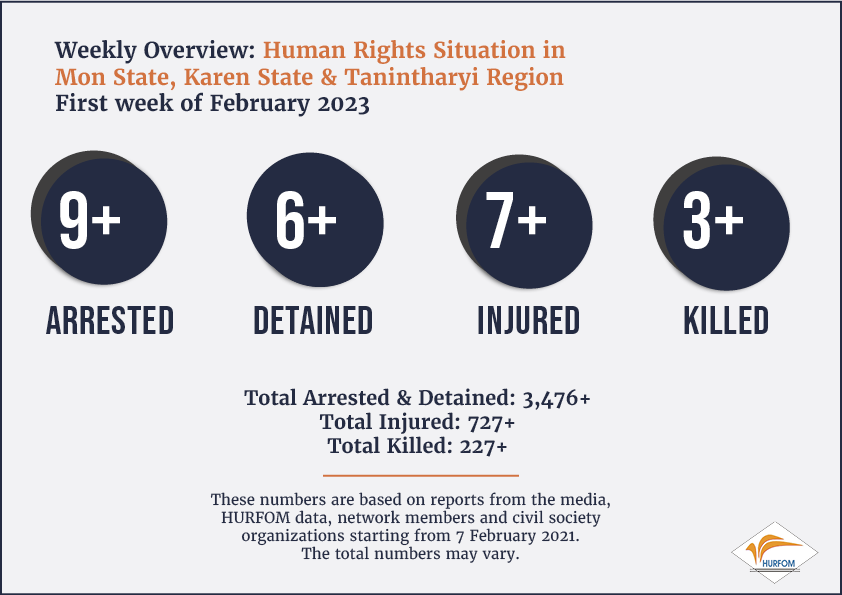 The Human Rights Foundation of Monland (HURFOM) continues to document the severe violations against the rights and freedoms of civilians. In the over 730 days since 1 February 2021, HURFOM has reported that nearly 25,000 people have been forced to flee their homes in Southeastern Burma due to conflict between the junta and armed revolution organizations. After they've left, their villages are often scorched, belongings looted, and livestock shot and killed. In addition, more than 3000 innocent civilians have been arrested and detained. The numbers of those killed are likely much higher than HURFOM, and other documentation organizations can report safely.
We condemn the ongoing human rights violations and call for immediate international intervention and for global actors to pursue accountability mechanisms at the highest level, which put an end to military impunity at last. HURFOM also reported that military affairs observers said that the junta's declaration of martial law in many townships across the country signalled more brutal oppression in pro-democracy groups, civilians, and local resistance armed forces strongholds.
This week, the junta targeted a 71-year-old local villager who lost one of his legs when he stepped on a landmine while repairing a water pipe near the cable-stayed bridge in Baykalwe village, Ye Township in Southern Mon State. Junta troops lay landmines to prevent their opponents from accessing bridges close to their camps:
"In many cases, the soldiers put the landmines just outside their camp's fence for protection. We must be cautious about these unseen dangers while working near the battalions," said a source who wished to remain anonymous.
"It is speculated that mines are often planted near military bases. Three of our villagers had serious injuries in the past, and all became disabled because of the attacks by Light Infantry Battalion No. 586. No group or authorities ever confess these crimes," said another.
This latest incident happened on January 30 at about 10 AM. The local social support team cooperated and helped transfer the victim from Lamai Hospital to the 300-bed hospital in Mawlamyine City.
The fighting continues to kill innocent people caught in the crossfire of the violence. The network human rights documentation teams in the region estimated that at least two residents were killed, 17 people were injured, and more than 4,000 people fled the indiscriminate shells launched by four junta bases in Tanintharyi Township:
"From January 24 to January 31, the junta perpetrated war crimes against local civilians. The fighting led to at least five injuries from my village [Banlamut] and four victims from our neighboring village, BawDeekam, three from Mawtone, another three from Uyinkam and at least two from Thamoke Chone village."
The junta-backed soldiers based in areas such as Light Infantry Battalion (LIB) No. 556, LIB 557, LIB 558, and Artillery Regiments Command No. 306 are the main perpetrators, according to the team receiving the military information from the local armed forces.
Comments