Weekly Overview: Human Rights Situation in Mon State, Karen State, and Tanintharyi Region
Third Week of January 2023
HURFOM: As the year's first month comes to a close, the Human Rights Foundation of Monland (HURFOM) continues to observe and document worrying human rights violations across Southeastern Burma. Thousands have been forced to flee their villages as conflict rages, forcing them to seek safety. HURFOM remains seriously considered for their safety and well-being. Our calls to the international community remain steadfast in calling for change and accountability. The internal structures for law and governance inside Burma cannot be trusted, as the military junta has hijacked all prospects for peace. Global justice pathways and consequences for the military junta are the only possible steps forward.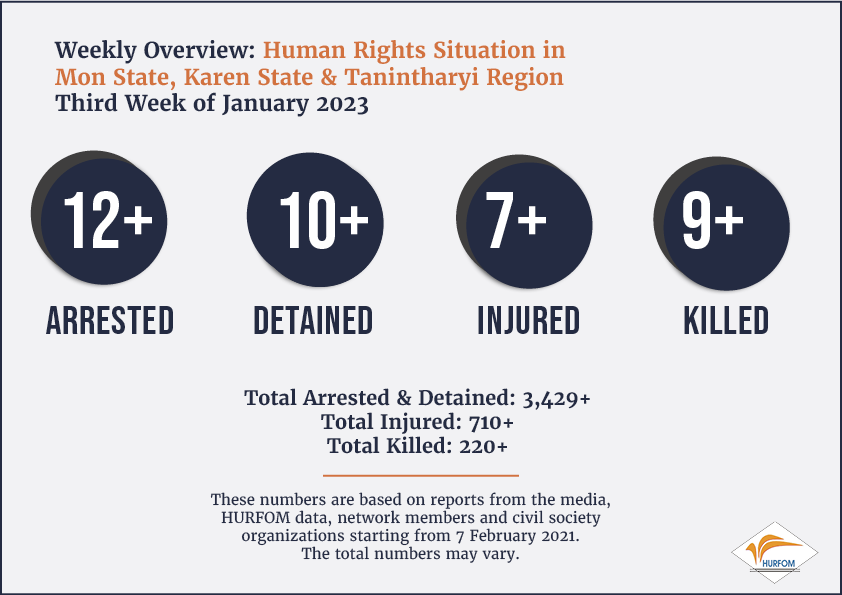 Approximately 1,200 more residents from Karen and Mon States from Kyainnseikyi fled their homes due to increasing armed clashes and offensive by the junta forces in eastern Zami River, Kyainnseikyi Township, Kawkareik District, Karen State and New Mon State Party (NMSP) mixed territory. The IDPs took temporary shelter in Mon villages in the West Zami River. Kyarinnseikyi Township is mainly inhabited by Mon and Karen nationals.
"A lot of villagers are now staying at the Buddhist monasteries, while others are at relatives' or friends' houses," said a villager from Way Thar Le village, Kyarinnseikyi Township.
Artillery shells and bombs were directly dropped onto villages. There were reports of injuries and fatalities of at least eight people. However, the cases of injured or deceased were not yet reported.
Extortion is an ongoing threat to stability in Southeastern Burma. On the evening of January 16th, local villagers reported that soldiers from LIB #285 led by Captain Khin Zaw killed a 33-year-old villager from Shin Pone village, Palaw, Myeik District and took his belongings worth 30 lakhs when the troops entered the village.
"They raided and searched at least ten suspected houses around 7 PM. Junta forces led by Cap. Khin Zaw raided the house of Ko Lin Lin Wai. They killed him and took a gold chain and properties worth 30 lahks. He is living as a fisherman, a native of Shap Pone Ko. Buu just arrived from the fishing boat and came to the village," said a neighborhood resident.
Villagers reported that the responsible battalion, with 40 soldiers, is currently stationed at Shap Pone Village School. The junta arrested five villagers. Two were from this village, and another three men were from other locals. They were arrested as porters. They also confiscated two four wheels drive trucks with the drivers as well," a villager who witnessed these incidents reported.
In Dawei, the junta arbitrarily abducted at least four people, including a 17-year-old girl and young civilians, by accusing them of supporting the Civil Disobedience Movement and the National Unity Government. One detainee's home was also confiscated. The General Administration Department sealed off the area to search for more civilians. Supporters and members of the National League for Democracy are targeted heavily by the junta. In Bote Pyin Township, Kaw Thaung District, Southern Tanintharyi Region, local witnesses reported that the bodies of eight men, including three members of village Admin members appointed by the former NLD government time, abandoned in one place, located in Ywa-Hae-Luu Kaw Thaung District, Southern Tanintharyi Region.
"All eight bodies were found dumped on the side of the road. We guess they were left since January 15. Such shocking scenery to see a mass of people being slaughtered. I feel more and more that no one is safe now."
Comments