HURFOM: The 8th of August commemorates the anniversary of the 8-8-88 uprisings which took place 34 years ago. The historic day in Burma's history recognizes the sacrifices that the country's freedom fighters have been committed to for decades. Today, the struggle for peace and federalism continues.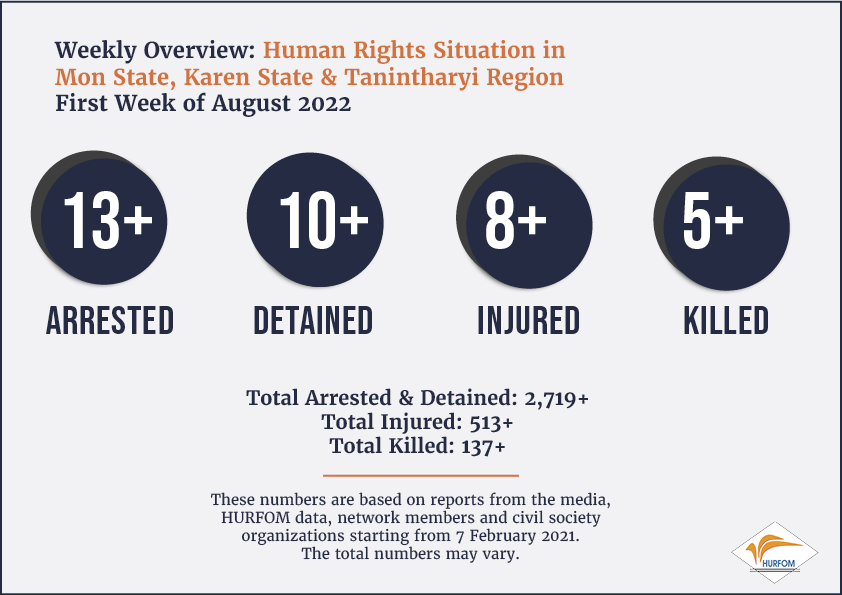 During the first week of August, HURFOM documented rising numbers of human rights violations being perpetrated across target areas of Mon State, Karen State and Tanintharyi region. In addition, three political activists were sentenced by the illegal junta under draconian laws and policies to between four and fifteen years. Five people were killed, including one young civilian who was indiscriminately shot to death on 30 July at 7:30PM. The victim was only 27 years old, and a resident of Thwe Toud ward. He was killed when he refused to stop at a checkpoint and was chased before subsequently being fired upon.
HURFOM has reported that junta soldiers and police have tightened security in Mawlamyine, including stopping vehicles for inspection and conducting household checks for visitors. Junta forces have been instructed to shoot people who refuse to comply.
In another reported incident over the last week of murder, in Ye township on 31 July around 11PM, Maung Lin Aung, age 21, and a key member of Lamine Charity Youth Association, was shot by the junta backed police forces. His body was found near the fence of the police station. Lamine residents are questioning what actually took place that resulted in the death of the young social worker. The Lamine Youth Charity Association has said they will continue to work to see the truth uncovered and bring justice for the death of their member. They sent an appeal letter to the Mon State Chief Minister on August 4, 2022.
Meanwhile, arbitrary arrest and abductions are worryingly commonplace in target areas. Local villagers reported that at least five villagers of Bagaw Zun village, Yebyu, Dawei were arbitrarily abducted from their homes. Three of them tortured and killed by the forces. The junta also buried and concealed the bodies: "We heard screams of pain and several gunshots," said witnesses to the murder.
Inside the junta's prisons where thousands of political prisoners have been detained, female inmates at Dawei Prison in Tenasserim Division are in urgent need of personal hygiene products and health care services. The Dawei Prison has more than 100 female prisoners and 40 of them are political prisoners: "The women in the prison need menstrual pads and personal hygiene products. They also need health care services. The prison officials have barred some female political prisoners from access to health care," said a source close to the prison.

Local inhabitants and travelers who use the bridge and road in Myeik District, southern Tanintharyi, reported that the junta soldiers of the Myeik Administrative Council at the Pulog Bridge checkpoint in Myeik District are demanding vast sums of money from those who pass by. This has been an ongoing trend regularly reported by the HURFOM fieldworkers who have reported dozens of civilians being extorted for funds and materials. This is a serious breach of personal and physical security rights.
On 1 August 2022, HURFOM released our monthly summary findings of human rights violations perpetrated in July 2022. Alarmingly, HURFOM's total figures of civilians arrested, killed and injured are rising steadily. Villagers who have been murdered by the junta during their power spree must be granted justice. The military is guilty of war crimes and crimes against humanity. These acts have been on display for the world to witness, including news that the military junta executed four political prisoners on the morning of 25 July 2022.
Comments