Weekly Overview: Human Rights Situation in Mon State, Karen State, and Tanintharyi Region
Week Three, June 2022
HURFOM: Across the last week in Mon State, Karen State and Tanintharyi region, civilians were unjustly subjected to more horrors perpetrated by the military junta. The campaign of fear is emboldened by the reality that the Burma Army has never been held accountable for the crimes they commit, which are in blatant disregard of international laws. The people deserve protection, they are entitled to it as it is enshrined in their rights as civilians.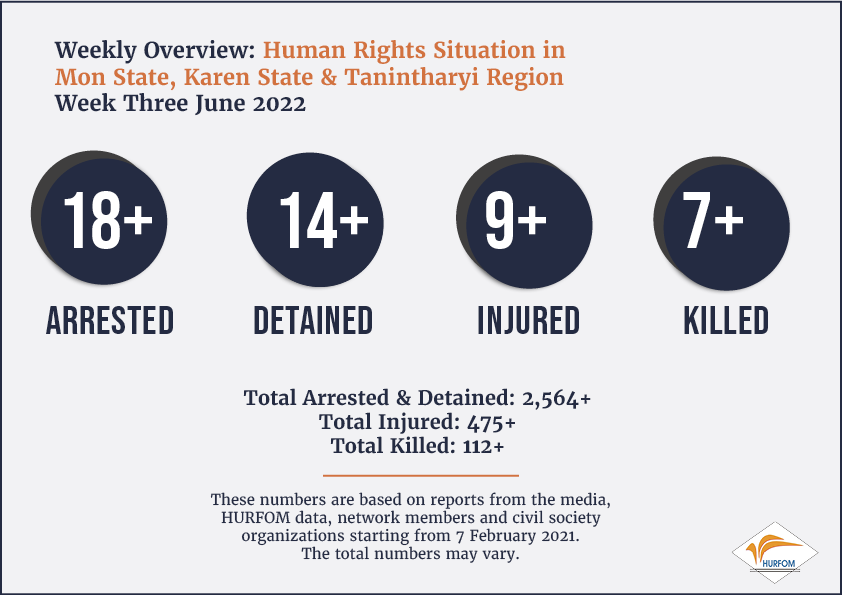 Indiscriminate firing by the junta has targeted youth, particularly young men who the soldiers suspect are soldiers affiliated with various armed opposition movements. These accusations are often baseless, and without evidence. Yet, the soldiers fire their guns regardless. On June 9 2022, three local youths were shot indiscriminately by an ambush patrol of the junta in Dawei. Two died immediately. One was seriously injured in the leg. These young victims are from Thingangyun Ward, Dawei. The junta patrol troops shot them while traveling from Thingangyun to Waku village, Dawei. They were shot at without warning. Another source also described the case: "These young men did not know that the Army was patrolling the area. The soldiers saw the three of them and shot for no reason. They were hit on the spot. These killings and shootings are a reminder of the junta's impunity; they take place without investigations, accountability, or confessions. People are dying without the chance to bestow their death rights," said a 35 year old villager.
On June 12 2022, another civilian was struck and injured by artillery shells fired by the junta.. Myint Maung, aged 45, a truck driver and a resident of Kyaikhto, Mon State was injured in his right thigh, according to a member of the Kyaikto Emergency Response Team. Homes near the checkpoint were also raided and threatened on the night of June 12. Prior to the incident, troops extorted money from travelers at the Moke-Palin Junction checkpoint.
Ongoing armed conflict between the junta and People's Defense Forces are forcing villagers to flee. In Shan Dut village, Palaw Township, Tanintharyi region, the result of intensifying battles led to at least 500 inhabitants from Shan Dut, Kyauk Leik, Ein-Mawa, Nat Ein Taung, and Palaw Kone to seek safety in the forest and resettlement sites located in Brigade 4 controlled areas. Similarly in Mon State, the junta's military actions and offensives have led many villagers in Ah Sin San Pya village, located in Ye Township to flee their homes as the military continues to arrest those it perceives to oppose the coup. The local military frequently conducts searches of abandoned houses of villagers who have fled. The army also destroys any personal property that has been left behind.
Extortion of civilian properties and possessions is also ongoing. The junta security personnel and administration department informed motorcycle owners, whose motorcycles were arbitrarily seized by the junta must retrieve them by paying 400,000 to 500,000 MMK per vehicle (between 215 and 270 USD). In some parts of Dawei, motorbikes were seized for no apparent reason, and people were arrested for extorting money. Many could not afford to buy back their property.

These human rights violations are rampant and demand accountability. In addition to those injured and killed, 20 civilians were arrested this week and used as human shields as well as forced laborers. HURFOM has no news of their release yet.
Comments