Weekly Update in HURFOM Targeted Areas [ Fourth Week of May 2022]
A weekly update by the Human Rights Foundation of Monland (HURFOM) on the situation on the ground. 
Summary data includes Mon State, Karen State, and Tanintharyi region.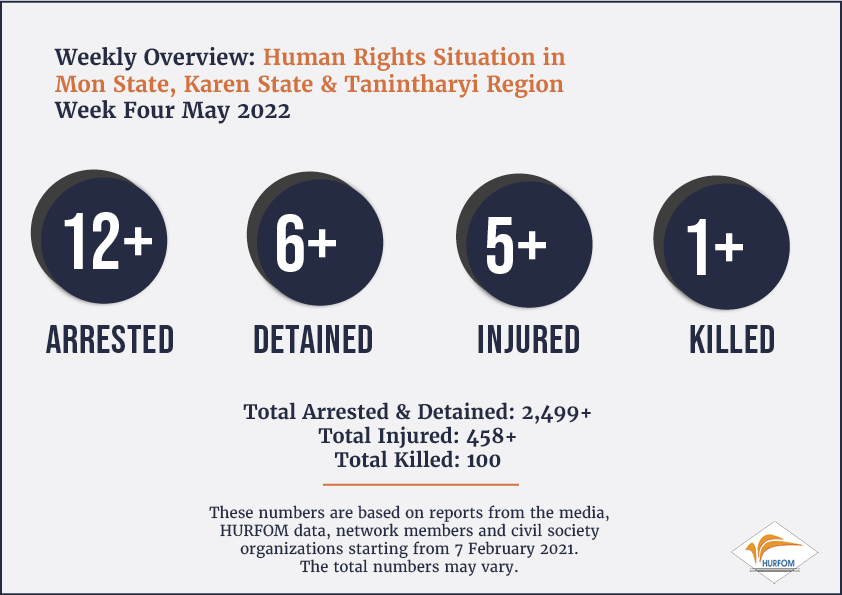 Analysis
The targeting of innocent civilians remains ongoing. Over the last week, medics and doctors in the private sector who are affiliated with the Civil Disobedience Movement were actively sought out by investigating pro-junta health administrators in Mon State. In Dawei, the junta is also currently conducting major investigations into local money transfer services in the whole township and tracking people who are wanted by the junta, including opposition forces such as soldiers of the People's Defense Forces, through phone numbers and addresses registered in the applications. Three people have been arrested and two local money transfer services were forced to stop their business.
In Hpa-An, Karen State, the military is failing to ensure the safety of the local people by allowing its alliances to arm and commit daily human rights violations. According to the locals, civilians were forced to pay 20,000 to 50,000 MMK to pass the checkpoint operated by plain-clothed junta forces.

The military's staunch anti-democracy views have forced hundreds of civilians across the last year and a half into hiding. They are fearful of their lives, and their families. This is just one example of the climate of fear that the junta has created across the country. Tensions are running high. And yet, the military has not eased or halted their assaults on innocent lives. They are committing mass murder with impunity.
Reporters from all three regions confirmed that they had received more than 15 cases of motorcycle confiscations. Some people were forced to pay ransoms for the release of their possessions and family members. This news comes security tollgates and checkpoints are increasing across Mon and southern Karen State. There were ten complaints at least just from Kyainnseiki, Kyaikmayaw, Mudon, and Thanbyuzayat Township of the property being unlawfully confiscated. These attacks must end.
Comments