Mon National College popular among Mon communities: Mon university students boycott junta-controlled universities
HURFOM: Most university students across Burma have opted to not register with the junta-controlled universities to show their opposition to the military council.
As of May 16, 2022, there were approximately 5,000 students attending the Mawlamyine University. The Interim Administrative Council of the university said that number is just 30% of regular attendance.
For those who do not want to pursue an education controlled by the military junta, the Mon National Education Committee (MNEC) announced they would open a "Mon National College" in the Nyi Sar Region which is controlled by the New Mon State Party (NMSP).
"I've passed the matriculation exam. I don't like the education system controlled by the military dictatorship so I won't go to university. So I've chosen Mon National College. I'm also interested in the subjects provided by the college," said one young woman.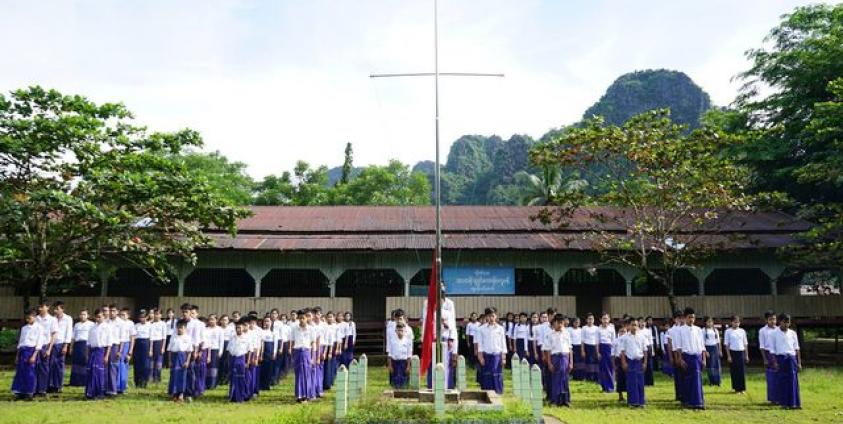 University students are choosing State universities only to get a degree approved by the government but the education and skills provided are not relevant to their workplaces.
"I haven't continued my university study. I'll shift to the Mon National College. My mother wanted me to finish my university. I am not interested in the State university. Those who finish the State universities haven't gotten a job. The education and skill obtained from the universities isn't enough to secure a job. We have to do additional training, so we have to spend more money. The Mon National College is run by the Mon community so it's better for me, I think," said a second-year university student.
The "Bop Hatw Education Empowerment Program " run by the MNEC has a good image among the Mon communities. Building on that success the new Mon National College is receiving a favourable impression amongst the Mon youth.
"As soon as I saw the announcement letter regarding the creation of the Mon National College, I was very interested in the subjects they will provide. I was really interested in joining "Bop Htaw " school but missed that chance. This time, I don't want to miss the chance," said a student who has applied for the Mon National College.
Some university students can not apply for the new college because they already registered with the State universities.
"I'm interested in the Mon National College but I've already registered with the State university. So I have to join that university this year but for the next year, I'll reconsider moving to the Mon National College," said a university student.
Comments