Weekly Update in HURFOM Targeted Areas [Week Two: May 2022]
HURFOM: A weekly update by the Human Rights Foundation of Monland (HURFOM) on the situation on the ground. Summary data includes Mon State, Karen State and Tanintharyi region.
Analysis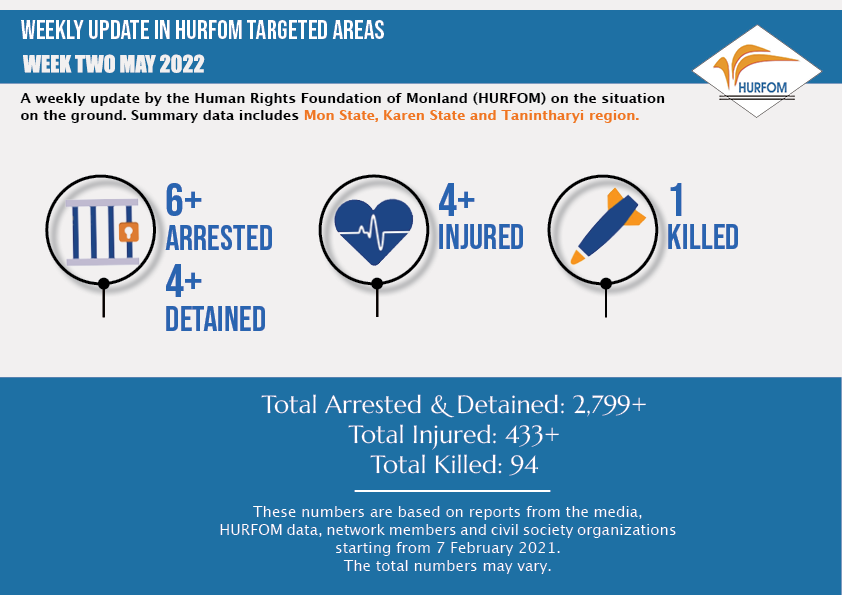 Over the last week, attacks in Karen State, Myanmar, has sent civilians fleeing for their lives as an end to the incessant violence perpetrated by the military junta shows no signs of stopping. In addition to carrying out a series of airstrikes in local areas, the Burma Army has refused to withdraw troops, despite multiple requests and warnings from the Karen National Union (KNU). Further, the junta arrested another 30 villagers and travelers and forced them to become porters. Innocent people were threatened with their lives if they did not carry the military's ammunition, rice bags and supplies in Kyainnseikyi Township, Karen State where armed conflict are active and ongoing between the joint forces of the People's Defense Force (PDF), the Karen National Liberation Army (KNLA) and the regime.
Neighboring Mon State has also been seriously impacted by the violence. At approximately 4PMm on April 27, 2022, an armed clash involving the local PDF and the junta took place between San Pya and Hnin Zone villages, in Ye Township, Mon State. A pregnant woman was killed during the incident. The woman who was shot during the armed clash had been visiting her family and had been hiding during the protracted fighting. At one point felt thirsty and went to a nearby hut for water. On her way, she was struck and killed. "She died at the scene and no one dared to pick her body up," said a local source. The victim was 21 years old and a native of Hnin Zone village, southern Ye, Mon. At 7AM on April 28, the Lamine Social Welfare Team picked her body up and sent it to Lamine General Hospital.
A new pro-military militia has formed in many townships in HURFOM targeted documentation areas. They are reportedly targeting activists, journalists, social workers, and members of political parties such as National League for Democracy (NLD) members in gruesome murders. On May 2, 2022, at 9AM, two pro-military men on a motorcycle came to Daw Shan Ma's house, age 50, and an NLD member. They shot her, according to a villager of Pan-Dalae village, Long Lone Township, Dawei. The new pro-militia group has been open about their intent to unlawfully engage in murders and torture against pro-democracy forces.
Comments