Junta pressures parents to register for university studies
HURFOM: On April 20, 2022, the Mawlamyine Technology University announced that students must register for their courses on May 2, 2022.
The University authorities, under the direction of the junta, have sent letters to the parents of their students. The letters state the university will open on May 12, 2022 and urges parents to register their children.
"The letters were sent only to the students' parents. I've received my letter, but my parents decided not to let me rejoin the university. They'll give me some (money) to open a business instead," said a first-year student of the Mawlamyine Technology University.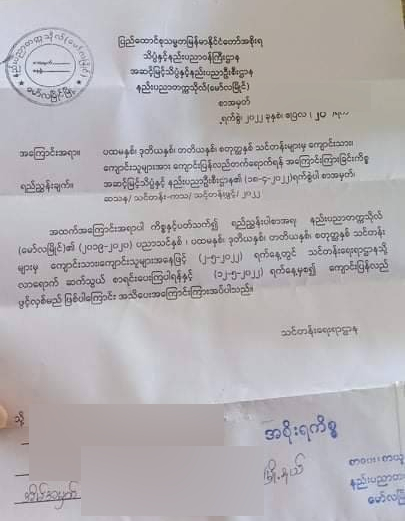 Due to the global pandemic, the unsettled politics impacting the country since the February 2021 military coup, coupled with a boycott of the military junta, universities across Burma have been closed.
Most university students have not been able to continue their education.
"My parents have given me full authority to decide whether I rejoin the university or not. Now, I'm selling lottery tickets and I've earned about 10,000 Kayt a day. I'm still watching the conditions to see if I should rejoin the university," said another student from Mawlamyine Technology University.
Many students decided to give up pursuing an education run by the military junta.
"I don't want to rejoin the university. It's not just a boycott (to the military junta) but also I can't give my time to get an education (that is controlled by the junta). Now, I'm taking an English Course. After finishing that, I'll try to join an international university," said a university student who wanted to remain anonymous.
Parents are also hesitant to send their children to university because they are afraid others will think they are cooperating with the military junta, or they feel that the university is not a safe place, because soldiers are based at the university campus.
According to the Assistance Association for the Political Prisoners (AAPP), around 70 students were killed after the military coup.
Mawlamyine University provides 17 majors and normally accepts ten thousand students. However, to date they have received just over 1,000 student registration forms.
The registration process will be extended until May 12, 2022, according to the military junta.
Comments