Monthly Overview: Ongoing Human Rights Violation Jeopardize Civilian Safety
Across the month of February, the Human Rights Foundation of Monland (HURFOM) continued to witness and document ongoing human rights violations being unlawfully perpetrated against innocent civilians. The junta has shown no signs of easing their attacks against the people and has instead continued to spearhead their campaign of terror and illegal, inhumane actsincluding arbitrary arrests, indiscriminate firing and shelling, enforced disappearances, murder and many others. [Download in PDF]
The atrocities being committed have continued to make life much more difficult for civilians across Burma, including those in HURFOM target areas of Mon State, Karen State and Tanintharyi region. The junta has remained relentless in committing grave acts of atrocities, including war crimes and crimes against humanity.
HURFOM has emphasized our disdain for the military junta, and their corrupt dealings. The people of Burma have only the simple request of wanting to live in peace. And yet, junta backed forces engage in relentless fear mongering and intimidation tactics. Against the backdrop of the military's human rights violations, the international community has failed to act with their moral conscience. While sanctions by the European Union against Myanmar Oil and Gas Enterprise (MOGE) are a welcome step, they were very much delayed. In fact, these sanctions have been called for by civil society for months. The United States has yet to follow through with the same course of action.
Action on the human rights situation is long overdue. The people of Burma have been through too much and deserve to have the protection of their rights and to further see the dictators responsible for their pain and suffering imprisoned. HURFOM is hesitant to ask:
How much more inhumanity will it take for the international community to act?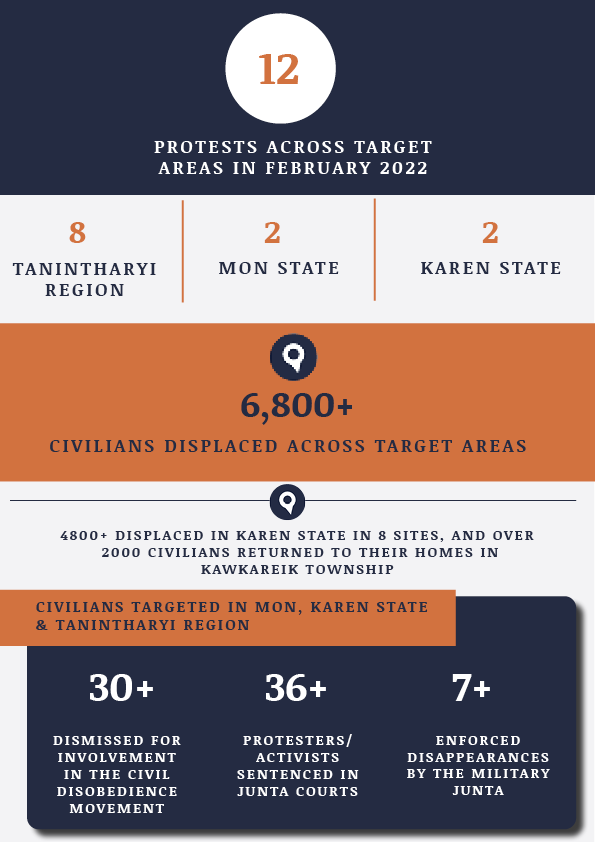 KEY OBSERVATIONS
1. Homes and properties of human rights activists and members of the National League for Democracy (NLD) or Civil Disobedience Movement (CDM) continue to be raided and destroyed by junta soldiers.
2. Frequent clashes between the military junta and ethnic armed organizations have led to increased internal displacement in HURFOM target areas which has forced thousands of innocent people to flee to safety.
3. Arbitrary arrests and abductions of civilians continued as the Burma Army cracked down on those suspected of being involved with civilian armed defense forces.
4. Political prisoners have also joined protests including by going on hunger strikes in Dawei to protest the dictator's decrees and by refusing to obey any order from the military junta. The solidarity protest was on the same day as Union Day, 12 February.
5. During the first week of February alone, HURFOM documented nearly 20 people who had been unlawfully arrested by the military junta's security forces. By the end of February, over 50 civilians had been arrested and detained.
6. Activists organized Silent Strikes to highlight the loss of human rights after the military coup, which was joined by civilians in HURFOM areas to condemn the ongoing brutality.
RECOMMENDATIONS
Urgent referral of the situation in Burma to the International Criminal Court
Targeted sanctions against the military junta
A global arms embargo and halt in the supply of weapons and aviation fuel
Comments