Weekly Update in HURFOM Targeted Areas (October: Week Three)
A weekly update by the Human Rights Foundation of Monland (HURFOM) on the situation on the ground. Summary data includes Mon State, Karen State and Dawei District.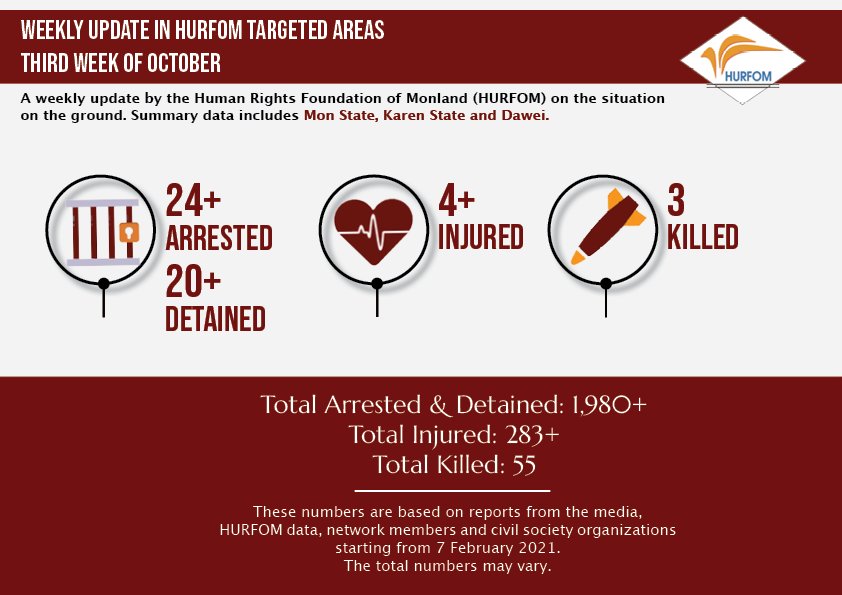 Abductions and ongoing arrests, combined with increased internal conflict, have led to a worsening human rights crisis in HURFOM areas of Mon and Karen States and Tanintharyi region. The situation has alarmed local communities who are fearful for the unknown.
On October 18th, Ma Sandar Cho, a lawyer and an advocate from Dawei was forcibly abducted by the junta from her home in the early morning. No information has been provided, and thus the place where she has been detained still remains unknown. The same day, four innocent villagers were arrested for no reason by the junta-backed armed forces, known as Pyu Saw Htee members in Alaekone Village, Dawei. Alaekone village is the native home of lawyer Sandar Cho, who was forcibly abducted earlier.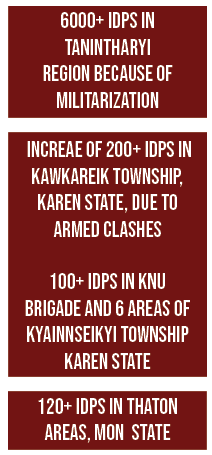 The next day on October 19th, at least 19 young civilians from Wae-Kyun Ward, Dawei were abducted by junta security forces around 10 pm. A 50-year old woman recalled that Thadingyut holiday, which is being celebrated in Myanmar, has beautiful festivals in Dawei. Most of those arrested were young people while they were preparing for floating candles at the river.
Of those killed in HURFOM areas this week was U Kyi Thein, age,63 years old and a resident of Wet-Chaung village, Yebyu Township, Dawei Region. He was killed under interrogation by the junta police on accusations of being associated with a shooting incident of a military informer on October 20. A neighbor said: "The junta troops contacted the family of U Kyi Thein to take the body, but no one dared to go because they feared arrest. Then, a military truck came and dropped the dead body in front of the house on October 21st.
Two additional civilians were killed on October 22nd at 8AM when three plain-clothed junta-backed armed men killed two villagers in Pandalell village, Lon Lone Township, Dawei, as reported from a network member: "Three gunmen climbed out of a truck with handguns and started firing indiscriminately into a tea shop. They killed U Aung Myint and Ko Nay Nay on the spot. Another two villagers were injured. According to the reporter, many Pandalell villagers decided to flee as they were afraid of these military cold-blooded murderers.
HURFOM welcomed the decision by ASEAN to exclude the junta from the Summits, but oppose its invitation to a 'non-political representative.'
Comments