Weekly Update in HURFOM Targeted Areas (Fourth Week of September)
HURFOM: Civilians are being targeted across the country as systematic violence by the junta continues to be perpetrated with impunity and without consequences. Over the last week, a 27-year-old was shot by junta security forces in Chaung Taung toll gate, Ye Township, Mon State. The victim, Ye Naing Oo, is originally from Khaw Zar, Ye, and the reason the junta shot him is still unknown. The incident happened at 7PM on 28 September. Extrajudicial execution against innocent civilians are ongoing in Tanintharyi Region. Myo Min Hteik, 39 years, a resident of Palaw-Kone village, Palaw Township, Myeik District, was found dead with gunshot wounds early October 1st.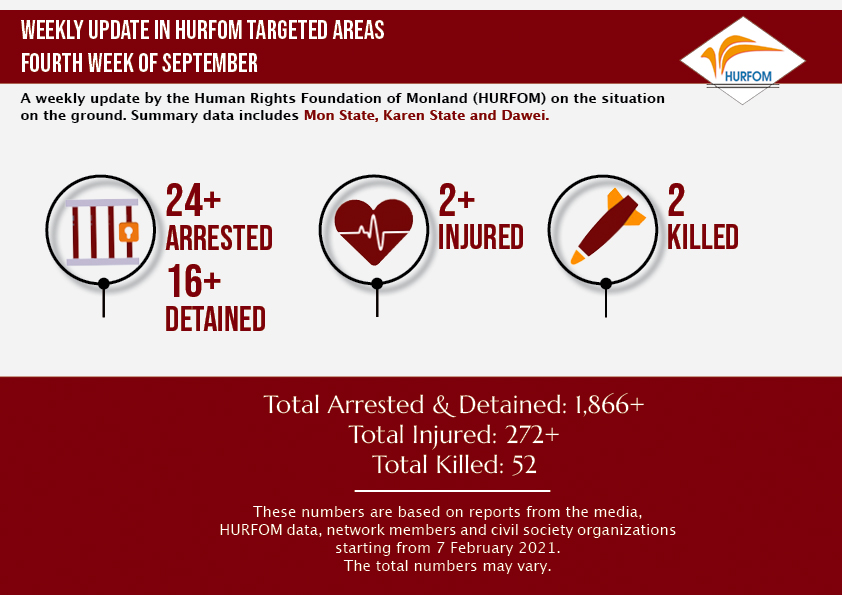 Abductions are widespread, often in the evening where young people participating in various revolution activities are at risk of arrest and unlawful detention. The junta's Light Infantry Battalion (LIB) No.31, based in Khaw-Zar Town, Southern Ye Township, Mon, abducted seven Mon villagers from two villages. The reason for the arrests is still unknown. However, local sources claimed that the Commander from LIB No.31 accused these villagers of being supporters of Mon armed groups. The detainees are Nai Myaing, Nai Kyaw Oo, Nai Kon Pakyuh, Nai Chan Mon, Ko Min Htun and Mi Kon Bae.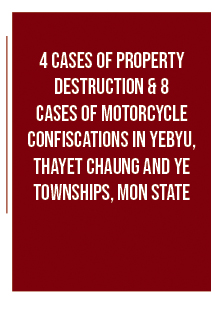 Junta security forces also abducted five young Mon villagers in Ye Township, Mon State and accused them of owning weapons. Among them is a 15-year-old boy. Those taken away are surviving as plantation laborers, and of course, they have knives and swords as tools to use for their daily work. A total of eight civilians, including a 16-year-old girl, were abducted on September 26 evening. Security forces came with name lists and arrested five men and three women; the youngest victim is just 16 years old girl. Most of the detainees support the National League for Democracy.
On September 28, Naing Thura was abducted in Byaw-Taw-Wa Ward, Dawei by security forces yesterday at 1PM according to his friends: "We heard about his arrest and have been looking for him. We hope he is safe." He was arrested because he had a tattoo similar to someone the junta was looking for.
HURFOM calls for justice for the people of Burma who not deserve the ongoing assault against their fundamental freedoms.
Comments