Weekly Update in HURFOM Targeted Areas (Fourth Week of August 2021)
HURFOM, Mawlamyine: The junta is continuing with their disregard of civilian rights and protections. Extortion, arbitrary arrest remain widespread across HURFOM target areas.
Full Analysis: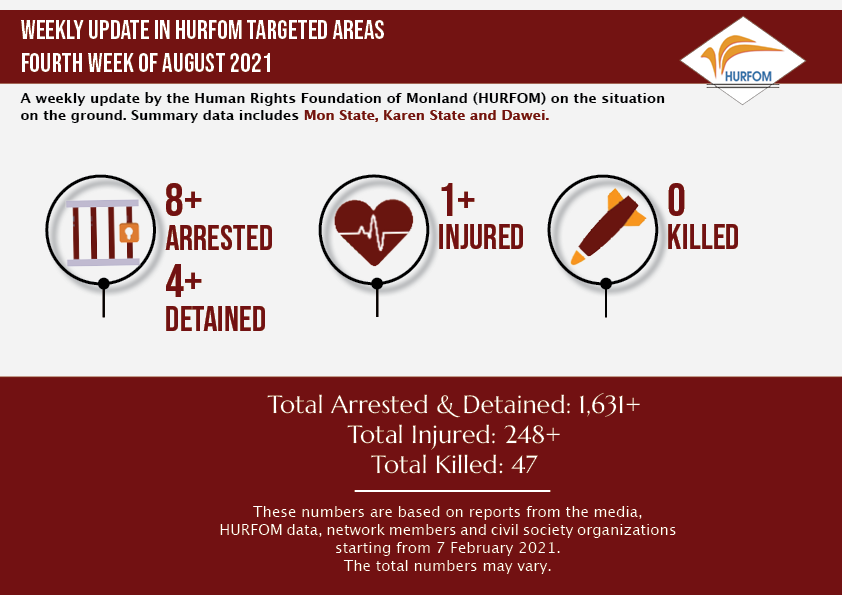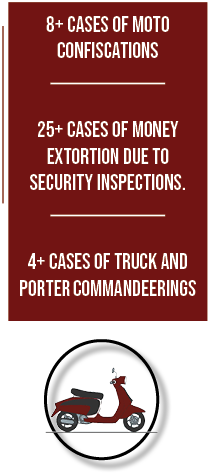 This week, the junta's battalion under the Military Operations Command MOC 13 arrested two ethnic Karen villagers, Saw Kyaw Thein and Saw Kyaw Boe, from their village in Kaw Tha Naw, Kawkareik Township. They also commandeered civilian trucks for the transportation of troops and used them as porters following two hours of fighting between the Karen National Liberation Army and state-backed troops near Kwin Ka Lay village, Kawkareik Township.
Two young men were also abducted by the joint troops of the Burma Army and Border Guard Forces near the entrance of Kyain Seik Town, Karen State. A local witness said it seemed like the men were arrested on suspicion of being affiliated with the People's Defence Force. Their motorcycles were also taken.
Travel restrictions and the inspection of personal belongings, various properties and money extortion persists in Mon State. The junta alleges they do this because of COVID-19 but locals say it is to check the belongings of civilians and see if they have evidence of being affiliated with any People's Defence Force.
It was also reported that the junta deployed several troops near Kyay-Zu-Daw, Hnan-Kyae, Shin-Ta-Vee, and Min-Thone-Sae villages under the Karen National Union's Brigade No.4 controlled areas in northeastern Yebyu township yesterday. The Coastal Regiment Command and MOC 19 directly command these troops, according to a KNU warfare source. A local villager who witnessed the deployment in the areas said some personnel were in plain clothes with weapons. At least 130 families have fled their homes as a result of these attacks.
Despite the difficult times, food sharing activities are ongoing as led by local youth and social workers in many places in Mon State.. The elderly are prioritized, as are women and children in need. Support is also provided to COVID-19 patients and medical staff who are volunteering.
Comments