Weekly Update In HURFOM Targeted Areas [26 July – 1 August 2021]
HURFOM, Mawlamyine: Weekly update on the situation in Karen, Mon & Dawei since the military coup:
Movement restrictions against health workers were enforced by the junta in HURFOM target areas. Civilians continue to be extorted.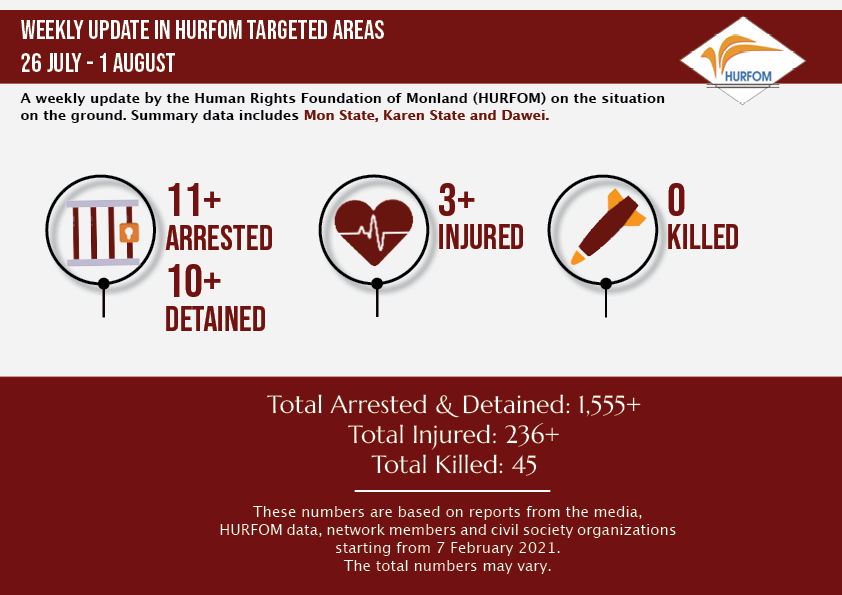 Full Analysis: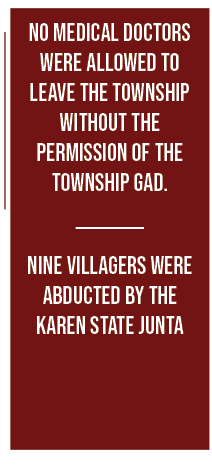 Movement restrictions, financial extortion, and the confiscation of civilian properties continued in most of HURFOM's targeted areas. Of increasing concern is the doctors, health workers and health administrators who are being targeted by the terrorist junta. The military's General Administration Department (GAD) in Hpa-An, Karen State and some townships in Mon State ordered all ward and village tract leaders to record the names of the health personnel in their areas, and to report their availability to the junta. No medical doctors were allowed to leave the township without the permission of the Township GAD. A nurse remarked that they are being kept as prisoners in the town.
Extortion under the guise of "COVID-19 Going Out Permission Slip" continued in Mon and Karen State, according to local inhabitants. "I was fined by the security forces twice already. I disagreed with the order of the so-called Going Out permit ticket. This is an order from the SAC to take more money from us. The penalty of 5,000 MMK is too much, especially in these unusual times. They need to consider the plight of civilians. It's almost the daily wages of ordinary people in my town." A 55 yrs old-man from Mon State said.
Protests meanwhile are ongoing as civilians pledge to never give up in their quest to dismantle the junta. Various guerrilla protests, organized by local Strike Committees, continued in Long Lone and Yebyu Township including the Dawn Spring Flower Strike, the Red Paint Strike, the symbolic strike and the Motorbike Strike. The junta has not broken the spirit of the people.
Several civilians were also abducted this week on baseless accusations by the military including being affiliated with People's Defence Forces.
Comments