Weekly Update In HURFOM Targeted Areas (28 June – 4 July 2021)
A weekly update by the Human Rights Foundation of Monland (HURFOM) on the situation on the ground. Summary data includes Mon State, Karen State and Dawei Region.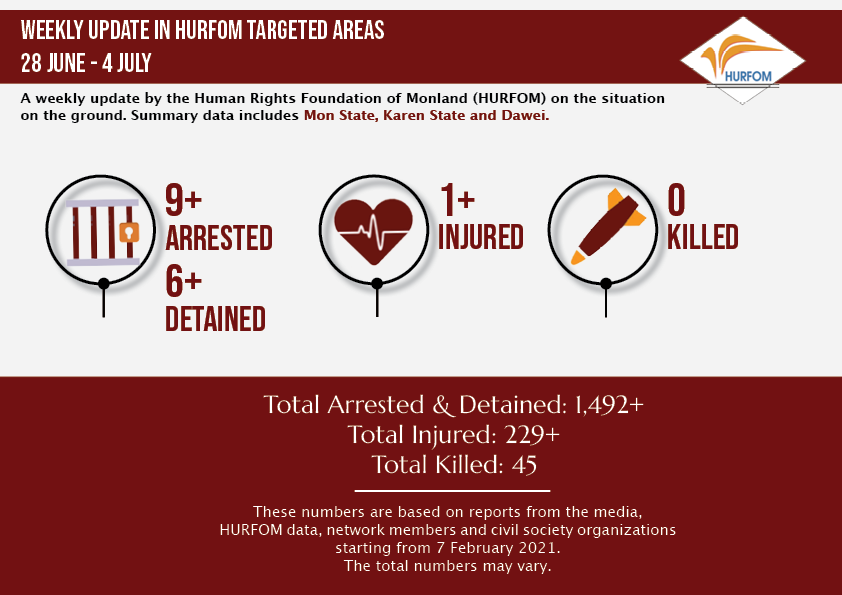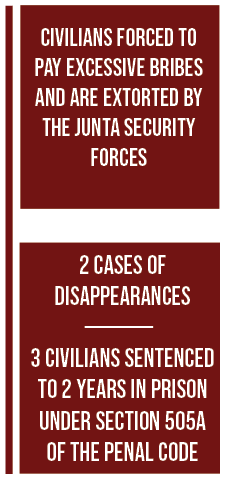 Weekly Analysis
As life under the junta's rule reaches another month, HURFOM is still reporting increasing numbers of civilians being arbitrarily arrested, detained and victimised by the regime. Most of those targeted are young people, especially those active in protesters. Of those arrested, two were from Mawlamyine, two from Mudon, two from Paung, two from Dawei, and one from Hpa-An.
Civilians from Dawei were forced to pay junta security at various tollgates for travel permission. The amount ranged from 3,000 to 10,000 kyat. The payments are bribes, especially for those who cannot provide their national identification cards. Meanwhile, movement restrictions are still rampant between Mon and Thanintharyi regions. Of additional concern is the military's Coastal Regional Command, based in Dawei, which deployed more troops with heavy artillery and ammunition to Yebyu township, and Dawei.
Villagers from four villages in Mudon, Mon State, were forced to support militia forces formed by the junta with each household being ordered to pay 1,000 Kyat for their activities.
Alongside the military's devastation is rising COVID-19 cases. The total number of cases increased to over 580 in Mon State, and the death toll rose to 17. Despite this, the junta-appointed Ministry of Education decided to open schools and universities regardless. The decision has been regarded as selfish.
The Mawlamyine University Student Union announced that in a release of political prisoners, no student leaders, protesters or activists were released on 30 June and 1 July.
Approximately 12 guerrilla strikes were organised this week by local youth in Paung, Mudon, northern Ye townships as well as Thayet Chaung, Yebyu, and Long Lone in Tanintharyi Region.
Comments