Military UEC plans to introduce new electoral system
HURFOM: (February 28 2021) The newly formed Union Election Commission established by the military junta requested by letter to political parties,  to send them research on "Proportional Representation (PR) Systems". The military claims that such a system  will be used in their promised new election.
To confirm this news, HURFOM contacted a Central Executive Committee member of the Mon Unity Party (MUP) – the party that attended the meeting organized by the military UEC.
"We haven't received the official letter yet but found [news of] it on social media. The party hasn't held a meeting (to discuss it) so I can say nothing," said a CEC member of the MUP.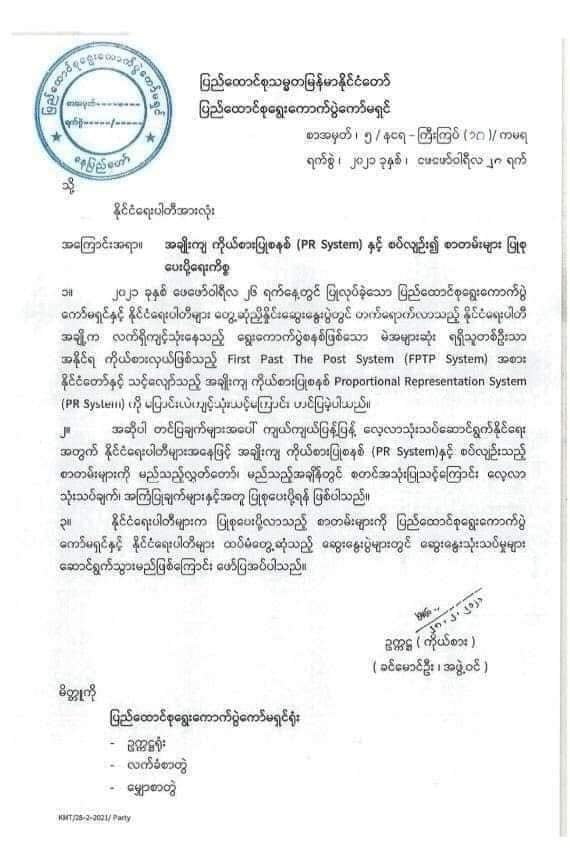 The letter stated that during the meeting with the military UEC and the political parties on February 26, some political parties proposed to use a PR system instead of the First Past The Post (FPTP).
"Personally, I accept the PR system. Every electoral system has their own benefits. The PR system has more benefits. It (the UEC) can do a good and systemic voting procedure and vote counting, PR system can be a solution for our country," said Min Aung Htoo, a candidate who won the 2020 election in Ye Township.
The Amyotha Hluttaw (the House of Nationalities) had approved to use a PR system for Amyotha Hluttaw in all States and Divisions on November 24, 2014.
In 2015, the National League for Democracy (NLD) said the PR should not be used if the 2008 constitution is not first amended.
"Some people like the PR system and some do not. PR systems allow for minority political parties to have more seats. Now the parliaments have been occupied by just one or two giant political parties. It doesn't represent the minority parties so democracy is weak. In my opinion, the PR system is good," explained Min Aung Htoo.
In September, 2019, the Chair of the Union Solidarity and Development Party (USDP), U Than Htay said in a CEC meeting that the 2020 election must use the PR system.
However, there has been some analysis suggesting that a PR system could make the military even stronger in the parliament.
"We shouldn't confuse the military role with the electoral system. Frankly, if the military has decided to forcefully take seats in the parliament, (no one can stop them). But whatever electoral system we use, there shouldn't be any designated seats in the parliament," continued Min Aung Htoo.
Comments