Human trafficking in fishing raft industry
HURFOM: Four months ago, 42 year old, U Zaw Win, from Hle Tan Ward, Mawlamyine, Mon State was sitting in a liquor shop, when two motorbike taxi drivers approached him and invited him to go with them if he wanted to get work as a carpenter.
"Do you want to get a job? We need a carpenter to repair our boat," they said. They offered U Zaw a glass of alcohol and told me to go with them after he finished his drink. "Then they brought me to where I had to work," said U Zaw Win.
The taxi drivers took U Zaw Win to the house of what appeared to be a labor broker in Kyaik Kha Mi Town, Thanbyuzayat Township. U Zaw Win noticed there were 5 men who there all waiting to do work on fishing rafts.
"After reaching the broker's house, I wasn't allowed to leave. They gave me 700,000 kyat and a document and asked me to sign the document. When I refused to do so, they beat me forcing me to sign. I didn't see what was written on the document," said U Zaw Win.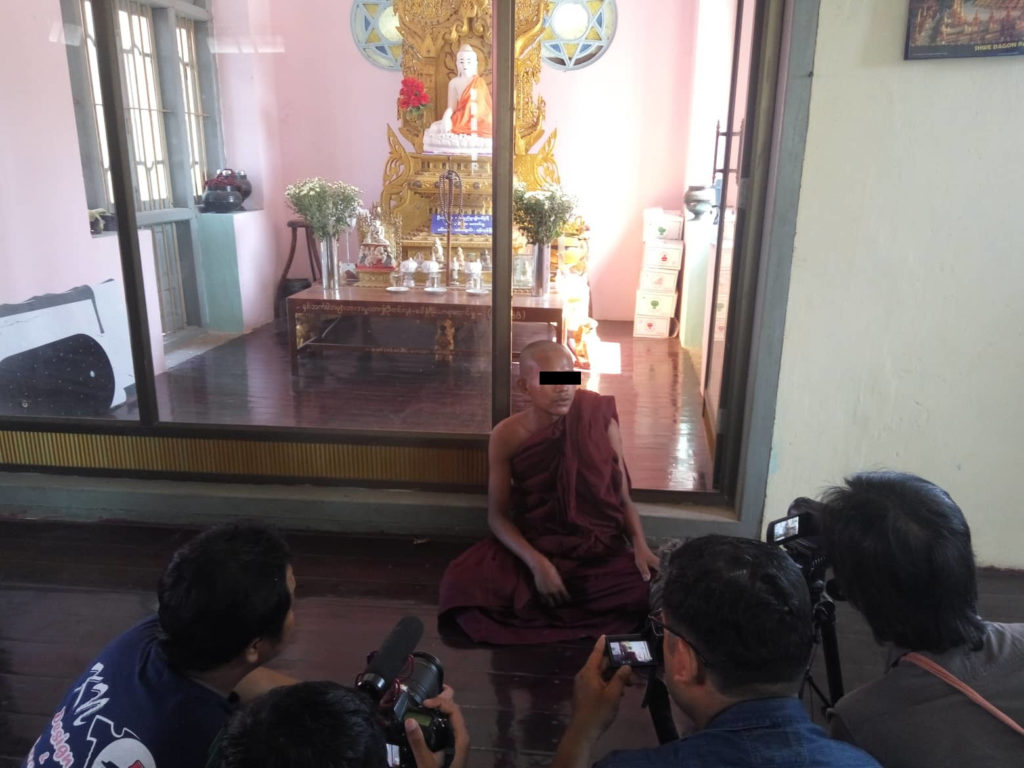 U Zaw was taken out to sea on a fishing raft where was again beaten and kicked twice into the sea, if he refused to work.
"Fish was only our food on the raft. I had fish three times a day. I had only an hour for sleep. When I got up late, the chief beat me. There were 3 men on a raft. The raft was one mile away from another. They said "If you can't work, I'll kick you into the sea and kill you." said U Zaw Win.
As the result of his repeated beatings U Zaw Win became ill and then was sent to A Sin village, Ye Township to work in the dry fisheries, sorting and categorizing the catch from the rafts.
"While doing this job, I suffered from pain in my waist and requested 2,000 kyat from the boss and went to the chemist. On my way, I went to Ye main road. There I find a truck and requested the driver to let me go with him to Ye. I was afraid of being found by the boss if I stayed in Ye so that I requested another driver to take me to Thanbyuzayat. I borrowed some money in Thanbyuzayat and went back to Mawlamyine," said U Zaw Win.
U Zaw Win's ordeal lasted four months, before he was able to escape from modern slavery in the fishing raft industry. He is not alone.
U Hla Win Tun, a 32-year-old man who also lived in Hle Tan Ward, Mawlamyine suddenly disappeared from his house on November 8, 2019.
"While sitting beside the street, a motorbike taxi driver came to me and said "My little brother, do you want a job. If you listen to me, you will be rich within a year". I agreed to follow him. We went to Kyaik Kha Mi on his bike and reached a house in Kyaik Ka Mi, he said "You took my money so you have to do a job on the boat"," said U Hla Win Tun.
However, U Hla Win Tun was not healthy enough to work on a fishing raft so the labor broker sent him to a military base.
Meanwhile, Ko Kyi Thar Win, began to search for his younger brother, U Hla Win Tun after he had disappeared. "We brought his (U Hla Win Tun's) photo to all the fishing sites and looked for him. Someone in in Kyaik Kha Mi recognized the photo and escorted us to the house of a fishing boss. First he refused to tell us what happened to my brother, but after a prominent woman from the village asked him, he revealed what happened. He said "Your younger brother borrowed 200,000 Kyat from us so you have to pay his debt". After paying the money, we learned that our younger brother was in the military."
Family members learned that U Hla Win Tun had been sent to Thanbyuzayat base #62 Light Infantry Battalion, but was soon transferred to Mawlamyine base #525 Supply and Transport Battalion. Family member followed the trail and went to the battalion base. Once again they were forced to pay money, this time 150,000 kyat for cost of his medical care. The family agreed to pay this amount and only then did the army let U Hla Win Tun go back with his family.
U Hla Win Tun is now at a monastery.
His brother reported the case to Anti-Human Trafficking police unit in Mawlamyine. They informed the family that if the taxi drivers who took U Hla Win Tun can be identified they have to file a report with the Kyaik Kha Mi police station, before any legal action could proceed.
"I thought my younger brother's case was similar to U Zaw Win's so I reported it to the Anti-human Trafficking police unit. After a day of filing my report, fishing bosses from Kyaik Kha Mi came to us and negotiated that they would pay the salary of U Zaw Win. We met at the office of Mawlamyine anti-human trafficking police. U Zaw Win didn't agree with their offer. I just want nothing else but the truth," said Ko Kyi Thar Win.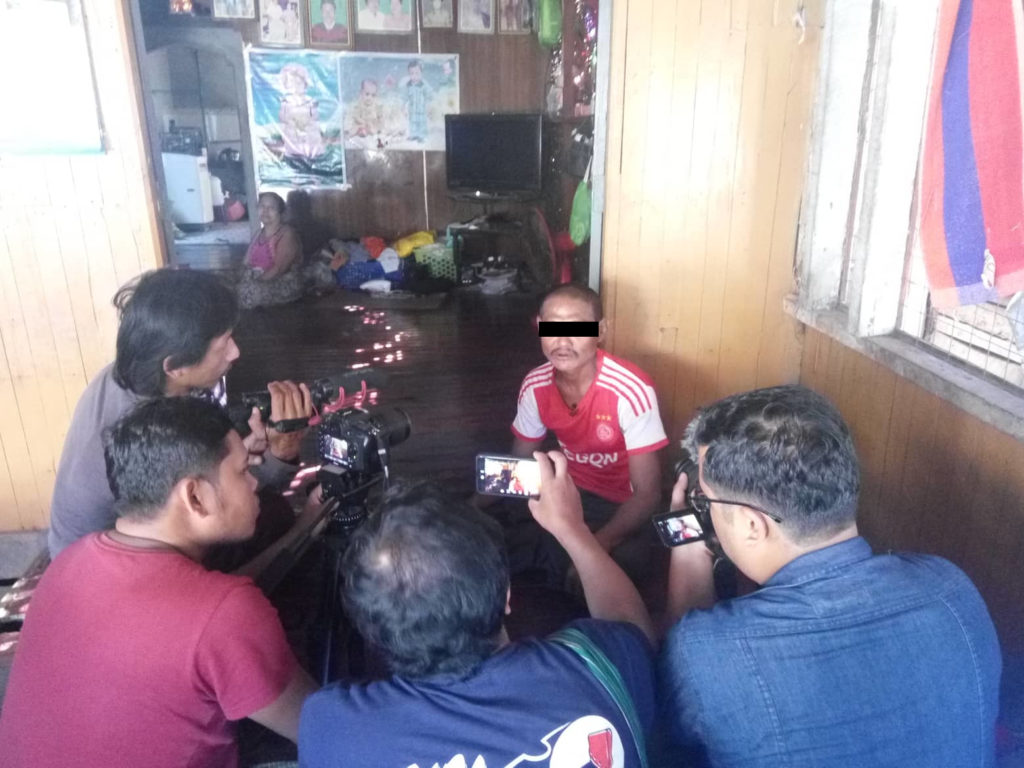 Both cases are now registered with, the Human Rights Foundation of Monland (HURFOM) who contacted the Mawlamyine Anti-human Trafficking Police unit #12, but they have refused to comment on the cases. In light of the experiences both men had with the Anti-human Trafficking police unit and the military, serious questions remain unanswered about the possibility of complicity between the labour broker, and the fishing bosses.
In another case, a 16-year-old boy from Khar Pyat village, Daw Nyine village track, Phyar Pone District, Irrawaddy Division traveled by ship to Ye to buy rubber wood for his fishing raft on April 24, 2019 but has since disappeared.
"He went to Ye to buy rubber wood for his fishing raft. After finishing his business in the evening, he went to Ye. A motorbike taxi driver approached him and asked him if he wanted to hire a motorbike taxi. When he refused, the driver asked him if he wanted to have a job. My son said 'Yes' and went with the taxi driver," said U Ko Ko Win, the father of the boy.
The family members learned on September 26, 2019 that their son was at #9 Basic Military Training School in Thaton, Mon State.
"The motorbike taxi driver left our son at the entrance of a military base in Thanbyuzayat. In the next morning, a sergeant came to pick him up and after that, Captain —– sent him to a Military Recruit Camp. My son did not have his National Registration Card (NRC) so (the military) made a card for him and he was documented as a 21-year-old boy in the card [even though he is only 16years of age]. His fingerprints were stamped and he was recruited as a soldier," said the father.
After losing contact with their son, the parents filed a report to Ye Police Force and searched for him for months but found no trail. On September 26, 2019, one of their acquaintances contacted their daughter-in-law suggesting they go to #9 Thaton Basic Military Training School. Upon reaching the school, they learned their son had become a soldier.
"My son hasn't reached the eligibility age to be a soldier. So (I told the school) that I want to withdraw my son from the military but (the school officials said) my son already finished the training and had an army serial number. So it's difficult to withdraw him from the military. They said I had to write a letter of withdrawal and they would report to the upper officials. After they got approval from the upper authorities, my son can be withdrawn from the military," continued the father.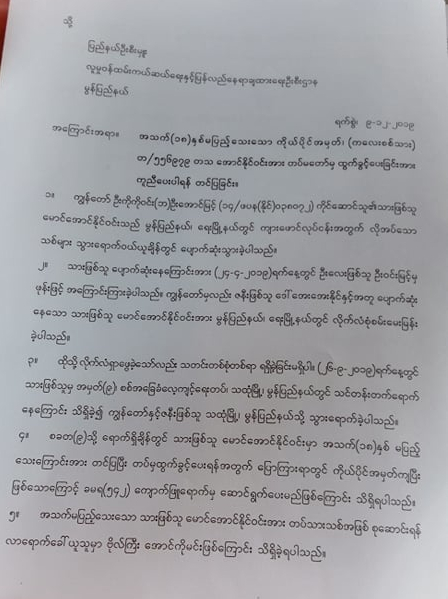 The boy's mother Daw Aye Aye Nyne said her son is now just turned 17 and is afraid he will become a permanent solider when he turns 18. The parents sent a letter of appeal to the Department of Social Welfare and Resettlement seeking to withdraw their son before he turns 18.
"I want to get my son in my hand," said the father.
According to data from the Anti-Human Trafficking Police unit, 151 cases of trafficking took place in 2018 across Burma and 3 were from Mon State.
Comments