Human rights organizations demand reforms to MNHRC
HURFOM: On December 9, 2019, 20 human rights organizations jointly launched a report called  "A Little Less Conversation, A Little More Action Please" in Yangon.
The report analyses the performance of the Myanmar National Human Rights Commission (MNHRC) and highlights human rights violations in 2018 and 2019. The report also calls for reforms within the MNHRC in order to better promote and protect human rights.
"In order to handle human rights problems effectively, MNHRC must first bring in some new blood, [new people are needed] who really respect and follow human rights norms. Secondly, the law governing the Commission must be amended to expand its authority," said Maung Saung Kha, an organizer of Athan, a group advocating for freedom of expression.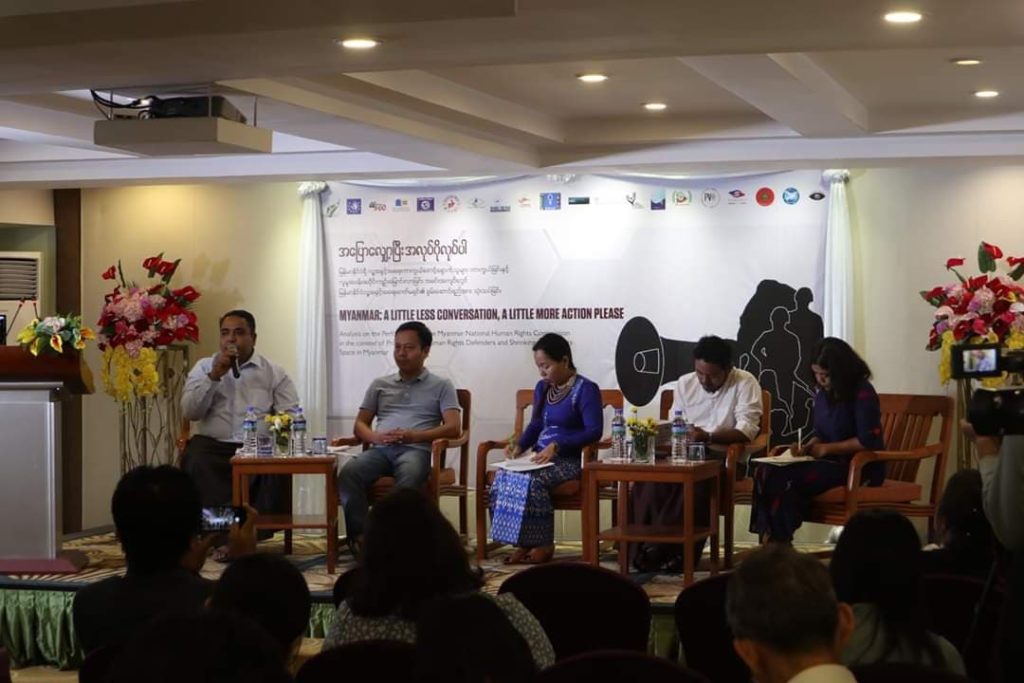 The report notes that current Commission members lack a strong human rights ideology and there are problems in the commission's structure and election processes. As a result, the Commission has been ineffective in handling human rights problems and serves as an organization that protects the military.
Ko Aung Zaw Oo, a member of the Association of Human Rights Defenders and Promoters, said "The main challenge is that those who protect the government for their human rights abuses have been included in the Commission. The old members are problematic. They've run the Commission as a (government) department. In fact, the Commission must be free and independent. But they protect the wrongdoings of the military and the police force. That's why we asked for [for new Commissioners] to be included, those who really respect and follow human rights norms must serve on the Commission."
Another current and serious challenge human rights defenders face is being sued with existing laws for their work.
"There are oppressive laws for human rights defenders. They were sued with those laws and some of them have been in jail. Some are facing legal action in the courts. (It looks like the government has planned that) human rights defenders must be busy and annoyed with long legal proceedings. Those are challenges for us," said Ko Aung Zaw Oo.
In order to get a better and effective promotion and protection of human rights, the report urges reforms be made to the Commission.
"The commission has no desire to handle human rights violations in war-torn ethnic areas. Or they have no capability to handle the violations. Especially, when the Commission is unwilling to handle violations committed by the military," said Ko Bo Bo from Generation Wave.
The term for current Commission members expired in September, 2019 but the Commission has not released any official statement about re-election of its members.
Comments