Can Mon State eliminate its noise pollution?
HURFOM: Seasonal festivals, calls for donations, wedding ceremonies and initiations of novices to the monastery are all celebrated loudly throughout Mon State. The use of mobile loudspeakers and sound systems operating at maximum levels can be found at all of these events.
What has been common practice in most communities it is also increasingly being termed noise pollution, with consequences. Concerned community members are linking noise pollution with health concerns such as cardiovascular problems, nerve and auditory systems damage as well impacting the learning capacities of children.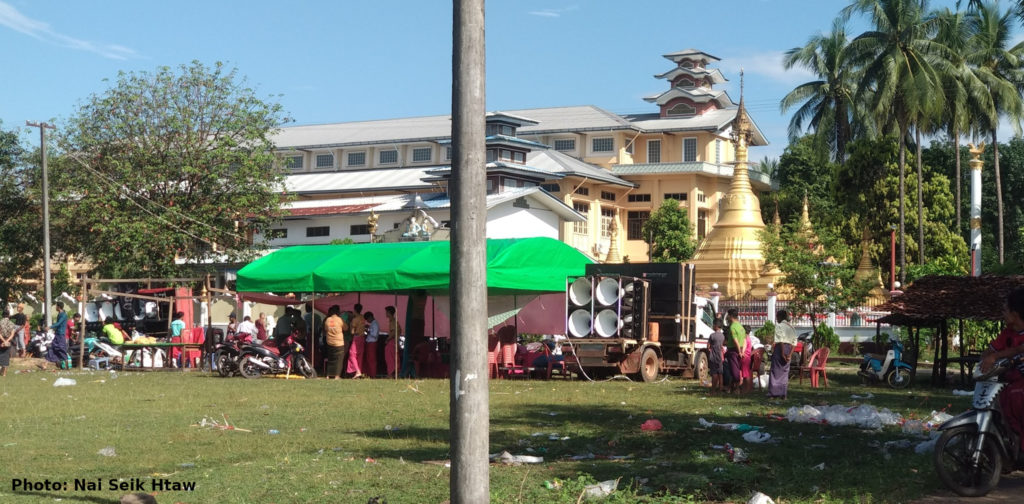 On September 24, 2019 the State government instructed staff at the General Administration Department (GAD) to raise awareness to the owners of loudspeakers and sound boxes to limit the volume of their equipment. The government instruction includes a notice that action will occur for those who fail to obey the directive.
According to Colonel Nay Htut Oo, the Mon State Minister of Security and Border Affairs, "… people should inform (the authority) when they can not bear it (the noise). They need to inform [their] village administrators. If the village administrators fails to take action, [the law will be followed] it is their responsibility. There will be no problem if people take action and stop it."
Colonel Nay Htut Oo, added that if parliamentary representatives continue to raise concerns regarding loudspeakers and sound boxes in the Mon State Hluttaw again, responsible village and township administrator's will also be punished.
Mi Than Htay, Administrator of Ta Ra Nar village, Kyaikmayaw Township explained, "I am responsible to summon the owners of sound box and villagers to make them follow the rules. If there must be a punishment, our villagers are the ones who have to suffer. I will explain [the issue] to them as much as I can. I will correct them. I will take action in accordance with the laws only when they do not follow my instruction".
According to Mi Than Htay, the villagers must provide 3 days advance notice to village administrator of their plans to use a sound box and loud speakers and sign an agreement indicating they understand the regulations governing its use in the community.
"We used to do this in the past. But, the villagers failed to follow [the rules]. So [now we have to be] strict. We have never taken action against sound box owners who failed to follow but they were warned. The villagers may misunderstand me if I take action. But they do not follow it if [there is] no action. We (village administrators) are in an awkward position (between social and legal). We have this kind of inconvenience," continued Mi Than Htay.
Owners of sound system equipment who do not follow the regulations will be reported to Township Thabin (Artiste) Counsel and their operating licenses will be seized if needed, noted Mi Than Htay.
According to a resident of Phae Do village in Mudon Township, if a person wants to hire a sound system and requested permission from the village administrator, there will be no problem, because the administrator will have explained the rules. However, some youth, do not know the rules and/or do not follow them.
"I think people need awareness raising (first) related to the rules and regulations of (using loudspeakers). After such awareness, if they fail to follow the rules, [a] warning for (a first time offense is warranted). After that, if they still fail to follow, there should be punishment. If the authority immediately takes action against those who do not follow the regulation, there will be a misunderstanding which can lead to a problem (between administrators and villagers)," continued the resident of Phae Do village.
An owner of sound system for rental, Nai Shwe Kyi said that "People who have licenses, understand the rule of law. We are doing (our business) in accordance with the laws. Those who do not have a license, use the loudspeakers as they want. "
According to the laws, sound systems can be used only between the hours of 6 am to 9 am and only one loudspeaker and one sound box are allowed (at an event). However, it is common to see more than 4 loudspeakers being used in many villages.
Mon State Lawmaker U Min Aung submitted a proposal to the Mon State Parliament in 2016 urging the government to take action against those who misused sound systems and parliament approved his proposal.
Nine owners of sound systems, were charged by the police under the Ward and Village Tract Administration Law #27 in 2017, for exceeding limited sound volumes at a religious event at Thar Yar Kon monastery in Ah Hlat village, Paung Township.
Comments