Women, peace and politics in Myanmar
HURFOM: Since 2016, there has been an increase of women's participation in Burma's peace process, however, there is evidence that this progress has not been sufficient.
The first Union Peace Conference – the 21st Century Panlong held in August 2016 had just 13 percent women attendees. The second conference held in May 2017 saw a marginal increase with 17 percent women attendees. The July 2018 Union Peace Conference increased women's representation to just 22 percent.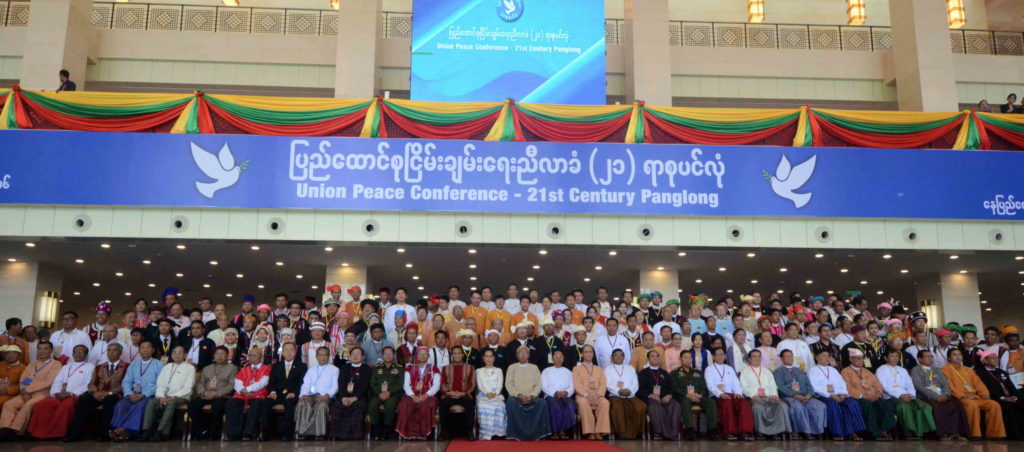 This is well below the 30% benchmark recommended by the United Nations and the percentage agreed to by the parties to the peace accord.
Like many countries around the world that have conflict zones, women in Myanmar are largely excluded from peace talks. One women's activist attending the 3rd Union Peace Conference noted that "More than half of the country population are women … if their voices and decisions have been excluded from the dialogue, [the] peace process can't go forward smoothly and successfully."
Women are disproportionately affected by armed conflicts at the sub-national level, this is particularly true for ethnic minority women. The consequences include being forcible removed from their homes, loss of access to livlihood, and sexual violence.
A four month study titled "Broadening Participation of Ethnic Women in the Peace Process" found that gender imbalance, discrimination and a lack of public support is contributing to the lack of adequate inclusion in Myanmar's peace process.
The Women's League of Burma and the US based Carter Center conducted the study earlier this year. They interviewed leaders of 52 ethnic political parties (EPPs) and 49 representatives, to increase stakeholder awareness of the main constraints and opportunities for women's inclusion and EPPs' involvement in the peace process, as perceived by women members and the leadership of Myanmar's EPPs.
Gender equality has been a long-standing challenge within Myanmar. Although State Counsellor Daw Aung San Suu Kyi can be cited as an example of women in leadership within government, she is the only woman among the 25 ministries and cabinet members. Representation of women in legislatures across the country remains low, and the same applies to the peace process.
The Carter Center/Women's League of Burma study made a number of recommendations for change. This included, the call for information about the peace talks to be made available in local languages and to be easily accessible for communities. The peace process also needs to develop an inclusive channel for women to bring their unrepresented voices to the negotiation tables and ensure their inclusion. Read the full report here.
Greg Kehailia, The Carter Center's country director in Myanmar noted, "There is a largely untapped reserve of civilian stakeholders ready and able to contribute to the peace process; they need training, technical assistance, and opportunities for dialogue and networking."
Referring to shortcomings of the peace process conferences Mi Cherry Soe, Program Director of the Civil Society Development Organization based in Mawlaymine, told the Mon News Agency (MNA), "Women are able to hold discussion in detail and it's beneficial to the conference but women's participation [rate] isn't enough, so there is a defect in every session."
Despite the establishment of a 30% benchmark for women's participation rate, there is a lack of community support for women to engage in the peace process meetings. Stereotypes persist that wrongly assume women are not qualified to be involved in politics or the peace process.
Mi Cherry Soe said, "[The community] has been brainwashed that women should do only housework. This tradition has taught [women to behave] like that …. [because] women have to do housework everyday, they [have no time] to participate in peace."
Gender imbalances and discrimination women face in political structures and institutions is another impediment that needs to be addressed as part of Myanmar's development path.
The total proportion of women in the House of Representatives (Pyithu Hluttaw), House of Nationalities (Amyotha Hluttaw) and Union Parliament (Pyidaungsu Hluttaw) is only 13%. Moreover, and only 3% of women participate in Union government.
"[Although], there are lots of women in the party, men dominate the leadership roles. Women are qualified (to be a leader) but we've found only men in leadership roles. That's a challenge (for women)," said Mi Sar Dar, a Central Executive Committee Member of New Mon State Party (NMSP) and Senior Official of the Mon National Education Committee (MNEC), to the Gender Equality Network (GEN).
Efforts to pursue gender equality extend to the international level. For example, the Convention on the Elimination of all Forms of Discrimination Against Women (CEDAW) is an international treaty adopted in September 1979 by the United Nations General Assembly. The Burmese government signed the treaty in July 22, 1997 and is one of 187 out of 194 UN member countries that have ratified the Convention.
CEDAW is considered the only international instrument that comprehensively addresses women's rights within political, civil, cultural, economic, and social life.
While the Convention is legally binding, it is not self-executing, meaning that any legal obligations stemming from the Convention must be brought before the signatory countries parliamentary process before implementation. In addition, countries can express "reservations, understandings and declarations" in cases where discrepancies between the international convention and domestic law may exist.
There are numerous Articles to the Convention obligating countries to undertake special measures to ensure equality of opportunity for women, as well as taking appropriate measures to eliminate prejudices and customary practices based on the erroneous idea of inferiority or superiority of either of the sexes or on stereotyped roles for men and women.
Women's groups and human rights allies in many countries have found CEDAW to be an invaluable tool to confront institutional discrimination and develop meaningful equality of opportunity for women.
Jeepyah Civil Society Development Organization (JCSDO) has also studied the issue of gender equality in politics and Myanmar's peace process. A JCSDO report pointed out the proportion of women in politics and in the official peace conferences are not representative of the percentage of women in the country's population.
"If there is no chance to have a proper and fair proportion of women in [the] peace process, Burma can not find the best solutions [for] peace and development," said Mi Kon Chan Non, the Chair of Mon Women Organization (MWO).
Mi Cherry Soe added the problem has inter-generational implications, "the lack of women's voices in the peace process, [means not only are] women losing their rights but also their children suffer the same [fate]."
JCSDO's report demanded greater promotion and enabling support for women's participation in the peace process. Also that traditionally sexist notions of gender roles in society, leadership, politics and in the division of labour must be challenged. In order to assist Myanmar's path to greater democracy and development, there must be corresponding, and meaningful actions upholding women's rights. The report also pointed out that Parliament must become a welcoming place for women by enabling child care services and rooms for breast-feeding.
"To promote women's participation in politics and peace, those who are already in positions must create special spaces [and have] concrete plans for women," said Mi Cherry Soe.
Comments