Mon National affairs budget cut in controversial decision by Chief Minister
HURFOM: During a revision of the 2018-19 budget the State Government has significantly reduced its allocation to Mon National affairs. One third of the budget from the previous year has been scraped in favour of Karen National affairs. The lower budget will not cover proposed projects, impacting the most on Mon education programs.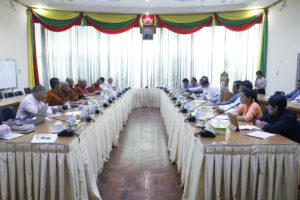 The Mon State government has decided to allocate just 100 million Myanmar Kyat (MMK) for all Mon affairs, cutting the budget by 50 million MMK. "Last year, we funded the Mon National Day and the Mon Summer School Program costing 100 million MMK for these projects alone. No funding will be left, but we have other programs to support" said Dr Min Kyi Win, the Mon State Minister of Natural Resources and Environmental Conservation.
Last year, a total of 450 million MMK was allocated for all ethnic affairs, with 150 million MMK for Mon, and 100 million MMK each for the remaining Karen, Pa-O and Bamar groups. Despite economic growth in Myanmar, the Mon State government has not increased the overall budget and has reduced the Mon ethnic affairs budget by 50 million MMK which has been allocated to Karen National affairs.
Mon State lawmakers have pointed the finger at the Mon State Chief Minister Dr Aye Zan and his government officials for this controversial decision. "Karen groups will receive more funding than Mon in Mon State. This is inappropriate. The lawmakers and the Mon State Chief Minister have responsibility to explain their decision" said Nai Karan, a Mawlamyine resident.
Other projects that will suffer from lack of funding are predominately for Mon based education programs. "The Heritage of Mon Culture Group requested us to support them with 10.7 million MMK for Mon Traditional Music Training. We also have to support Mon National Schools, Mon Author Association and others," said Minister Dr Min Kyi Win.
Comments