HURFOM Releases "'I Still Remember': Desires for acknowledgement and justice for past and ongoing human rights violations in Mon areas of southern Burma"
In commemoration of International Human Rights Day, the Human Rights Foundation of Monland (HURFOM) releases "'I Still Remember': Desires for acknowledgment and justice for human rights violations in Mon areas of southern Burma." [Download Full Report | Brief Report | Brief in Burmese]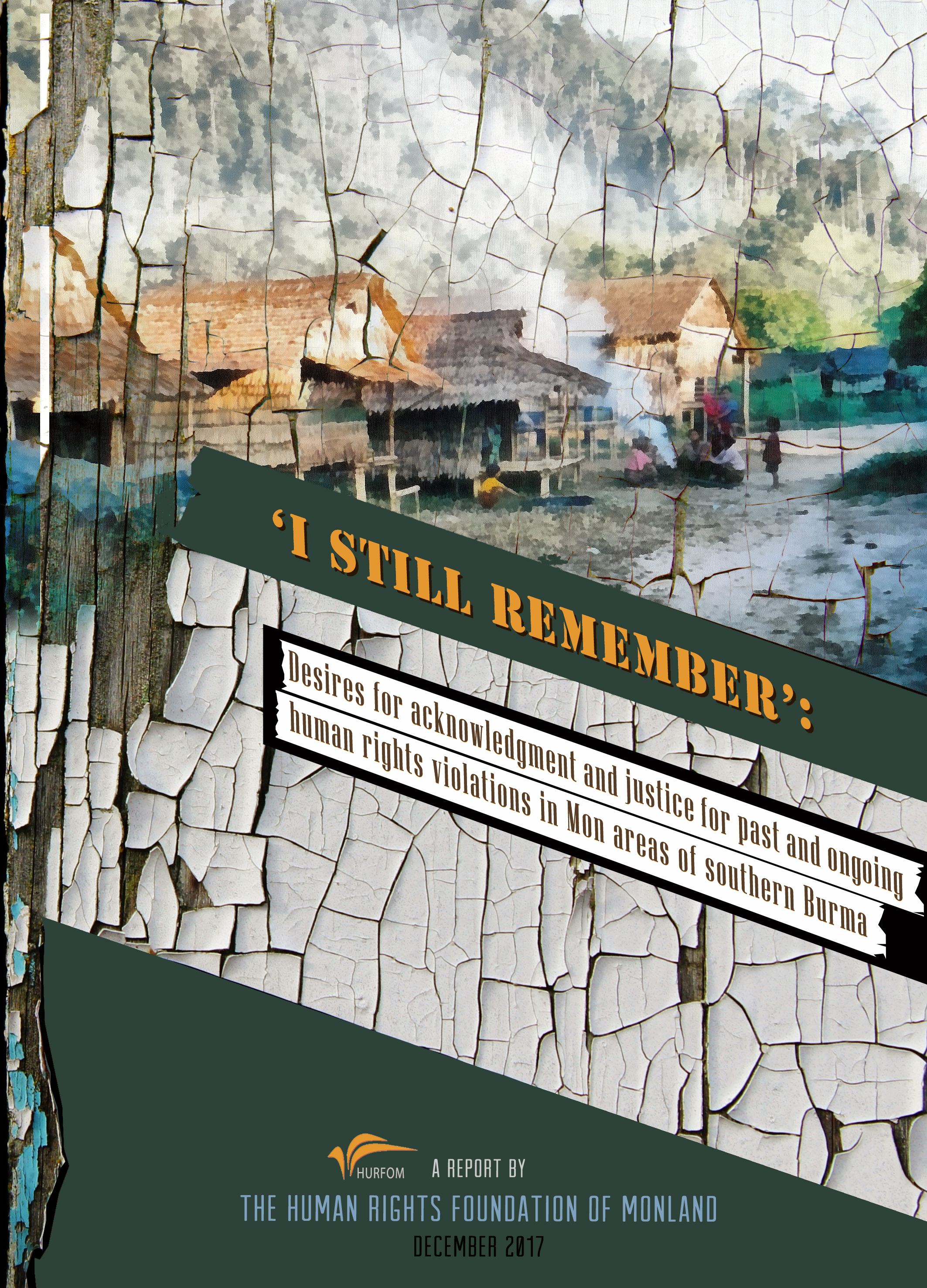 Since Burma's transition from a military government to a nominally civilian-led one beginning in 2010, 'national reconciliation' has become a ubiquitous concept amongst politicians and those advocating for peace in Burma after more than 60 years of civil war. With the National League for Democracy's (NLD) historic electoral win in 2015, hope was further renewed for rebuilding Burma into a genuine democracy and uniting its fragmented society.
Yet, for all its usage by those in power, the rhetoric of 'national reconciliation' increasingly rings hollow. As press freedoms are curtailed and armed conflict and human rights violations continue unabated in northern Rakhine, Kachin, and Shan states, too little has changed in the intervening years since Burma embarked on its democratic transition. Rather than acknowledging Burma's history of past human rights violations, the current administration in Burma seems unwilling or unable to address its violent past, instead resorting to victim blaming when individuals are unable to forget the violence inflicted upon them.
The testimony gathered for this report shows that the majority of villagers interviewed in Mon State and Mon areas of southeast Burma not only are unable to forget the past, but do desire some form of justice for abuses endured over the past decades. In addition to providing evidence of the widespread and systematic violation of human rights by the Burma Army and Ethnic Armed Organizations (EAOs) since 1995, this report aims to present the voices of villagers and their desires for justice. In doing so, it counters the Burma government's narrative that national reconciliation is possible without confronting its violent past and shows that the implementation of transitional justice mechanisms, particularly reparations, are necessary for the country to heal.
"In southern Burma, there are tens of thousands of victims and survivors of past human rights abuses who have been ignored by all levels of government and some armed groups. In this report, we discuss how important mechanisms of transitional justice, such as reparations, are for achieving long-term, sustainable peace and reconciliation. For this to work, we must shift away from top-down approaches to focus on voices from the ground, which must be heard and heeded. The first-hand information gathered for this report provides an in-depth illustration for how bottom-up truth-telling and public healing can make a significant contribution to transitional justice and inform legal judgments for reparations in accordance with domestic and international legal obligations."

– Nai Aue Mon, Program Director
Enquiries in Mon or Burmese:
Nai Aue Mon – Program Director, HURFOM
(+66) 086-167-9741, auemon@rehmonnya.org, auemon@gmail.com
Enquiries in English:
Janeen Sawatzky – Senior Researcher, HURFOM
(+66) 097-265-7595, janeen@rehmonnya.org
[Download Full Report | Brief Report | Brief in Burmese]
Comments