New Mon State Party and Mon farmers initiated Mon Regional Land Policy discussions
A workshop was held on 4 and 5 September 2016 to discuss the development of a Mon Regional Land Policy in order to guarantee ethnic Mon people have rights to land. Over 120 representatives, comprised of leaders from four areas of the New Mon State Party (NMSP), civil society organizations (CSOs) including the Human Rights Foundation of Monland (HURFOM), and farmers from 14 townships. The representatives from farming communities have repeatedly reported the complexity of land issues in Mon areas, especially land grabbing and land confiscations by both the Burmese Army and investment companies. The difficulty lies in the registration of the land; the 2012 land law is in favor of companies and the Army, not the local people.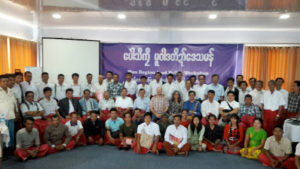 Nai Shwe Win, a farmer from Kyaikmayaw Township, stated, "Farmers were under threat in 2011 when a cement production company (June Company) was planning to buy land. They told farmers that they got orders from the government in Nay Pyi Daw (led by U Thein Sein). Farmers wanted to keep their land but the government gave permits to the company to take the land. Farmers were afraid to go against the permits and sold their land at a low price of 50 000 Kyat (about 40 US Dollar) per acre".
Land grabbing in Kyaikmayaw Township, Mon State, occurred between 2011 and 2013 when cement companies were planning to take the land in order to build factories. Farmers from Bee Lin Township also spoke about the land confiscation by a company called Max Myanmar during the military regime. Similarly, another military backed company named Union of Myanmar Economic Holding Limited (UMEHL) grabbed land around the coastal area. Consequently, local villagers faced difficulties with their livelihoods and access to natural resources.
Ye Township residents have also reported land problems. Most significantly, over 7 000 acres of land was confiscated by the Burmese Army; coastal areas and fishing communities have also been suffering from land grabbing issues. At the same time, foreign direct investment companies are also planning to build 'coal power plantations' and deep sea ports in the area, which also requires a lot of land. Correspondingly, in Yebyu Township, Mon farmers have reported that they are repeatedly denied land ownership by the governments' land management authorities when they apply for Form 7, the right to work on land, according to the 2012 Land Laws.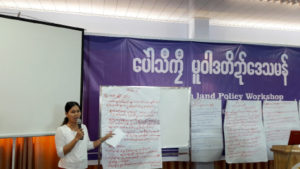 Participants that attended the workshop discussed both the 2012 land laws and the 2016 land use policies. They concluded that these are not practical because of the corruption that occurs within and between government authorities. This poses a serious threat to the land use policy because the government recognizes the indigenous people's lands as 'wild and virgin lands', 'unused lands' and 'forest lands'.
During the 60 years of civil war in the country, the NMSP, and armed organization and the local government for Mon people, have recognized customary land tenancy of local villagers and have issued land registration certificates in Mon controlled areas. However, there certificates are not recognized by the government. Certain NMSP controlled areas are also recognized as 'forestry areas' by the government.
NMSP, CSOs and Mon farmers are calling to develop a Mon regional land policy in order to oppose the governments' 2012 land laws; the 2012 Vacant, Fallow, Virgin Land Management Law; the 2016 Land Use Policy; and other forestry land laws. They aim to promote indigenous people's customary land tenancy for ethnic Mon and other ethnic farmers in Mon regions, covering Mon State, some parts of Karen State and Tenasserim Division.
In the final day of the workshop, the NMSP, CSOs and farmers agreed to form a 15-member committee in order to facilitate and develop new land policies and agreed to conduct surveys and hold meetings with local farmers to share experiences. NMSP guarantees to implement the land policy, if it exists, and participants support the role of the NMSP to manage the ethnic peoples' lands.
International human rights principles, especially ethnic peoples' rights to lands and resources, sustainable development and land ownership and empowerment of the local economy and protection of natural environment and climate change, will be considered in the new land policy, as advised by the Transnational Institute, based in Netherlands.
Karen National Union, representing the Karen indigenous people in the eastern part of Burma/Myanmar, also introduced their 'customary land tenure' based land policy in May 2016.
Comments