Villager speaks out about corruption over bridge in Kayokepi village, Mon State
A villager from Kawlay village, located in Mon State's Thanbyuzayat Township, has spoken out about corruption suffered at the hands of former Kayokepi village headman of nearby Kayokepi village.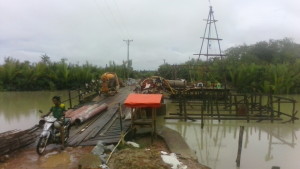 Speaking exclusively to HURFOM, Nai Blai explained how years ago U Cartoon demanded significant sums of money from local villagers, saying that he needed money to construct a bridge through Kayokepi village. However, once the bridge opened it did not meet expectations. While huge amounts had been donated to build the bridge, the completed bridge was of very poor quality.
Given shoddy workmanship, villagers began raising questions about how the large sums of money raised towards constructing the bridge had been spent.
Nai Blai said, "Former Kayokepi village headman Nai Cartoon has collected hundreds of millions of Kyat from villagers along the road linked by bridge, including from Kayokepi, Wae Kalong and Kalway [villages].
"Kayokepi villagers have given a huge amount per house. Other villages have given 10, 20, and 30 thousand Kyat per house. But the money is still not enough. Nai Cartoon cooperated with a wealthy Mon man named Asaung to manage the construction.
"We do not know where the money has gone, but we assume that Nai Cartoon is the one who is responsible for this. He is the one who managed the bridge construction. Now, the financial issues have become very complicated. The bridge is of very poor quality. He has cheated people out of their money for a long time."
Nai Blai also raised concerns over tolls levied from villagers crossing the bridge, many of whom are the very same people who paid for its construction. Again, there has been no transparency over how money collected from tolls has been spent.
He detailed, "After the bridge was finished, they collected tolls from motorbikes and cars [to allow them to cross the bridge]. They charge 100 Kyat for a motorbike, and 200, 500 or 1000 Kyat for a car or truck. They have collected money like this for many years. They have never presented financial accounts of where the money has gone. The money for the bridge's construction came from villagers. It is not right that these villagers still have to pay a toll whenever they cross the bridge, even though they paid for the construction.
"No one has reported this yet. They are still collecting tolls. For example, they should have opened the bridge [for free] during the recent funeral ceremony for a monk in Kayokepi village, but they did not. Actually, they planned to collect money from [participants of] this ceremony. They got a lot of money from motorbikes and trucks. Within seven days, they got a lot of money."
In 2016 the government will allocate a budget of 400 million Kyat to a project to rebuild the bridge. However, there has been no push for accountability over how funds raised for its initial construction were spent, nor has anyone raised the question of why the reconstruction project is needed so soon after the bridge's completion. According to Nai Blai, this has left villagers dissatisfied.
He explained, "The village headman requested a 400 million Kyat budget from the government [to rebuild the bridge]. We have heard that the government has decided to give the budget […] It is right that they will reconstruct the bridge again in 2016 from a government budget, but it has already cost a lot of money from villagers. We are not happy that there is no process of informing villagers [about the issue] and no sense of taking responsibility."
Comments