Election day irregularities in Mon State
On November 8, 2015, historic elections were held across Burma. While voting on the whole proceeded smoothly, HURFOM received information concerning a number of irregularities experienced by Mon State voters.
Residents left off voter lists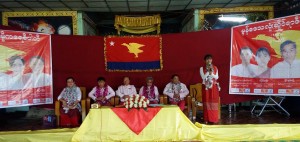 Speaking one day before the election, All Mon Regions Democracy Party (AMDP) candidate Nai Tala Chan explained that serious concerns still existed over the accuracy of nationwide voter lists. He detailed, "Currently, the voter list across the whole country is still incorrect, even though they have checked and corrected it".
According to MNP observers, almost 200 people in Kraikpi and Pa-Nga villages, Thanbyuzayat Township, were unable to vote after being left off the voter list. While some people were never included in the list, others were included at first but subsequently removed when the list was displayed for a second round of review.
Nai Tala Chan explained that he believed the AMDP's election campaigning in Thanbyuzayat Township inspired many people not included on the list to try to vote on polling day. However, he detailed that villagers excluded from the list were unsuccessful in their attempts to vote. He explained, "These people gathered in front of the polling station to ask the commission for the right to vote, but the commission could not make the decision. So these people couldn't vote."
Pa-Nga Village Mon National Party (MNP) candidate, Nai Thein Htun, elaborated that official regulations stipulated that people excluded from the voting list could still vote on the day if they could prove that they were eligible to vote in the constituency, showing an ID card and being vouched for by their village administrator. However, Nai Thein Htun detailed that polling station officers in Pa-Nga were unable to verify voters' eligibility using these requirements.
Nai Thein Htun explained, "Many people have had to walk away from voting, and they are not happy about it."
Late delivery of voter slips
By the day before the election several people in Thanbyuzayat Township had still not received voter slips. This was reported to cause great worry, due to concerns that residents would be unable to vote without the slip. While voter slips were not in fact needed to participate on ballot day, many of these residents gathered at sundown on November 7 to report their concerns to the election commission.
Media restrictions
In Kraikpi village, Thanbyuzayat Township, Mon reporters from the Than Lwin Times, Guiding Star, and Independent Mon News Agency reported that the election commission chairmen in polling stations No. 1 and No. 2 barred them from taking photos and videos.
The officer of polling station No. 1, schoolteacher Daw Khin Aye, warned reporters, "This is our polling station. You are not allowed to take pictures inside, only outside." Despite reporters' insistence that they had permission to take pictures inside the polling station, their concerns remained unheard.
Similarly, in polling station No. 2, commission chairman U Kon Par told media representatives, "Reporters do not have permission to take photos inside the polling station, only on the outside."
Showing some inconsistency, in nearby Pa-Nga village, reporters had no problems taking photos inside polling stations.
Voters given the wrong ballot papers
In Thiri Mingalar polling station, in the Aung Thu Kha quarter of Kyaikkami Town, an MNP election observer discovered that voters had been given ballot papers belonging to the wrong constituency.
The mistake was spotted after 37 people had already voted, at which point the polling station officer was informed. The Kyaikkami election commission immediately contacted the township commission branch, who in turn notified the state commission. An urgent meeting was called between various parties to resolve the matter. NLD candidate Daw Myat Thida Htun has since threatened to pursue legal action concerning the issue.
In a similar case, Mon voters in Bane Nwat Taw village, Thanbyuzayat Township, were given ballot papers allocated for Bamar voters. An MNP election observer noted the mistake after a whole book of these ballot papers had been used. When parties came together in the evening to discuss voting matters, it is reported that they did not address this issue.
Observers barred from polling stations
MNP candidate Nai Pan Mai reported that, in a polling station in Aung Mingalar, Thanbyuzayat Township, MNP observers were forbidden from entering the polling station, and had to remain outside throughout the day. Furthermore, they were told by the election commission to change out of their traditional clothing.
A similar situation occurred in Kraikpi village, where MNP candidates were only allowed on the veranda outside the polling station, preventing them from knowing the circumstances under which voting took place.
With observers barred from entering the polling station, suspicions were raised in Kraikpi over foul play. "Village administrator Nai Cartoon was trying to trick voters to vote USDP. No one in the polling station dared stop him," said MNP candidate Chaw Su Lat.
Vote counts delayed by power cuts
At 7pm on election night, after the polls had closed, the whole of Mon State suffered a power cut causing major delays to the vote count. Although some polling stations had their own generators and could cope with the situation, not all were afforded this convenience.
MNP observers reported difficulties with checking ballots in the dark, due to the pale yellow colour of ballot papers. Although polling stations in some villages finished counting votes early, in other cities and villages it was almost dawn before the count was complete.
Comments