Mon State flooding prompts livelihood concerns
Villagers in Mon State's Belin and Thaton Townships have reported livelihood concerns due to severe floods.
Flooding in Mon State follows widespread floods throughout the country, which have claimed the lives of over a hundred people and displaced over a million from their homes.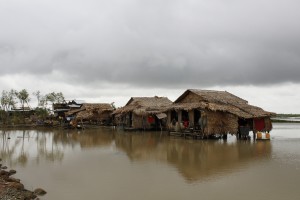 Mon State villages known to be affected include Don Won village in Thaton Township and Taung Gyi village in Belin Township.
In Don Won it is estimated that 350 of a total 1800 households have been affected, containing 1400 people. Meanwhile, 49 households in Taung Gyi village have suffered, with seven houses completely destroyed.
Don Won's Village Administrator, U Myint Tun, detailed rising concerns about the impact of flooding on local livelihoods. Approximately 1000 acres of farmland surrounding Don Won village have been completely submerged, while local shopkeepers have seen significant interruptions to business.
Daw Than Kyu, a saleswoman selling the traditional noodle dish Mohinga, told HURFOM that she has to stop her Mohinga shop. She normally makes profit just 2,000 Kyat per day. Reportedly, some villagers have turned to local moneylenders to address livelihood problems, borrowing money at high interest rates.
Last weekend HURFOM, in collaboration with the Shin Saw Pu Association, delivered emergency aid to flood victims in Don Won and Taung Gyi villages. Victims were provided with food, clothes and other basic necessities, alongside cash donations totalling one million Kyats.
Other organisations assisting Don Won villagers include the National League for Democracy (NLD) and the ruling Union Solidarity and Development Party (USDP). According to Village Administrator U Myint Tun, a total of 10 political parties and other organisations have rushed to Don Won's aid in recent weeks. In his opinion, social media has been key to mobilising the flood response. He explained, "We face flooding like this every year but this year more people heard about it and came to help, because the people use Facebook".
Comments