An issue we must not leave behind
Burma is a patriarchal society where, despite Aung San Suu Kyi's high profile, gender inequality still exists. Women are still denied equal rights and continue to face discrimination. Politics is one key realm where Burma's ongoing gender inequality comes into focus.
Women in politics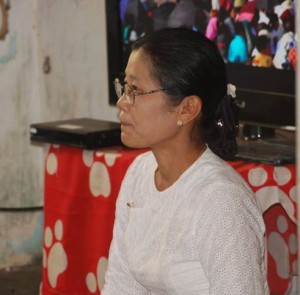 Burma has a very low number of women in political leadership positions. According to official statistics, of 200 Ministers, Union Ministers and Deputy Ministers in Burma, only four are women. Overall, involvement of women in the country's legislature is low, likely because Burma has been under a, predominantly male, military dictatorship for half a century.
Problems with women's political participation also extend to political party hierarchies. While some political parties have women's departments, in general women lack voice and face barriers to full participation in party structures and decision-making.
A report by the Swedish Burma Committee, "Peace for Whom?", discusses how women are also excluded from national peace dialogues. For example, there is only one woman in the National Ceasefire Coordination Team (NCCT).
"If women doesn't have place to voice their opinions at the peace talks then where is woman's place? Are we just supposed to stay at home?
We now live in the 21st century and we do need to break that barrier of the private and the public spaces for women." Myra Dahgaypaw, US Campaign for Burma
Barriers to participation and leadership
Poor representation of women in Burma's politics and public life contrasts with commitments the government has made on paper. In 1997 Burma ratified the Convention to Eliminate All Forms of Discrimination Against Women (CEDAW) and has since established a National Strategic Plan for Advancement of Women (NSPAW), to improve women's status and access to equal rights. These commitments have seen little traction in reality.
Research by the Asia Foundation, entitled "Women's Participation in the Subnational Governance of Myanmar", attributes women's poor participation in Burma's politics to multiple forms of gender discrimination, which interact to restrict women's ability to participate.
In particular, roots of discrimination can be traced to the family unit, where boys are often preferred over girls, receive a better education and are spared from adopting domestic duties. Discrimination against girls and women continues from these beginnings into various walks of life, affecting issues that include political participation. In politics, we see leadership choices being based on gender norms and stereotypes, and reinforced by culture, gender based violence, discrimination, poor recognition of gender equality and lacking support for women leaders.
This is compounded by a political system where women face significant constitutional barriers to equality. As Aung San Suu Kyi has pointed out, Burma's constitution was written by men and still contains a series of conditions that discriminate against women.
Signs of progress?
Despite these barriers, the future may hold brighter hopes for women's participation. According to the Inter-Parliamentary Union, after the 2012 by-election the percentage of women in Burma's parliament reached six percent: 26 of 431 members. Moreover, the Ministry of Social Welfare has recently appointed its first female Minister and four other women have been appointed as Ministers in State and Regional parliaments; two in Kachin State, one in Yangon and one in Irrawaddy Region.
As Burma's 2015 Elections approach, expected to be held in late October or early November, new signs of progress arise. In October 2014, the first ever political party dedicated to representing women was formed in Moulmein, Mon State, on the principle of promoting gender equality and increasing women's representation in politics. The Women's Party (Mon) aims to create an inclusive and welcoming space for women of all ethnicities to participate in governance. The party's Chairperson, Mi Than Shin, emphasises that women often lack equal voice to men in Burma's politics; she formed the Women's Party to be able to participate fully in politics herself and show that women are capable of as many things as men.
"If we did not establish this party, women would not be included in [political] leadership positions, but would only be permitted to be involved in certain areas." Mi Than Shin, Chairperson of Women's Party (Mon).
Promisingly, the Women's Party (Mon) will compete in 2015's elections. Meanwhile, also in Mon regions, the Mon National Party (MNP) and All Mon Regions Democracy Party (AMDP) have vowed that they will give priority to women when they choose party representatives for the upcoming elections.
However, significant questions remain about 2015's elections, and about hopes that they will bring a change to women's place in politics. In particular, will the elections be free and fair? How far will the elections change Burma? And, most importantly, will we see more women given equal rights and access to full participation in political affairs?
Conclusion
Despite some signs of progress, Burma still has a long way to go towards gender equality in politics. Women's representation in leadership is still very poor compared to other countries in ASEAN and significant barriers remain to women's participation.
Yet it is wasteful for Burma to exclude women, who consist half of the country's population, from participation in nation-building. Excluding women means that their opinions and concerns are ignored. We must understand that sustainable peace and an end to violence against women will not be achieved unless we allow women's participation throughout politics and, in particular, in the nation's peace talks.
References:
Danish Institute for Parties and Democracy (February 4, 2014). "Women in Political Parties in Myanmar – What Way Forward", available at: http://dipd.dk/2014/02/women-in-political-parties-in-myanmar-what-way-forward/
HURFOM (May 31, 2015). "Mon Women's Party to Compete in 2015 Election", available at: http://rehmonnya.org/archives/3478
Hofmeister, W. (October 7, 2013). "Daw Aung San Suu Kyi Calls for More Women Leadership Positions", available at: http://www.kas.de/politikdialog-asien/en/publications/35644/
Hedstrom, J. (May 2015). "Peace for Whom? The Institutionalization of gender inequality in Myanmar's reform process", Swedish Burma Committee, available at: http://www.burmakommitten.org/wp-content/uploads/2015/05/Peace-for-Whom-Gender-Inequality-in-Myanmar-May-2015-SBC.pdf
IMNA (May 8, 2015). "Mon Political Parties to Prioritize Youths and Women as Representatives in 2015 Election Contest", available at: http://monnews.org/2015/05/08/mon-political-parties-to-prioritize-youths-and-women-as-representatives-in-2015-election-contest/
Mizzima (June 3, 2015). "Political Parties out to Attract Women in Myanmar", available at: http://mizzima.com/election-2015-election-news/political-parties-out-attract-women-myanmar
The Irrawaddy (October 4, 2013). "Suu Kyi Calls for More Women in Parliament", available at: http://www.irrawaddy.org/burma/suu-kyi-calls-women-parliament.html
The Asia Foundation (June, 2014). "Women's Participation in the Subnational Governance of Myanmar", available at: https://asiafoundation.org/resources/pdfs/WomensParticipationintheSubnationalGovernanceofMyanmar.pdf
The Irrawaddy (October 30, 2014). "We Will Show How Much Women Are Capable of through This Party", available at: http://www.irrawaddy.org/interview/will-show-much-women-capable-party.html
Comments