Beer, brothels, and bribery in Myaintayar quarter
HURFOM: Almost three decades ago the capital city of Moulmein in Mon State was divided into quarters, with one, Myaintayar, designated as a residential area solely for civil servants and military families. But over the years, political promotions moved government employees to other parts of the country and Cyclone Nargis brought a swell of internal migration to the city, resulting in a more diverse population that expanded neighborhoods and filled vacated homes. Today, Myaintayar quarter is a mix of urbanite shopkeepers and hotel owners, laborers working in Mon State's large industrial and agricultural sectors, NGO personnel and office representatives of various armed ethnic groups, and a sizable community of students and staff from nearby Mawlamyine University.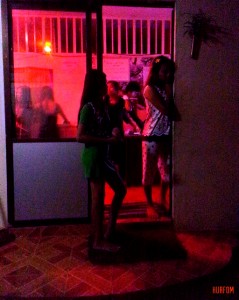 Residents reported that in the past few years, this spiraling growth has also included a surge in alcohol sales and prostitution. According to official records, there are now 132 bars, massage parlors, and brothels in Myaintayar. Local people alleged that the proliferation of these shops is attributable to a network of bribes paid by business owners to the "quarter-in-charge" police, who work under the Ministry of Home Affairs, and the special intelligence police who were granted authority by the state government to manage the quarter. Reports highlighted that members of these two groups, headed by Ko Kyaw Kyi at the intelligence police and Kyaw Min Tun serving as the "quarter-in-charge" administrator, bring in around 200,000 to 300,000 kyat per month in kickbacks.
Interviews with Myaintayar residents revealed a number of concerns about the businesses' effects on young people's lives and the persistence of local-level corruption despite Burma's reform process. Some parents said they had approached community authorities to register their dissatisfaction, but had seen little change.
Daw Yin May, 58, is the wife of a retired civil servant. She said, "There are around eight prostitution and massage bars in our area, and I see some young people using drugs almost every day and night. I worry for my children because I do not want them to get involved in this, so I prevent my children from going to [those places] and I'm thinking of moving away. This section is not safe like before when only government employees lived here."
A group of seven residents asserted that the bars were being opened particularly in Myaintayar quarter because of its large, young population and its location somewhat outside of the city, about a 15 minute drive from downtown Moulmein. The residents explained that the illicit businesses could "hide" among the many residential family dwellings to avoid government scrutiny.
"The Myaintayar section was only for civil servants and military families, but now many migrating families live there," said a 42-year-old Mawlamyine University professor. "Both local people and university students live in the Myaintayar section, but there are some added dangers for the students since the illegal bars are close to the university. It is unethical to run those kinds of illegal and immoral bars around the university because it seems the businesses are targeting the many young students who have money to spend on their schooling. The local authorities should consider the consequences of these bars for local people and not only think of the bribes they receive."
A member of an armed ethnic group (with a ceasefire agreement) who lives in Myaintayar said, "We heard that some of the businesses also sell drugs, and abuses will increase if the number of bars keeps increasing. Last week, a house opposite ours had some things stolen, and some vandal drove by making loud motorbike noises at midnight. It was not like this in the past. The quarter police and special intelligence police profit a million kyat per month and share the earnings with all their [associated] groups like police officers and state and region administrators. Since they ignore the damage done to the locals it seems like they don't care about local people. The ceasefire group can advocate [for awareness about] the problem but only the government can solve it."
A local from Myaintayar said, "Unfortunately, some armed ethnic groups [that signed ceasefires] also run one of the [Myaintayar] bars that was permitted to open after paying bribes to the government. They named it Su Baung massage bar."
Residents said some of the massage bars are legitimate businesses and not fronts for commercial sex, but one young member of a community development and social welfare organization described the growing size of the informal economy that hinges on peddling alcohol and prostitution.
"There are 15 women estimated to work in each bar, so around 1,500 women workers depend on [income from] prostitution and the massage bars in Myaintayar. There are also [around] four attendants who coordinate the women workers for the customers in a bar, so there are roughly 500 attendants in the 132 bars."
Local taxi driver Ko Htwe, 29, said, "If I don't get any customers during the daytime, I usually park my taxi in front of the bars at night. Sometimes I get lucky and meet people from [out of town] who don't know how to get to the bars, and I make 1,000 kyat to transport them. I can make 2,500 kyat if a customer calls for a prostitute [and she needs] to go to a hotel or some other place. For me, I do not criticize [the women] much because I am a taxi driver and I work on the agreement that if they want to go someplace, then I send them. I see it just as us working."
However, many residents asserted that local authorities should stop being influenced by bribes and weigh the long-term social implications of the quarter's changing image. Interviewees alleged that the rule of law does not extend to the police, complicit members of armed ethnic groups, or local government authorities, who appear to be ignoring the widespread corruption.
"The fact that having money means people can do whatever they want has been the case in Burma for a long time. We submit letters to state authorities and they address the issues somewhat, but [the misconduct] will happen again because they also profit from the [unlawful] businesses. So if we want change in Burma, we have to change everything," said Ko Htain Win, a member of a community welfare group.
Comments