Armed ethnic groups sign Deed of Commitment to highlight dedication to children in armed conflict
HURFOM: On August 2nd, two armed ethnic resistance groups, the New Mon State Party (NMSP) and the Karenni National Progressive Party (KNPP), signed Geneva Call's Deed of Commitment (DoC) to pledge their dedication to the protection of children in armed conflict. The signatures also certify that the two parties agree to monitoring inspections and cooperation with independent regional and international organizations to verify compliance in their territories.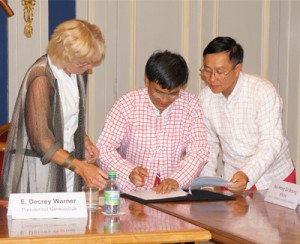 Geneva Call, a humanitarian organization based in Geneva, Switzerland, established the "Deed of Commitment for the protection of children from the effects of armed conflicts" as part of their efforts to improve armed non-state actors' observation of international humanitarian and human rights laws. Signatories of the Deed of Commitment agree to 16 terms, or provisions, that enshrine a complete ban on the recruitment of children in armed forces, determination to protect children from the dangers of military action, and respect for human dignity and international norms surrounding child rights.
Central Committee Member and head of NMSP's Foreign Affairs Department, Nai Hong Sa Boung Khine, signed the agreement and confirmed that his party and its armed faction, the Mon National Liberation Army (MNLA), wanted to formalize their resolve to protect and acknowledge child rights.
"We signed the Deed of Commitment to demonstrate that we're going to participate in the protection of children and not use children for military purposes."
That same day, Secretary U Khu Oo Reh and Central Executive Committee member U Rimond Htoo of the Karenni National Progressive Party (KNPP) also signed the DoC. During an interview with Radio Free Asia, KNPP Secretary 2 U Aung Sann Myint reported that, since 2011, KNPP has received training in capacity building from Geneva Call regarding international law and the use of child soldiers.
The Human Rights Foundation of Monland (HURFOM) welcomes the armed ethnic groups' decisions to respect humanitarian law and exhibit their dedication to child protection.  Nai Aue Mon, a coordinator for HURFOM's Human Rights Documentation and Dissemination Program, said, "I am happy to hear the non-state armed groups agreed to the Geneva Call Deed of Commitment, and think the time is right for armed ethnic groups to exhibit their accountability and contributions to children in conflict-affected areas. I think the role of human rights workers should include involvement in the monitoring of these commitments and assistance to ensure implementation. That way, we can carefully examine and encourage the improvement of children's lives in areas touched by war."
Geneva Call started working on the issue of child soldiers in early 2001, when they organized and invited the Coalition to Stop the Use of Child Soldiers to a conference exploring engagement with non-state actors. Since then, Geneva Call has aimed to incorporate international laws and norms into the practices of non-state actors, with special emphasis on the Convention on the Rights of the Child (CRC), the Involvement of Children in Armed Conflict, and the United Nations Security Council Resolution 1612 detailing child rights violations involving killing and maiming of children, recruitment or use of children as soldiers, attacks against schools or hospitals, and rape and other grave sexual abuse of children.
Comments