Burma's Democratic Facade: Human Right Abuses Continued
Series of The Mon Forum, November – December, 2011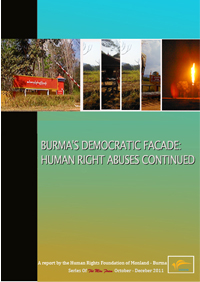 In Burma (also known as Myanmar), the new President Thein Sein (former Gen. Thein Sein) has attempted to move towards democratization or a democratic transition, by establishing a dialogue with pro-democracy leader Daw Aung San Suu Kyi and allowed her party, the National League for Democracy (NLD), to participate in the general elections.  In order to show a positive change, the government also released a small number of political prisoners.
However, the Burmese Army still operates military offensives against ethnic rebel groups in Karen State, Shan State and Kachin State whilst the government has conducted ceasefire talks. Human rights violations have continued in these areas and thousands of ethnic civilians continue to suffer from abuses committed by troops of the Burmese Army. [Download Report in PDF format] | [Map]
In many non-conflict ethnic ceasefire areas, government authorities and troops of the Burmese Army continue to commit human rights violations in the rural areas.  The change of governmental system – from military regime to democratically elected government – has contributed too little change for Burma's rural ethnic population. Subsequently, the changes that have been applied are not appreciated by those affected by them.
From [October to December, 2011], Human Rights Foundation of Monland – Burma's (HURFOM) field reporters gathered human rights violations cases through conducting interviews with local residents of the villages under the administration of Yebyu, Ye, and Thanbyuzayat townships. These villages include those that are situated on Kywe Thone Nyi Ma Island and nearby it, in Yebyu Township, Tenasserim Division, and some in Ye Township, while most are lying along the highway of Ye Township to Thanbyuzayat Township, Mon State.
The fact-findings in this report show that those residents from the villages mentioned above experience various human rights abuses: such as extortion, arbitrary taxation, forced labor, land confiscation, ill-treatment, sentry duty and obstructing village security in their daily life committed by local based government's battalions and navy units.
Furthermore, it reveals that 10 years after the gas pipeline construction between Kanbauk and Myaing Kalay, villagers residing along the highway of Ye Township to Thanbyuzayat Township are still demanded to provide security fees for the gas pipeline, its sentry and duties of village security. Villagers have also had their lands seized and marked to be confiscated recently. Additionally our information unveils that the villagers are forced to give information of ethnic insurgency groups to local government officers and required to report every day even though no such groups travel by, or enter the villages. Consequently, these villagers have to leave their work behind as they have to report, and because they are unable to go to work, they face difficulties for their survival. In addition, the villagers living on Kywe Thone Nyi Ma Island not only have their land seized, but also have to provide the local based Navy Army with allowances for them to work on their own rubber and betel nut plantations and other long-term crops plantations. In addition, the villagers on the Kywe Thone Nyi Ma Island and its surrounding villages have to provide woods and other materials for buildings of local based Burmese Army offices and barracks; yet those villagers are also charged to pay a large amount of money if they could not provide the woods.
HURFOM's objectives are to document and report human rights violations cases, taken place mainly in three regions: Mon State, Karen State, and the Tenasserim Division, to promote human rights and lessen the chance of future violations. Thus far, HURFOM has found out that like in the periods of previous governments, the human rights violations are still committed by the government troops even though a National Human Rights Commission (NHRC) is formed in Burma. Also, despite a new civilian-led government has been formed, Burma's local residents do not see any signs of change in their villages. In fact, the villagers are facing human rights abuses more frequently by the government troops of the government that was inaugurated in, 2010, than during the time the government was led by Senior General Than Shwe.
In Burma, to show the signs of heading toward reforms, President Thein Sein has conducted many rounds of dialogues with pro-democracy leader, Daw Aung San Suu Kyi, in addition to allowing her party the National League for Democracy (NLD) to take part in the upcoming by-elections and releasing a small number of political detainees.
On the afternoon of August 19, 2011, Burma's President Thein Sein held the first talk with Daw Aung San Suu Kyi at his office in the Presidential Residence in Naypyidaw. People in the country hoped that the meeting would bring about changes and prominent development in political spheres. Suu Kyi and the president reportedly enjoyed a cordial conversation, though no details of the meeting were released by either site. Burmese state newspaper –The New Light of Myanmar – reported the meeting from a different angle: "The president and Daw Aung San Suu Kyi tried to find out the potential common grounds to cooperate in interests of the nation and the people putting aside different views." However, the news report did not explore what "potential common grounds" were discussed.
Between July 25 and October 30 2011, Daw Aung San Suu Kyi met government's liaison minister U Aung Kyi four times. During her talks with the liaison minister, she revealed her widespread concerns about the recent conflicts in Kachin State, Shan State and Karen State. Whatever assurances she received, sceptic caution that the previous regime's divide and rule tactic between minority ethnic groups and democratic forces will come back into play remain. Suu Kyi still believes that the regime will continue to exclude ethnic groups from the dialogue.
Despite minor reforms and the release of approximately four hundred political prisoners, a vast majority of Burma's political prisoners remains detained. Here again, the government's motive to release political prisoners is aligned with promoting international relations. Combined with the significant increase in human rights abuses by the Burmese Army, including the use of gang-rape against ethnic minority women and children, the outlook for genuine reform in Burma remains bleak.
"The release of political prisoners should be welcomed, but these releases are not enough to justify the lifting of any sanctions", said Wai Hnin Pwint Thon. "Today is a day of joy for the families of those who have been released, but for many more, it is a day of sadness and disappointment, as their father, mother, husband, brother, or sister remains in jail. This is a reality check; change has not come to Burma yet."
While many people deeply believe that the regime's authorities are making remarkable steps implementing various forums posing as democracy advocates, spouting pipe-dream visions of approaching democracy through peaceful means, the government's battalions shock-troops are violating the rights of ethnic minority groups in Kachin State, burning their villages and crops, making sure there is no peace in the homeland of ethnic Kachin.
As the result of the civil-war in the Kachin territory, an estimated 40,000 locals have been displaced in war-torn areas of Kachin State, but until Tuesday the Burmese government authorities had only allowed the UN World Food Program to distribute foods to the nearly 6,000 refugees in the government-controlled areas of Kachin State. Fighting in the region continues despite the reports that President Thein Sein, issued a written statement signed on Dec. 10 ordering Burmese army chief Gen. Min Aung Hlaing to halt military operations against the Kachin Independence Army (KIA) except for self-defense purposes. The statement has not yet been publicly announced, but its existence was revealed to local journalists by the Kachin State chief minister at a fund-raising ceremony for Kachin war refugees.
There does not appear to be any current prospect of a formal ceasefire agreement between the KIA and the government troops because the KIA's political wing, the Kachin Independence Organization (KIO), has explicitly said that it is seeking a political dialogue with the goal of autonomy and will not accept Burma's current parliamentary system dominated by former military generals under the military-drafted 2008 Constitution, which they say includes only minimal rights for ethnic minority groups.
"We are not informed of the reported order by President Thein Sein to the army to hold attacks against us, but nonetheless the fighting will go on because the government army has already occupied a number of our military bases in its recent offensives and because we are yet to hold a true political dialogue with the government," said by KIO/KIA spokesperson La Nan, adding that the Burmese army reinforced its troops in Myitkyina and Bhamo townships of Kachin State on December 12th, 2011.
On the other hand, the regime continues building dams which will adversely affect not only ethnic minority farmers, but farmers throughout the land. Land is still confiscated for pipelines & railways, which keep the stolen resources flowing out of the country, and agro-projects, which usually replace rice fields with non-edible cash crops.
The people in the communities in Mon State, Karen State and the Tenasserim Division under the government's controlled areas have known that there was a change of government due to 2010's elections and know well who won in the elections.  However, many of these people rural areas said there have been no changes in administrative system because the people still suffer from paying taxes, and the authorities are still corrupt.  Many types of human rights violations such as illegal taxation, extortion, forced labor and land confiscation have continued.
Many people in conflict zones and those that did not have the right to vote during the last election feel the situation remains the same. People are still displaced due to fighting and human rights violations.  Still many face problems in terms of getting food and trying to find stable sources of livelihood.
HURFOM has closely monitored what is happening in both conflict zones and non-conflict areas.  Its human rights workers in the field have traveled to various parts of Mon State, Karen State and the Tenasserim Division and interviewed local people to document human rights violations.
In many parts of Mon State and Karen State, the Burmese Army is still deploying their battalions close to villages and the local villagers are suffering from abuses by Burmese Army soldiers.
Background on troops' location of Government army in Mon State and Tenasserim Region
In the late 1960s and early 1970s, the then-ruling military junta – the Burma Socialist Programme Party (BSPP) – instituted the 'Four Cuts Policy' (Pya Ley Pya in Burmese), that successfully undermined insurgent forces belonging to Karen and Mon political parties. While the agreement to a ceasefire between the New Mon State Party (NMSP) in 1995 officially ended the hostilities with the Burmese military junta, the ceasefire failed to guarantee the well-being of communities on the periphery of Mon territory. Due to the continued presence of insurgent Mon splinter factions and Karen armed units, the Burmese military government, reconstituted in 1989 as the State Peace and Development Council (SPDC) declared nearly 90 percent of the territory in northern Tenasserim Region and southern Mon State a 'black area' or a 'free fire zone', in which military units were given designated regions to carry out policies of extortion, seizing of goods and land, arrest, rape, torture, and even summary execution.
Since HURFOM's inception, its field reporters have documented the extensive and continuous abuses committed by SPDC battalions against villagers, often regardless of the verifiable presence of insurgent forces. This number of insurgent groups' presence in the area since the days of the 'Four Cuts Policy' have been few, and ever deceasing in number compared to the presence of Burmese army battalions. Currently active insurgent forces are predominantly the Mon National Liberation Army (MNLA), unknown Mon insurgent splinter groups (locally known as the Nai Hapwe group) and units from the Karen National Liberation Army (KNLA) Brigade No. 4 are periodically active in the area. The local Burmese Army units include LIBs[1] No. 282, No. 273, IBs No. 61, No. 31 and No. 409, coastal army units, Navy No. 43 which operates under Military Operation Management Command (MOMC) No. 8. These battalions have the capacity to field between 80 to 300 soldiers each at any one time.
The regions of focus in this report, southern Mon State and Northern Tenasserim Division, are geographically mostly comprised of mountainous and hilly terrain. This difficult terrain is a natural gift to armed insurgent groups desiring to hide from their enemies. However, while the area is home to an extremely high number of battalions, this is more due to government's demand for security over the presence of the Kanbauk to Myaingkalay natural gas pipeline, which provides the military junta a significant income from foreign investment. According to analyses of the military movement in this area regarding the excessive positioning of military bases, issues surrounding pipeline security are the key causes behind the continuous commitment of human rights violations.
The industries of local rubber and betel-nut plantations, paddy fields and perennial fruit-orchards that employ local residents have been hit hard by the abuses documented in this report. HURFOM researchers have learned that 75% of these crops could not be harvested in the area due to travel restrictions ordered in the last two and a half months, according to the information gathered during interviews with residents. This research indicates that due to the severity of abuses, loss of crops and much needed income threatens a possible collapse of the areas' agrarian economy.
Methodology
The majority of the facts in this report are based on field data collections conducted in Southern Mon State, in townships such as Thanbyuzayat and Ye, and in the Northern Tenasserim Division, such as northern Yebyu Township, Kywe Thone Nyi Ma Island in which Navy Unit No. 43 began confiscating land in December 2010. In order to collect the evidence, five field reporters in two teams interviewed 38 subjects in 22 villages; these include 11 interviews from villages in Thanbyuzayat Township, 10 interviews from villages in Ye Township, and 7 interviews from Kywe Thone Nyi Ma Island, northern Yebyu Township, Tenasserim Division, southern Burma. This report also includes 4 interviews collected by telephone from farmers who were recently violated by money extortion regarding their owned land.
Due to area restrictions and security toll-gates set up by local government battalions, gathering data and directly asking questions to local farmers in the targeted areas were intensely difficult and in some cases members from local based Community Based Organization (CBO) assisted with important information that HURFOM felt added to the strength of this report. HURFOM also drew extensively on the knowledge of three local residents who helped with gathering information from individual incidents, background information, and confirmation on facts in the interviews as well as invaluable context and assistance in replying to targeted follow-up questions.
Recorded Voices of Local residents on the Political Change
The people of southern Burma continue to live under a highly authoritarian military regime that is widely condemned for its serious human rights abuses. HURFOM field reporters have conducted interviews with villagers residing in the villages located between Ye and Thanbyuzayat townships. The following findings are voice files recorded from the villagers who are the witnesses and victims of human rights abuses committed in their areas. The majority of those who committed human rights abuses are local based battalion officers and their fellows. Their oppressing of local residents has not changed since human rights violations committed during the last's government term. These voice-recorded files below are gathered from males and females from 14 villages.
Lives for the villagers living in Ye and Thanbyuzayat townships do not seem to have changed, even though signs of change have been cried out across the country under the administration of this new government. Instead, villagers face the same abuses, which are forced labor and extortion – charged as gas pipeline's security fees that were also levied during the last government's term.
The villagers in Wae-rat village are still charged with security fee of gas pipeline by Infantry Battalion (IB) No. 62 despite the aftermath of new civilian-led government installation.
"Now, many people believe that there are changes in the country in the phase of this new government. But, we, the villagers from our village still have to pay 15,000 Kyat to Thanbyuzayat based Burmese Army — Infantry Battalion (IB) No. 62. That is the fee for gas pipeline security", said by Nai Kyaw Moe (not real name), 55, from Wae-rat village, Thanbyuzayat Township, Mon State.
Quoted below, a Karen person, 28, from Bae La-mu village, Ye Township, remarked what kind of changes are taking place in his region:
"It was announced that the country ['s government] would move to reform and changes in a right direction after the 2010 general elections. But, now the year 2011 is almost over and nothing changed in our region that shows reform. Yet, one thing has changed, that is the 'name' [of local based government offices]. Before, the local authorities demanded us to call them District Peace and Development Council (DPDC), Township Peace and Development Council (TPDC), and Village Peace and Development Council (VPDC). But now we're required to call District Administration (DA), Township Administration (TA), and Village Administration (VA). This is what has been changed so far," remarked by A Karen villager, 28, from Bae La-mu village, Ye Township, Mon State.
The Burmese Army still charges security fees of the gas pipeline and forces villagers to go on sentry in the villages situated between the railway and highway of Ye Township to Thanbyuzayat Township, during this civilian government's term. According to U Htun Hla (not real name), a Mae Paw villager, the villagers in his village are still demanded by Burmese Army Infantry Battalion (IB) No. 62 to pay the security fees and to carry out sentry duties. And, from the same battalion, two groups are formed and one group comes to collect the fees while another group orders the villagers to go on sentry.
"Now, the village where I live is located between the railway and highway linking Ye Township to Thanbyuzayat Township, Mon State. There are 10 villages in total lying nearby Wae Ka-mee, Ah-nin, and Kyaung Ywae villages situated between the high-way of Ye-Thanbyuzayat. Those villages are located right along the Kanbauk to Myaing Kalay gas pipeline. For the security of the gas pipeline, we the villagers are demanded by the Infantry Battalion (IB) No. 62 led by Major Tin Maung Htun to go on sentry in turn. Like before, those who can't guard the pipeline have to pay; each household has to pay 1,000s – 15,000 kyat. Sometimes, we have to be guards while we also have to pay fees for pipeline security. There is one group giving orders to us to go on sentry, and there is another group collecting money for pipeline security. So, two groups were made from IB No.62. What I meant here is that we as villagers who have no power are affected for two reasons. We cannot go to our work but we are used as free laborers for them. And, we have to take our saved money to pay them as they demanded. So, nothing changes; it is just the same as before," said by U Htun Hla.
U Htun Hla is 52 years old and he is working on rubber plantation. HURFOM conducted an interview with him on November, 22, in Mae Paw village, Thanbyuzayat Township.
Local Area Security and Abuses
That is not only what villagers have faced as a result of the constructed the gas pipeline, but they also have faced many other abuses committed by government troops guarding the gas pipeline. The following is an incomplete list of what the Burmese Army has demanded of villagers:
They [Burmese Army] order villagers to go on sentry for the security of gas pipeline.
They order villagers to patrol the villages (in addition to guarding the gas pipeline)
They demanded villagers to pay security fees to those who ordered them to pay. And if these villagers cannot guard designated areas themselves, they have to compromise by paying fees.
They demanded villagers to support village militia troops and to provide the troops with rations.
They use villagers guides if they get informed about the insurgency groups ( while sometimes these villagers are used as guides, sometimes this task implies being a human shield for Burma Army troops).
They order the villagers to carry the army's rations.
They steal fruit, vegetables, and livestock of villagers.
They ask villagers about insurgent groups and ask whether these villagers have contacts with insurgent groups when they are on the front line heading into jungle eastern of Ye Township. (If the villagers do not know about that or do not have any contact with, they are asked by them whatever they want and then blamed. And, if the villagers are males they will be used as porters besides taking over what they, the troops, wanted)
When villagers are in the frontline, those who living in the countryside along the way where they [the Burmese battalion's troops] are heading to are verbally abused. Those local people are the young girls and married women from the families of Mon, Karen, and other ethnic people. Sometimes, they are questioned about rebels, and they are even asked questions concerned with sexuality, causing shyness.
They told off those local people who cannot speak Burmese well, and they look down and discriminate them.
They beat up and torture local people.
Those abuses continue to be committed by government troops just like before and those are the ongoing abuses. This account above was remarked by U Thar Myint Aye, former member of VPDC committee, and he is from Ka-nin Ka-maw village, Ye Township, Mon State.

Human Rights Abuses in Bal La-muu and Ka-nin Ka-maw villages, Ye Township
The interviews conducted with two villagers as shown below reveal that although the new civilian-led government has been installed and steps of changes have startled in the country, the villagers do not see any signs of change in their region. Rather, they face some human rights abuses committed by the government's battalions. Due to the ongoing human rights abuses, they urge the ministers from President Thein Sein's administration and respective regions and townships to come and monitor those abuses.
Bellow, a 42 year old Karen villager from Bal La-muu, Ye township, Mon State, describes what kind of abuses the villagers have to face and how they have to respond if they can not provide information required by the government's battalion :
"Last August and September, when LIB No. 591 and LIB No.583 based in Kyaung Ywae village merged with IB No.61 based in Ye town, they staged an operation to drive KNLA battalion No. 16 and No. 18 away. While doing this, they abused villagers by using these villagers as porters and as human shields. The LIBs and IBs would arrest people for no reason and, as punishment, abuse them in the ways that I just mentioned. They would also order villagers around to inform them about rebel groups. If people did not know anything about rebel groups, they would be charged by paying bags of rice, bottles of cooking oil and livestock. That is what has changed; people are still charged with crimes they did not commit. There have not been any changes. Like before, locals are still forced to be laborers and are still oppressed,"
As an observer of political issues and the military situation in his region, U Kyaw Hlaing (not real name), 60, gives his opinion and describes how military men have more influence than the government and how the locals are suffering:
"My opinion is that, in this region, the military government is more influential than the civilian government. U Thein Sein's government and respective region and township ministers should see the oppressions made by the troops and monitor this.  Claims about positive changes don't have any value, as they are not real. That is what the politicians talk about, they say things as "There are changes in the country; we are heading to a path of reform", I think they are just dreams. In reality, like before, we are still oppressed. And then, our life which has been stamped gets torn apart. That is how the government troops have oppressed us. If the army does not suppress or cause us to suffer, we would not suffer. We do not want to see our people abandon their homes and lands and go aboard to work as slaves."
U Kyaw Hlaing is 60 years old and he is from Kyaung Ywae village but lives in Ka-nin Ka-maw village.
Human Rights Abuses that the local residents in Ah-nin village and nearby Thanbyuzayat Township Faces
Ma Hla Than [not real name], 30, who is a Mon villager living in Ah-Nin village, Thanbyuzayat Township, Mon State, remarked the human rights violations that are taking place in his village and its neighboring village:
"Now, the sentry for gas pipeline security, fee for security, measuring lands and selling the lands after taking over have started happening in Wae Ka-mee village and Ah-nin village. This started last August."
A Wae Taw villager, 40, whom sells lottery tickets to make a living, explained how land is surveyed and measured by managers and government staff of an unknown company from the department of the Land measurement and Survey Department:
"Uncultivated lands and virgin soils are sold by the government to different companies. This land is divided into plots and sold by the company to local residents. We saw that the company managers and staff came with their cars to do surveys and measured the land from end of August tothe second week of September. The government staff from Land Measurement and Survey Department came to measure the land. I do not know what that company is,"
An interview with Nai Thein Myint [not real name], 67 from Thanbyuzayat, shows how land intends to be seized in Ah-nin village:
"I have lived here my entire life. How can there be uncultivated lands and virgin soils here? We have lived our whole lives farming these lands and plantations. Those lands have just been left about 3 to 4 years without cultivating them as the owners face difficulties for their survival. And, since they do not have enough money to invest, they cannot afford cultivating their lands. To keep working on the land, the owners have to hire labors and buy fertilizers. Yet, they invest more money on the products they need to cultivate their land than the profit they get from their land. Additionally, as landowners, we get extorted by Burmese Army troops, so that is why we just leave our lands without cultivating. And, we heard that now, the government and company owners will come to take over the lands. If they take over, the owners will definitely fall apart. These companies will also measure fourteen acres of my daughter's. She is very frustrated and depressed. That is what happens here now. No one knows when they will come to confiscate our lands yet. But, we are sure that someone in the name of the government will seize our lands." In regards to the new government Nai Thein Myint mentioned that "We know that there is a new unjust government installed but like I said earlier, there is no positive change and reform,"
A villager, 36, working as a Karen literature and culture teacher in Wae Ka-mee village, Ye Township, Mon State described how his ethnic people have faced sufferings, rights abuses, injustice, and oppressions and no changes promoting human rights have been taken place yet:
"If we look back since the nationwide elections and ask how the government troops have oppressed us – the Karen people, the questions can be answered by Wae Lay villagers as witnesses [and victims]. Today still, human rights abuses are still happening. Like what my cousin faced, many other Karen people were degraded by government's troops said. We would hear: "You are Karen people born as rebels whom for us to kill" and mentally and physically suffered, before getting killed, by the Burmese troops. That is what happened after the elections. We Karen people are the ones that are suffering the most abuses committed in the armed conflicts compared to other ethnic groups. It is also true that Mon people have suffered by losing their businesses. But, regarding deaths, we Karen people suffer more. However, if we look back, we will see that the news spreading in Naypyidaw and Rangoon is about positive political changes. The only positive changes are in theory, but not in real life. We are just like "the sand was poured into water. And, yes, there will be visible if water was poured in the sand." Now, we will only recognize changes if there is no injustice and oppression inflicted by the government troops even if these troops say they are part of a new government or democratic government."
While the vast majority of the villages in the region faced multiple instances of gross human violations, such as forced labour, land confiscation, money and properties extortion, torture by accusation as rebels, at least eleven villages in southern Mon State and northern Tenasserim Division have faced abuses by the SPDC army, including forced portering and forced labor on the construction of a village fence, as well as day and night security duty. The fencing project around these affected villages is compounds designed to entirely encircle the village, an unusual order compared to previous demands for fence construction that required only partial fence construction. The apparent aim of the battalions that issued these orders is to separate each village from outside contact not made through any of army controlled gates. Local residents are forced to construct this project using wood pillars, bamboo, iron nails, gathered with their own time, money and resources.
Villagers from rubber and betel nuts plantations, paddy fields and fisheries who often cannot afford to pay their way out of the work due to their already hand to mouth subsistence income, have little choice in following orders given. Forced portering and labour undermines villagers' ability to survive by not only forcing them to work without compensation, using their own resources to feed them, but more significantly taking them away from their own work that normally provides for their own livelihoods. Villagers who refuse or are unable to filly these duties are punished severely, ranging from heavy fines, and instance that the work is filled, to heavy fines and arrest, or torture. Nan Myint Wai, a resident of Wae Kha-mee village, Southern Thanbyuzayat Township expressed her opinion regarding on the current ongoing human rights violations in her areas.
 "If I have to tell, there is at least one abuse case committed by Burmese troops to villagers residing in this village track since the new government was installed. The abuses committed in this area are forced labor, porter, land confiscation, extortion; go for sentry duties, fee for security forces, and sentry for gas pipeline; serving unpaid work at the battalions' bases, beaten-up, and accusation as rebels. Sometimes, villagers from our village faced those abuses while sometimes our neighbors did as well as we ourselves encountered those abuses. It happens like that. ….. They just become civil militia. Local authorities are just changed. What I want to say is that there are still injustices and oppressions going on in this area. I see nothing changes. I can say that the government troops are still practicing those kinds of abuses and the abuses are ongoing," recited by Nan Myint Wai.
Nan Myint Wai (not a real name),38, a former middle-school teacher, Ye Township, Mon State.
Most of the local villagers expressed that they wanted to see the genuine peace in the country and stop civil war targeted to ethnic armed groups. Many of them have been suffering from the armed conflicts painfully.
"There will be real changes in our area, if both armed groups established peaces and there are no more Burmese troops in the region. We only consider the changes if there are no oppressions committed by the government troops like what they have done to us before. If that change really happens, there will be no such difficulties/sufferings in this region," said by Saw Aung Tin (not real name), 39.
Saw Aung Tin is a Karen villager, and he is from Set-kaw village, Thanbyuzayat Township, Mon State.
Forced to provide the Information of rebel armed groups' movements to government troops
The local residents from Ye and Thanbyuzayat townships are forced to provide information of rebel armed groups to government troops. Because the residents are said to be given any relevant punishments if they do not inform or report to the troops, they have to abandon their work and find the information to provide.
"Just like this; we have to leave our work behind and we, every villager, have to inform [about rebel groups to government's troops]. Now, we have to inform more often. It is nonsense: if we think that we still have to report to them when there is no rebel group is around. We have to report them every day, and if we do not do so, we'll be punished with related punishment types. Because they frighten to us like that, we have to put our work aside and report them,"
"To have access to information about unusual and insurgents' activities from people", that is one of the policies used by the government army in Ye and Thanbyuzayat townships. That policy is one of the policies causing abuses to local people and it has been used for a long time. But, just like before – no changing, they still use it even though the new civilian government has installed.
That is the order from the battalions under Military Operation Management Command (MOMC) No. 19. The order requires every household in every village to report in turn daily whether or not the troops from the Karen National Union (KNU) brigade No. 6, Karen National Liberation Army (KNLA) and Nai Khin Maung led Mon splinter group, are being active in the region. Organized by the respective village administration members, the villagers have to provide the information to local based battalion offices prior to 5 PM.  After gathering the information, they have to come to offices and report verbally or provide written report about whether they opposed armed groups travel by, collect extortion fees, buy rations, get medical treatments, and come to visit their relatives.
Ordering the villagers to do this, the government troops can avoid the danger of attacks by opposed armed groups and save their personals.
However, if the villagers are unable to report, the troops will find fault with them and as a punishment, they charge the villagers with money or food supplies. The local residents criticize that the government troops are not active in the local areas during this new (civilian) government administration.
Nevertheless, if we look back on the effects that they face after being forced to work, we can see that villagers have to put aside their work, which they depend on for their survival. Additionally, they have to provide information, by writing reports in Burmese after gathering information obtained while asking others for help with translating. And, they are found fault by the office authorities when they come to report the news verbally [expressed in spoken words]. They have to provide money or food supplies if they cannot report when that's their turn, not to be blamed, and they have to face the punishment given by rebel armed groups anytime. Those are facts collected from the local residents through interviews.
Local residents expressed that in general, even though we can deduce that the whole country is heading to the path of reform, if we look closely and observe carefully, we can see that the government's troops are still committing human rights abuses.
HURFOM's field reporters collected information finding the following facts from early October to late November. Local residents living in several villages located in Ye and Thanbyuzayat townships were forced to provide information. HURFOM conducted 14 interviews from 21 Karen and Mon villages and HURFOM documented their stories and accounts.
"Including our village headman and representative, the village headmen and representatives from 21 other villages located along the highway from Thanbyuzayat to Ye, were invited by tactic Captain Tin Maung Cho and his men to attend the meeting on October 29. The meeting was about how local residents have to report any news – weather they find it significant or not – of rebel armed groups that are active in southern, eastern, and northeastern Ye Township to [the closest] local based [government troops] office. The villagers have to report the news in person. All villagers from the 21 villages, attended the meetings held by their respective heads and representatives, and were told to provide news in turn," remarked by grandpa Saw Htuu, 62, from Hnin Sone village, Ye Township.
"MOMC No. 19's tactic No. 2 Captain Tin Maung Cho currently based in LIB No. 343 based close to Ahruu Taung village, Ye Township. Including the village head and members of the Village Administration (VA) from the Hnin Sone village tract, the village heads and VA members from other villages, had a meeting with the Captain his men, and every villager, of which all had to report about rebel armed groups. At the meeting, it was said that it is the responsibility of villagers to report. If the villagers can not report about their enemies to them daily, these villagers have to face punishments. Also, if the information they report is false, they will be punished more," said by a VA member, who attended the meeting and serves villages that are predominantly Karen in La-mine Sub-township, Ye Township.
"I think, during this new government period, the villagers are forced to work much more than during the last government. Now, whether the villagers got news or not, they have to report. This leads to villagers with a high function in society, such as leaders to lose faith in the system. Before, we typically report unusual news to them. Now, it is not just unusual news, but the villagers have to provide news just like daily reports. It is good for the villagers to report when that's their turns after observing two days ahead. For us, the village headman has to inform the villagers if that day is their turn, help write the report in Burmese and help them with anything. As I have to do this every day, it affects our livelihood. Now, it has affected us a lot; I do not have time to go work in my orchard," said by the VA member.
Because three villagers whose failed to report during their turns about one unit from KNLA, when battalion No. 16 came to Bee-kain village to buy food supplies and tools for communication, those villagers were beaten up and demanded to pay fines. This account is given by Nai Yin [pseudonym], 48, a Mon villager, working as orchard worker, from Hnin Sone village, on Nov.22.
"On that day I went to Bee-kain village to sell my oxen, and I heard from the villagers that tree villagers were beaten up by troops from LIB No. 343. I forgot to ask the names of those villagers. I heard that those villagers are 30 – 50 years old and they work in betel nut and rubber plantations. The troops already got news that the Karen armed groups came to buy foods and batteries to use for communication devices. The villagers got hit and beaten up. One of the three villagers, got some of his teeth broken and got his head cracked. That is because the villagers did not provide this news in the report. And, as punishment, they were detained for one night and in the next morning; their families and the Bee-kait village headman came to get them in exchange for 50000 Kyat. That is what I heard from a Bee-kain village family when I went there to sell my oxen. In our village, we also have to report in turn, but no one has faced abuse like this, yet. And, we, the villagers, could not go for work.
According to Kalate Taung village head Saw Tar Sal, MOMC No. 19's tactic No. 2 Captain Tin Maung Cho himself said at a meeting that if the government troops and KNU's troops engaged in fighting around the village, the villagers from that village have to move out of the village.
"At a meeting concerned about local security, when I present to him [Capt. Tin Maung Cho] "if the villagers still have to report even though there is no news, it will cause villagers unable to go for work, and please think about that for us." He replied "Whenever the rebel groups are active in this area, the villagers have to provide the news. And, if there is a fight between the enemy and our troops, you, the villagers, have to move out the village." I think, that was on October 12. Being a village head, I have to face a lot of trouble. Although the government has been changed, the system of governing our region has not changed. It is just like before. Now, regarding this case, it's worse," said by the village head.
According to an interview conducted on Nov. 28, with Saw Kyi Khin, 35, who is a Bin Kalwae villager has reported news three times, thus far. He has reported about KNU troops and other insurgency groups. Reporting to the government, may have exempted him from facing mistreatment inflicted by the government. However, Saw Kyi Khin now fears for his safety, as he is rightfully frightened of insurgency groups.
"I just have to report information as I'm afraid of government troops. No one knows whether insurgency groups forgive us for reporting about them to government troops. Most of the KNU troops know the government troops' members. They may understand us and why we inform the government. But, the Mon splinter group, led by Nai Khin Maung, will kill us, if he finds out that we have been informing the government. They will probably think that we are the government troops' informants. That is why I'm afraid. Beside me, there are also lots of villagers who are worried about this and afraid but they have to work [provide the info]. Also, we can not go to our job when we want, we are too scared."
Below is the list of villages that are located along the highway that links Ye to Thanbyuzayat townships. And, the villagers in those villages are forced to report about the government army's opposed armed groups.
Hnin Sone village
Bin Ka-lwon villge
Tabin Taing village
Kon Duu village
Sar Ka-lae village
Kalea Dop village
Kalea Taung village
Bee Kain village
Min Hla Aye village
Thu Lae village
Thee Pow Muu village
Below is the list of villages under Wae Ka-mee village track, Thanbyuzayat Township, where the IB No.62 is based. And, the villagers from those villages have to not only pay the fee of pipeline security but also report daily.
1)     Bay Lamine village
2)     Aung Tha-byay village
3)     Wae Ka-mee village
4)     Wae Taw village
5)     Pain Naetaw village
6)     Inn Ka-bar village
7)     Ywae Tar Aye village
8)     Nga-pyaw Taw village
9)     Lainmaw Chan village
10) Payar Kon village
11) Aung Taryar village.
Seized rubber plantations near Lae Gyi and Maw Gyi villages
The villagers have to pay local based battalions the fees for them to be allowed to work on their own rubber plantations, betel nut plantations, and other long-term crop plantations. Before, there were records of villagers that could work on their plantations for one year as they gave the amount of one year of fees. But, later on, because there were no records made by the battalions and because of their carelessness, the newly-transferred battalions extorted land owners with fees and allowances again for them to work on their lands during their [newly-moved battalions'] periods.
"We have to pay the Captains 10,000 Kyat for permits to work on our rubber plantations. All of us have to pay the fees; for example, to get permit for our 3 sons and 2 hired workers to work on our 8 acres rubber plantation, we have to pay 50,000 Kyat for each person. Before, we had to pay the fee to Commander Htun Tet Naing and his group for a one year permit, and they gave us a permit [letter] to work. But, later, we found out that that permit is not valid for one year. We paid the fee in early May, but we are charged again 7 months later. They shut down that project again. And, now the newly arrived Captain Myit Oo and his group said the permit letter is not valid anymore. If we, as the villagers, want to keep working on our plantations, we have to register for permission again. This happened yesterday morning (November 26) when the order came. How can I repay that fee? Now, we are not allowed to tap our rubber plantations anymore," mentioned Ko Khin Shwe, 40, who depends on his rubbers and betel nut plantations for survival.
Ko Khin Shwe's native place is Yebyu Town, but now he lives near Lae Gyi village, and HURFOM field reporter conducted an interview with him on November 27.
The villagers living in Lae Gyi, Maw Gyi, and Min Tar villages and on the island of Kywe Thon Nyi Ma own thousands of acres of rubber trees, betel nuts, and other year long fruits plantations. These villagers are charged large amounts of money by locally based Navy Army No.43 and LIB No. 282 and No. 273 under the command of Kadike based government navy regional command to get permitted to work on their plantations. Yet, besides extorting local land owners with large sums of money for permits to work on their own lands, the Navy has also confiscated numerous acres of lands.
Last June-July, HURFOM released a report about thousands of the acres of rubber plantation owned by local villagers, who heavily depended on the plantations for their livelihoods, were seized by Kadike based Navy No. 43 for expansion of their bases. Also, in addition to land seizure, the navy marked other over 3000 acres of rubber trees and betel nut plantations, belonging to locals. These navy and army troops charged 10,000 Kyat per plantation owner, while they demanded the whole family of plantation to pay 30,000 Kyat for the permission of working on their own plantations.
"To get a permit to work, we the whole family has to pay 30,000 Kyat. Recording 4 persons are able to work; they give that permit [letter]. We have to pay them for us to tap our own rubber trees. We are all here though that they recorded the lists of and accounts of the land owners and kept them away as they produced permits. Now, as the Captain and Commander that produced the permits moved away, the permits are not valid anymore (since November).  As we have to register for the permit again, it costs us again. Before, we owned over 30 acres of rubber plantation. But, earlier of this year, the navy took over 12 acres of the plantation. Yet, of the remaining 18 acres, we only have rubber trees left in 12 acres. And we are working on those remaining acres by paying allowances [taxes]. How can we pay the allowances to them over and over again? We are now in difficulties. Now, the government has changed but here in our village, no one comes to change anything and the situation is worse than before. As we could hardly save for our survival, and we have to pay the government, it is just that if we cannot pay, we cannot work," recounted by Ko Htun Naing (not real name), 44, from Min Thar village, Yebyu Township.
Ko Nyan Phay who has to pay  to work on his own plantation describes how locally owned rubber plantations were seized, and how he and other plantations owners have to pay for permission of working on their rubber plantations, explains their situation as follows:
"To tap our own rubber plants and to work on our own plantation, we – the villagers had to pay money to the government army units.  If you don't believe this, please come and stay here for a month.  People from other regions can't imagine as they have never encountered it.  We became slaves of the army a long time ago.  We know via the news and radios that the military government has already transited to a civilian government, but I would like to mention that nothing has changed here.  This is because my land and plantation in this region, which were plots of land handed down by my family from one generation to the next, were confiscated by the local army units No. 282 and No. 273 and the Navy Unit No. 43 based on Kywe Thone Nyi Ma Island.  Before confiscation, they said the land would be used for constructing military bases and the State needed the land.  Now, the State does not use the land, but the captains and majors from the army units occupy our land," said Ko Nyan Phay.
"Between ten and thirty-thousand Kyat had to be paid to get permits to work on our own plantations that are controlled by the Burmese Army.  Last July, my wife and I had already paid twenty-thousand Kyat. This November, they (Kywe Thone Nyi Ma based Navy Unit No. 43) demanded money again.  Now they said that if we are unable to pay (the money), our permit can't be extended and our plantation will automatically be confiscated.  Therefore, we had to loan two thousand kyat for the payment.  This process means that our land is already confiscated and only a work permit was sold to us.  You can imagine how our situation is miserable.  Our Lae-Gyi Village has over 380 houses and almost every household works for the rubber or betel nut business.  If two people per household work on these plantations, you can estimate how much money the army units earn," he continued.
Ko Nyan Phay is a 46-year-old Lae-Gyi village resident, and his family depends on rubber plantation for survival.  In the early May, Ko Nyan Phay's 4-acre betel nut plantation and 8-acre-plus rubber plantation were put on the list of land confiscation by the locally based joint army units of Coastal Regional Command – Navy Unit No. 43, LIB No. 282 and 273 for expending the military.  After that, the villagers, including Ko Nyan Phay, who had their rubber plantations confiscated, have been paying the money to the army to gain the work permit.  The work permit is just a small piece of paper and includes the official stamp of the particular army unit in charge of a designated area.  Ko Nyan Phay and all other villagers said that the mark could clearly not show the annual fee or the monthly fee arranging to be able to demand as they like.
Having to pay many kinds of extortions, such as fees for village security, army rations, local militia member welfare, and permits for working on the plantations for many years in the periods led by this and the former government, many villagers have faced financial difficulties and had no chances to sustain themselves. Therefore, those villagers want to bring an end to those extortions
"We, ordinary villagers, have no money to feed ourselves.  We have to earn money to pay Burmese Army troops.  We have been paying large amounts of money for village security fees, rations fees, local militia welfare fees and permission fees to go to plantations for a specified number year. We still have to pay now, during the rule of the new government.  We want to stop these events.  That's all we wish," cited by Nai Htaw Ong (not real name).
As mentioned by Nai Htaw Ong, a Mon villager of over 60 years old. He is a Han-Gam resident, but he now lives in the South part of Moe-Gyi Village. In an interview with HURFOM, November, 28, he explained how he has financially been extorted in many ways by the local government army units.
Money and Wood Demanded for Military barracks construction
On November 3, 2011, in order to construct military barracks and offices in the confiscated land on Kywe Thone Nyi Ma Island, Yebyu Township, money or wood from the villagers of Kywe Thone Nyi Ma and six other surrounding villages were demanded.  Colonel Ye Linn Tun of Kywe Thone Nyi Ma Island based Navy Unit No. 43 and Deputy Commander Minn Zaw Moe ordered, via particular village administrators, the villagers of over 1,000 houses from six villages – Lae-Gyi, Moe Gyi, Min Thar, Kywe Thone Nyi Ma, Ye Ngan Gyi and Sinswe, to purchase woods and construction materials or to pay the money if they could not do the purchasing.  Therefore, the collection of extorted money has started on November 11, 2010 and has not ended yet, according to the locals.  The demand of woods had happened at the same time as the human rights violations such as collecting money for work permits and village security fees.
"It was ordered that each household had to pay a long or a plant of wood or three wood poles.  The order was accepted in the early of November.  The village headman reminded (the villagers) on the 9th (of the November) if they had already collected the wood demanded by the Burmese Army.  When the wood was collected, they would be sent (to the army units) via the village headmen.  We had to give a piece of wood, with a 4-inch diameter and a length of 13-feet, which we reserved to repair our house. Additionally three 4×3-inch wood poles which were stored under our house had to be given to the army.
All these pieces of wood together will cost about thirty thousands kyat.  Moreover, the regular fees we have to pay are thirty-thousand Kayt for our work-permits, for four persons, which were initially ten thousand kyat per head.  However, the fee was lowered by the army unit,so four people had to pay thirty thousand kyat instead. We also had to pay a three thousand kyat fee to hire a village security guard who will replace me when my term is over, and we have to pay one thousand kyat per month for the welfare of local militia.  Captain Min Zaw Moe ordered the village headman to list the households who didn't pay the fees.  Recognizing the speech of that captain, I paid the fee early 'to make my ear peaceful' (a Mon saying that means 'to be freed from having problems'). My family could make our livelihood and live comfortably in the past, before Navy Unit No. 43 confiscated over half of our plantation at the beginning of this year.  Moreover, we have to pay the money to get permission to work on the rest of the 10-acre rubber plantation, as a result we have become the poor now," said Nai Htun Aye (not real name), a 50-year-old resident of East Kywe Thone Nyi Ma Villlage.
In the interview with HURFOM at the end of November, Nai Htun Aye explained how he lived in fear, yet solved the problem where he was forced to supply wood for construction of military barracks and offices of the government Navy unit.
Villagers, from Kywe Thone Nyi Ma and its surrounding villages – Min Thar, Lae-Gyi, Moe Gyi, Ye-Ngan Gyi and Sin-swe villages, are disappointed and dissatisfied with the wood demand unfairly required by the navy.
Most of the available wood in that region is of rubber trees; however the government army units do not accept this sort of wood. Even though the quality of this type of wood is low, it can be used for construction, stated in the written order of the Navy read by the village administrators, according to Ma Htay Win (not real name), a 32-year-old Min Thar resident and a shopkeeper.
"Only rubber wood is available for us and people in our village.  Other types of wood we are not allowed to cut down, nor are they available here.  All people have to struggle for their livelihoods so the people from rich households just paid extortion fees.  Our aunt had paid twenty eight thousand kyat in cash for a wooden pole, wooden planks, or three long wood poles to village headman Nai Aye and he signed to confirm the payment.  We were unable to pay in cash as we had other such fees to pay to ensure our security, to allow us to work, and to pay towards welfare of militia.  We struggle to feed our family so we were disappointed by this order.  We have been abused many times.  We want these abuses to stop quickly.  I don't know when these abuses will disappear from our region."
In February 2011, Ko Lwin, the husband of Ma Htay Win, who is a Tavoyan and resident of Long-Lone Township, was beaten by Sergeant Zaw Htet Lwin and his group of frontline soldiers of military column No. 282, who accused that he was an informer who connected with the rebels.  His mandible was cracked and he could not eat foods for months.  He lost his watch during the event and fifty thousand kyat had to be spent for his escape.  Ma Than Than Htay explained the abuses of the local army units.
The pile of wood collected by the villagers from 220 houses in Min Thar Village in order to please the demands of Navy Unit No. 43 could be seen nearby the village administrative office. The pile of wood consisted of various sizes and shapes of wood and the locals estimated that it weighed about 20 tons.
"In reality, all demands to construct things for the military were said to be for the State, in particular for its captains and commanders.  In the proposal, the map of the land where military constructions were built are signed by officials of the Land Survey Department.  In the army, the cost of the sketch and small samples (of the construction) drafted by military engineers' unit was also proposed.  Therefore, the wood or money collected from civilians would go into the pockets of the officials and commanders when the proposed budget was granted.  The army has abused us villagers with the powerful ranks in society, just because they wanted to get loads of money while not working for it.  I had encountered a similar event at an army unit in my hometown– Yebyu-Kanbauk-based LIB No. 273.  In any army unit, chief commanders, commanders, and officials who have much power are really frightening.  That's my own experience," explained a former soldier who ran away from a frontline battle of the SPDC government army unit No. 273 and now lives in a refugee camp on the Thai-Burma border.
Because wood is scarce in the region and newly-cut wet woods were not accepted, most households planned to pay cash instead of wood to still meet the demand of wood requested by militia.  Interviews with these households were collected in the late November, 2011.  "There is always a fine to be paid and fees to pay at any given time, and this is very expensive", grumbled Daw Nyo, a 57-year-old widow and mother of five, who resides in Lae-Gyi Village.  Even on November 27 when her interview was taken, she had to pay thirty thousand kyat to the village administration team for the fee of a wooden log, a plank, or three wood poles demanded by the government Navy Unit No. 43.
Nai Shwe Hla (not real name), a 50-year-old Min Thar resident, who owns a passenger boat mentioned that his boat might be seized if he will not carry wood piles in his village even though he had already paid a fee to pay off his debt.
"During the period of forced labor demanded by the Own-pin-kwin-based Danyawaddy Navy Command, my boat was seized to transport villagers and laborers.  The military said they would just take my boat for three days but it lasted for two weeks.  I had to use my labor and my own petrol but gained nothing.  Now, I can imagine that my boat might be seized for transportation (of this wood) and both I and my boat have to struggle with those giant blocks of wood."
It is obvious that the residents from the three townships of Yebyu, Ye, and Thanbyuzayat are still facing human rights abuses in their daily life. These human rights abuses include, but are not limited to; extortion/arbitrary taxation, forced labor, ill-treatment, sentry duty, and fees to provide village security. These abuses are common in those three townships, and are committed by the local based government's battalions and navy.
The findings in this report reveal that the locals are forced to continue to provide the security fees of the gas pipeline, guarding duties for the security of gas pipeline and act as safeguards for village security. Additionally these villagers are victims of forced labor and extortion/arbitrary taxation by the government's troops and navy forces. Their actions have led to extreme hardships for the villagers, who are unable to work or not permitted to work on their own lands without if they do not have work permits, and continue to struggle for their livelihoods. Additionally, as they are also demanded to present/report to the local based government offices with information about the movements of ethnic insurgency groups, they are worried that they will face the dangerous situations or death caused from knowing the position of these groups.
In the interviews conducted with the local residents, it shows that the villagers face human rights abuses more frequently by the government's troops under the administration of this new government than by government troops during the last government's term. Also, in spite of the exclaim of signs of change taking place in the Burma, local residents experience no such change in their regions yet, except a change of names of locally operated government offices.
In addition, the National Human Rights Commission is established in the country with a task of promoting and safeguarding fundamental rights of the country's citizens. Despite of its proclaim, in reality, it fails to accomplish the competence and responsibilities which include stopping human rights violations, investigating and monitoring them and taking action for the prevention and lessen the violations.
It is clear that despite the transition to new supposedly civilian-led government and the formation of National Human Rights Commission, the human rights abuses continue to occur throughout those three townships. Consequently, the villagers can only expect more of the same sufferings, hardships, and human rights abuses.
We want UN Special Rapporteurs to reach into ethnic areas, to investigate past human rights violations and notice how the human rights continue to be systematically violated.
Burma (Myanmar) National Human Rights Commission must actively record cases of human rights violations from its citizens and protect its victims.  All human rights victims must be protected after they report their cases.
The National Human Rights Commission (NHRC) must train local people how to correctly and systematically administer cases of human rights violations.
Comments