HURFOM: Villagers are upset over the dismissal of two Andin village Farmland Management Committee members in Ye Township, Mon State. U Maung Ye (Villagers' Representative) and U Min Myint Thein (Farmers' Representative) were forced to resign by the Ye Township general administrator after they refused to agree to rezone farmland for use in the planned Offshore Oil and Gas Supply Base. Read more
HURFOM: Excellent Fortune Development (EFD) Group Company Ltd. is pushing forward with a controversial stone mining project by Mount Bleh Patoi located near Dani Thakyar and Magyi villages, Ye Township, Mon State, despite a lack of consensus among local residents.
According to a former Magyi village administrator, the project poses no harm to local communities and would spur economic and social development. Read more
HURFOM: Organizers of the 6th anniversary of Mon Youth Day called for the unification of all Mon political parties into a single, inclusive entity, during the December 28th 2017 event in Kamarmo village, Chaungzone Township, Mon State.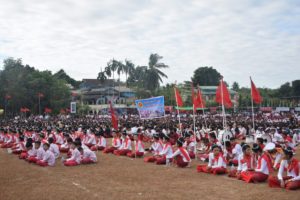 "As we now have the chance to be involved in politics, we don't want disunity amongst the Mon political parties. We just want a single political party that can represent all Mon people. We will also look for a solution during the upcoming Mon Political Conference in January 2018. We will never give up," said Nai Janu Oo, secretary general of the Mon Youth Forum (MYF), the primary organizer of the event. Read more