HURFOM: The New Mon State Party (NMSP) has been applying for permission to use land in the Parlain Region of Andin village tract, Kun Khari Island, and Man Gyi, Dani Dagyar, and Kaw Hlyne villages in southern Ye Township. Nai Win Hla, head of the Home Affairs Department of the NMSP, claims that the NMSP's application for land use is aimed at halting land grabs by investment companies who want to exploit local natural resources. Read more
HURFOM: On July 6th 2018, locals told HURFOM that an unknown armed group has been active in southern Ye Township, Mon State. Local villagers have been extremely cautious about travelling to and working their farms and plantations, which has had negative consequences for daily livelihood needs.
According to a local monk, the unknown armed group has been active between Ka Log and Ham Gam villages of the Mount Kyaik Mote Lot region in Southern Ye for the past three months, and they have been extorting money from local farmers. Read more
HURFOM: The New Mon State Party (NMSP) has applied to local authorities for permission to use land near Andin and Hnit Karote villages, Andin village track, Ye Township, Mon State. Local villagers are worried about the possible connections to investment projects.
"The local villagers didn't know that the NMSP had applied to use the land. We don't know when they made the application. We found out via the Village Farmland Management Committee only after clerks from the Land Record Department came to do a survey. We're worried that the NMSP will hand over the land to an investment company. The NMSP has connections with investment companies and it's a cause of worry for the locals," said Mi Dar Dar, a member of Andin Youth Group. Read more
HURFOM: On July 1st 2018, HURFOM met with two victims of land confiscation, Nai Lin Aung and Mi Aye Mi San, a couple from Wae Rat village, Thanbyuzayat Township, Mon State. Their land was confiscated by Burma Army Artillery Battalion No. 315 in 2004.
"The plot we bought for our house was about 40×60 ft. It was located between Wae Rat and Wae Gali villages [of Thanbyuzayat Township]. We bought it in 2004. Six months after we bought it, Artillery Battalion No. 315 confiscated it. Read more
HURFOM: Locals report that trucks from the Bedok Construction and Engineering Co., Ltd (BCE) have destroyed the road between the villages Tha Byay Thit and Da Min Sake, in Hnint Kayin village tract, Ye Township. As a result of the company's trucks using it to transport sand and stone, local villagers and students have found the road almost impassable. Read more
HURFOM: On June 21st 2018, the Mon State government declared that they had reversed their decision to dismiss Mi Than Htay, also known as Mi Jaloon Htaw, of Taranar village, Kyaikmayaw Township, who had been removed from her position as village administrator on April 26th 2018. Read more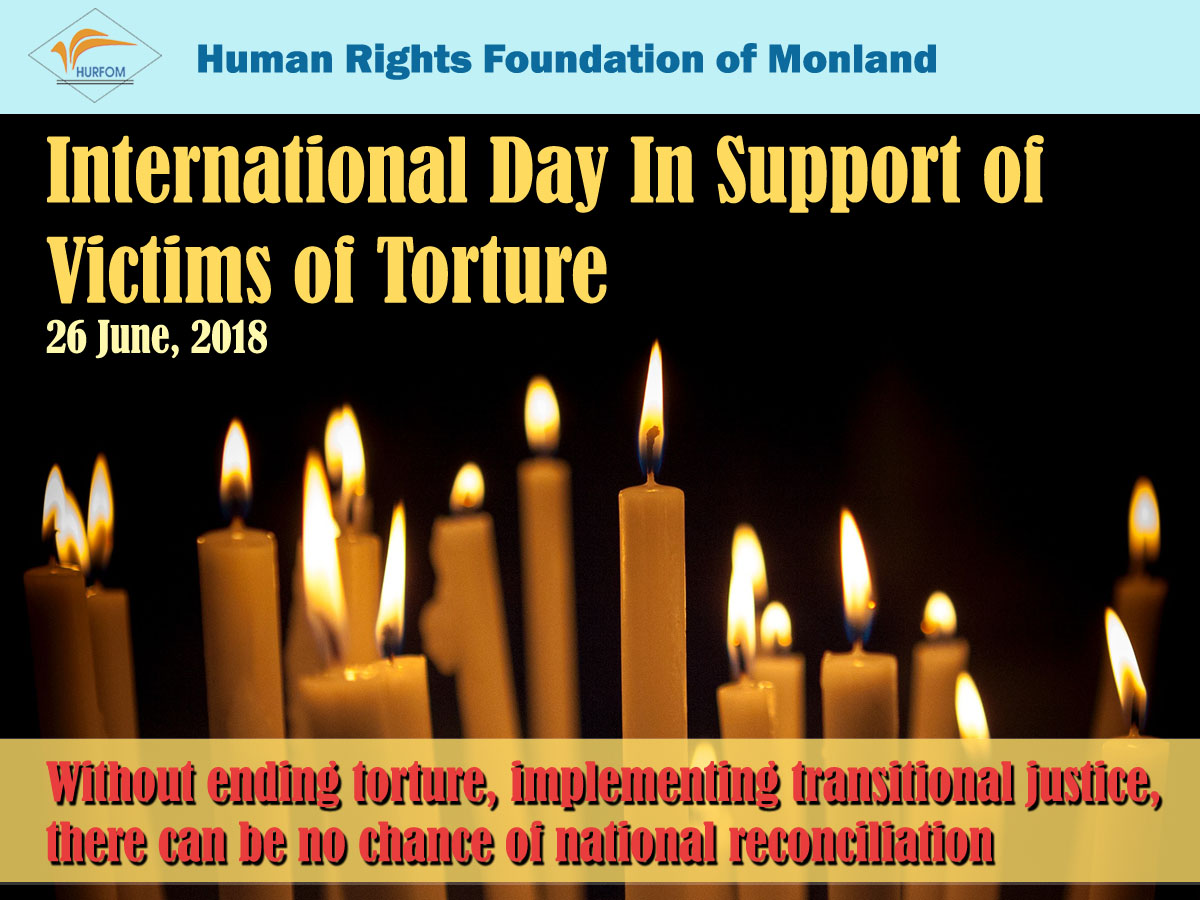 Today on International Day in Support of Victims of Torture, HURFOM wishes to express solidarity with survivors of torture around the world, as well as draw attention to the serious violations ongoing in Burma.
The military, police, and Ethnic Armed Organizations (EAOs) in Burma have for decades used torture against civilians, in direct violation of international customary law.
The United Nations Convention against Torture, which came into force on this day 31 years ago, has still not been signed by the Burmese government. Read more
HURFOM: Today on World Refugee Day, HURFOM honors all refugees, asylum-seekers, and internally displaced people around the world.
HURFOM calls on governments, ethnic armed groups, civil society organisations, donors, and the international community to end the human rights violations which are causing people to flee their homes, and to aid all refugees, asylum-seekers and displaced people.
According to the Global Peace Index there are currently 68 million refugees and internally displaced people in the world, the most since records began following WWII.
In Burma, refugee and IDP crises are escalating across the country. Read more
HURFOM: On May 21st 2018, Police Sergeant Thein Hline Oo and Police Private Shine Htet Aung, from Yin Nyein Police Station, tortured two villagers from Kyauk Ye Twin village, Paung Township, Mon State. Police Sergeant Thein Hline Oo has been charged under three sections of the Penal Code. On June 10th at around 4pm, Sergeant Thein Hline Oo was found back in the same village beating another villager, as he was reportedly angry with having been charged for the first beating. Read more
HURFOM: Just weeks after Thanbyuzayat Township General Administration Department forced Golden Geo Myanmar Co. Ltd. to halt illegal excavations on the same site, on April 22nd 2018, the Mon State government officially granted permission to the Royal Eagle Myanmar Development Group Co. Ltd to excavate fabled caches of buried gold and other valuables said to have been left by retreating Japanese troops during World War II. The company has been given three months to excavate at Mount Mane Mala (Samane Blai) at the western edge of Thanbyuzayat Town, Mon State. The excavations have local residents worried about the potential damage to their plantations, as well as about the possibility of the company accidentally uncovering and detonating old Japanese cluster bombs. Read more