NLD's election campaign poster destroyed in Kyaikmayaw
HURFOM: On September 11, 2020, a 28-year-old man from Kaw That village, Kyaikmayaw Township, Mon State destroyed a National League for Democracy (NLD)  election campaign poster.  He was charged by the Kyaikmayaw police under electoral law #57 and #58 for actions threatening the right to be elected.
"After informing the particular election sub-commission, we charged him under electoral law #57 and #58. Now, he has been released on bail," said the incumbent member of parliament, U Khin Zaw Oo who is with the NLD.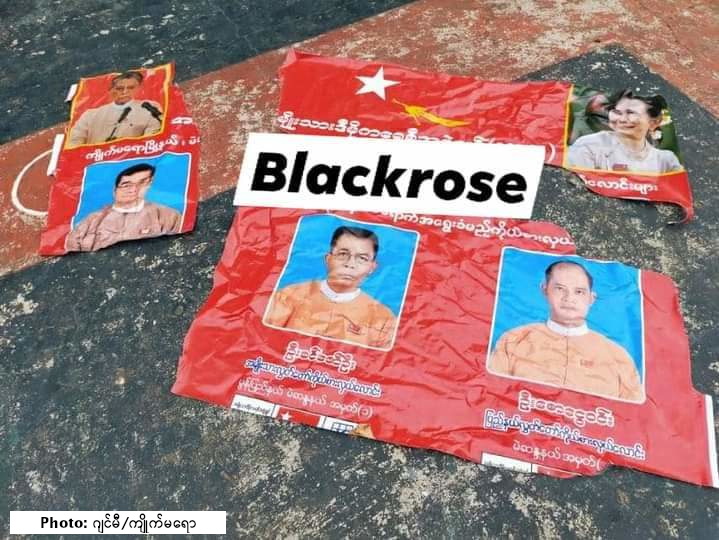 According to the Kaw That Village Administrator, the man could not accept that NLD placed a poster in a Mon village, so he destroyed it and accepted the consequences. Members with the NLD village party told the man to repair the poster but he refused, so they transferred the case to the police.
The Administrator U Min Aung Wayne said, "After destroying the poster, he himself went to the office of Village Administrator. When we asked him "what did you do?", he replied nothing, but went back and took the poster he destroyed. We called his parents and let them negotiate with the NLD members. But the negotiation failed and we handed him over to the Kyaikmayaw police."
MP U Khin Zaw Oo, whose picture was included on the destroyed poster, said, "We sued him to protect the reputation of the NLD and the candidates. The poster also included the picture of State Counselor Daw Aung San Suu Kyi, and the patron of the NLD. If we don't sue him, all of our posters will be destroyed."
In another incident an election campaign poster of Daw Mi Kun Chan with the NLD in Htan Pin Chaung Kyi village, Paung Township Mon State was also destroyed. She said via social media that she would respond in accordance with the laws.
Comments