Community-based quarantine center needs government support
HURFOM: In order to control the spread of COVID-19, the government announced that returnees from out of the country must remain in a quarantine facility or remain in a strict home quarantine for 14-days.
Mon State has established a community-based quarantine center.
However, the government has not provided medical staff support or protective equipment to quarantine centers. Local communities are now facing challenges as they operate these centre centers without government support.
"There is not enough medical staff to take care of the returnees. Also there is not enough equipment. The public health staff just come outside office hours to measure body temperature of the returnees. The staff say they are doing as they're instructed by their department. They said they would come once in three days. However, there are not enough surgical masks and hand sanitizers. Protective equipment is out of stock so we have to buy our own equipment," said a resident of Naing Hlone village, Mudon Township.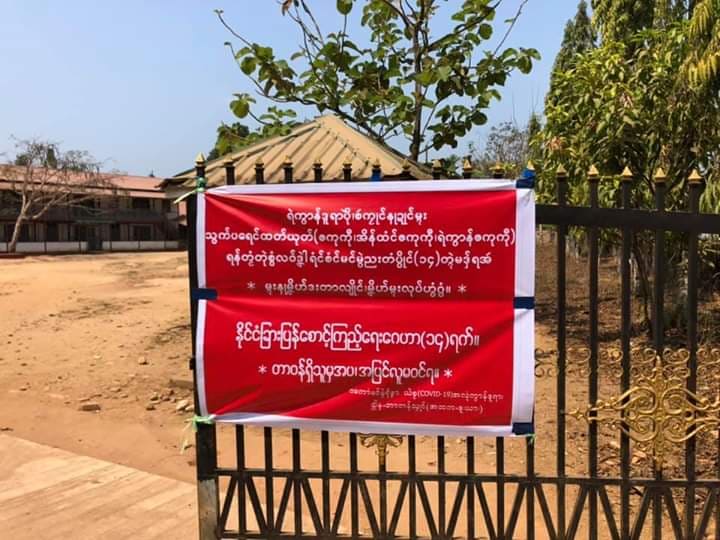 Most villages are taking care of returnees at schools but there has been no support from the authorities. Social groups are collecting money from the villagers to help operate the quarantine centers.
"The village administration has offered no support to the quarantine centers. We collected money from our friends and got about 400,000 Kyat. We bought surgical masks and hand sanitizer with that money. Returnees are also being taken care of by their parents or relatives," said a resident from R Ru Tong village, Ye Township.
The call for quarantines has created some confusion.
This is because people may be sick with the virus for 1 to 14 days before developing symptoms. The most common symptoms of coronavirus (COVID-19) are fever, tiredness, and dry cough. Most people (about 80%) recover from the disease without needing special treatment.
Health officials are requiring all migrants or travellers returning to the country to immediately isolate themselves in quarantine for 14-days to avoid passing along the virus before symptoms may appear.
Not everyone realizes the 14-day isolation period is intended to contain the virus. A person may feel well but can still pass the virus to others – hence the 14-day quarantine procedures.
"We requested medical staff in our village take care of the returnees. We kept them at school in accordance with the instructions from the medical staff. But because returnees were kept separately, villagers think they are infected by the disease. So we also have difficulty in dealing with the returnees," said a resident from Naing Hlone.
"Some follow the rules but some returnees returned via an illegal route and are hiding in the village. If we notice, we went to them and brought them to the quarantine center. There is enough food in the center but surgical masks, hand sanitizer and infrared thermometers are needed," said a resident from R Ru Tong.
The Ministry of Health and Sport in Myanmar announced on March 29 that returnees who came back after March 22 must remain in a strict quarantine facility or remain in home quarantine for 14-days.
As of April 3, 2020, there were 20 reported cases of COVID-19 in Myanmar with one fatality.
Comments