Newly formed MNHRC looks like a government structure, argue human rights activists
HURFOM: On January 14, 2020, the President Office released a statement that the Myanmar National Human Rights Commission (MNHRC) was being reorganized. According to the statement this move is in order  to promote and protect fundamental rights of citizens in accordance with the Constitution.
The old Commission has been abolished and none of its previous 10 members are included in the new 11 member Commission.
The new commission members are Paw Lwin Sein, Ambassador (Retired), Kyaw Soe, Director (Retired) of Bureau of Special Investigation, Dr Than Myint, Director-General (Retired) of Department of Medical Science, Nu Nu Yin, Permanent Secretary (Retired) of the Office of the Union Attorney General, Dr Tin Maung Maung Than, Head of Section (Retired) of Ministry of Industry No.2, Dr Myint Thu Myaing, Professor/Department Head of Department of Law of Yangon University, Tin Aung, Head of Department (Retired) of Office of the Commander-in-Chief (Army), Tin Kyi Oo, Deputy Director-General (Retired) of the Office of the Auditor General of the Union and Kyaw Myint, Deputy Director-General (Retired) of General Administration Department.
Despite this change of membership, there is scepticism amongst those active in human rights work about what this will mean for human rights protections in Myanmar.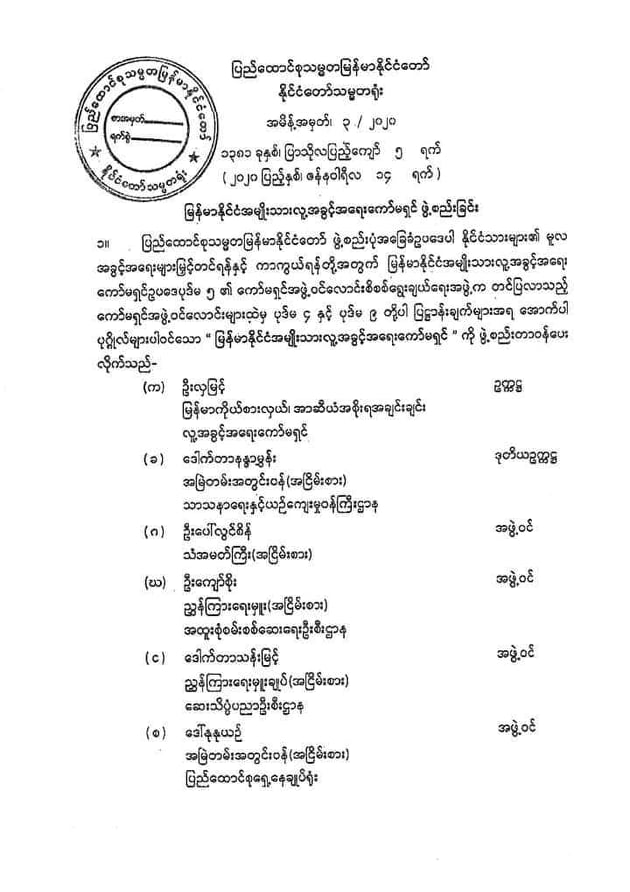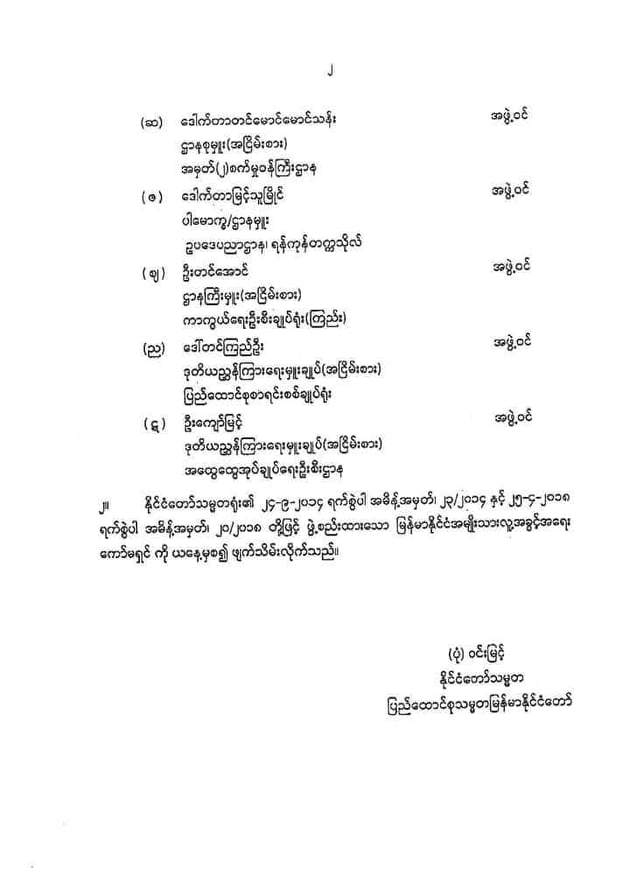 "It looks like that (the newly formed MNHRC) has been challenging CSOs who are working for human rights. (It's said that) the new MNHRC has multilevel inclusion such as CSOs and (non-Burmese) ethnic people. But I don't know how they define "multilevel inclusion". The newly formed MNHRC really looks like a government structure," said U Aung Zaw Oo a Director of the Human Rights Defenders and Promoters Group.
The main responsibility of the Commission is to protect human rights violations and to promote human rights education but the newly formed MNHRC lacks members who understand human rights issues, added U Aung Zaw Oo.
Nai Awe Mon, the Program Director of Human Rights Foundation of Monland (HURFOM) said,
"rather than give positive or negative comments on the new Commission, I would like to say I am not satisfied with the new structure. The Commission was newly formed but its members are not those who work for human rights. They represent government. As they are former government staff, their skill in understanding human rights, handling human rights violations and making (good human rights) laws is doubtful. It's too early to decide the performance of the new Commission but I'm disappointed with the new selection."
Most serious human rights violations have been taking place in different ethnic areas and it will be difficult to handle these cases for the new membership of the MNHRC as they are former government staff who do not understand human rights issues, added Nai Awe Mon.
"In recent years, the MNHRC had been very weak in human rights protection and promotion work, handling violations and cooperating with human rights activists and groups. We have records," said another human rights activist.
On December 9, 2019, 20 human rights organizations released a report titled, "A Little Less Conversation, A Little More Action Please" that demanded changes to the MNHRC structure.
Approximately 20 human rights groups have been advocating to the President's Office to make changes to the MNHRC and had sent an open letter to the President on December 10, 2019.
Comments