Mae Tarow villagers worried by red flags brought to their community by an armed KNU group
HURFOM: On October 22, 2019, a Karen armed group entered Mae Tarow village, in Kyaikmayaw Township, Mon State around 3 pm.  The group tied long pieces of red cloth to trees and villagers' homes. Local residents feared the armed group has plans to take over the village and are worried about their safety and livelihoods.
"They [the armed group, included] four members with two motorbikes. They entered the village and tied red flags at every house without saying a word. I don't know if they did this because they weren't satisfied that we've paid taxes to the New Mon State Party (NMSP) or if they want to rule this village. Most villagers are worried they will take over the village," said a resident of Mae Tarow.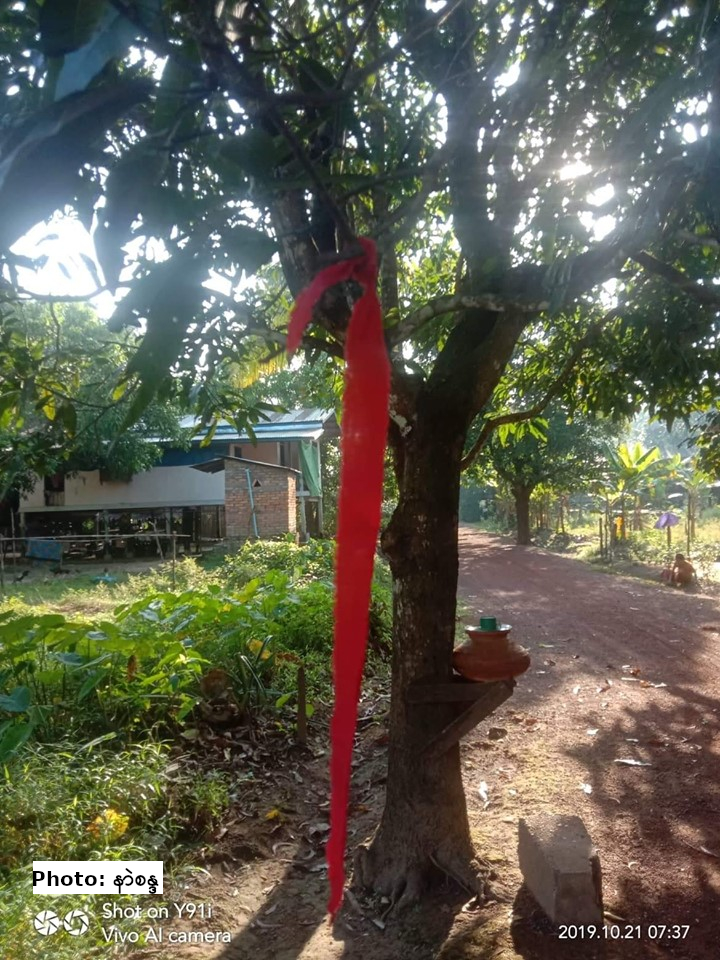 Mae Tarow is located in an area controlled by both the NMSP and the Burmese government. The Karen armed group has been seen on patrol at night near the entrance of old Mae Tarow village, according to the resident.
"There are lots of rubber plantations at the entrance of old Mae Tarow guarded by them (the armed group). As they are on patrol, the villagers have to be cautious about their movements. At the moment, there are some villagers who dare not go to their plantation," said the resident.
According to U San Oo, the Administrator of Mae Tarow, the villagers should have a discussion with the NMSP regarding the red flags that have been tied to trees and homes by the Karen armed group. Villagers are eager to know the reaction of the NMSP. A report of this incident has been sent to the Mon State government.
"The villagers are very (worried and scared). They don't want the village ruled by another (ethnicity). If (the) Karen take over the village, the village will be destroyed. Also the village (was not) included in the Karen territory. We also phoned the NMSP. If (we ar) thinking about what to do (and we don't have an urgent solution), they will take over the village. I think, the Karen armed group belongs to KNU," said the Administrator.
Mae Tarow has more than 300 houses and is inhabited only by Mon people.
Comments