Villagers hope confiscated lands, by military will be returned to rightful owners.
HURFOM: On May 5, 2016, the President's Office formed the Central Committee for Scrutinizing Confiscated Farmlands and Other Lands. One of the duties of the committee is to return unused, confiscated lands to the original owners.
Villagers in Thanbyuzayat Township from Mon State who had lands confiscated by the local battalion have been waiting for this committee to solve their land dispute.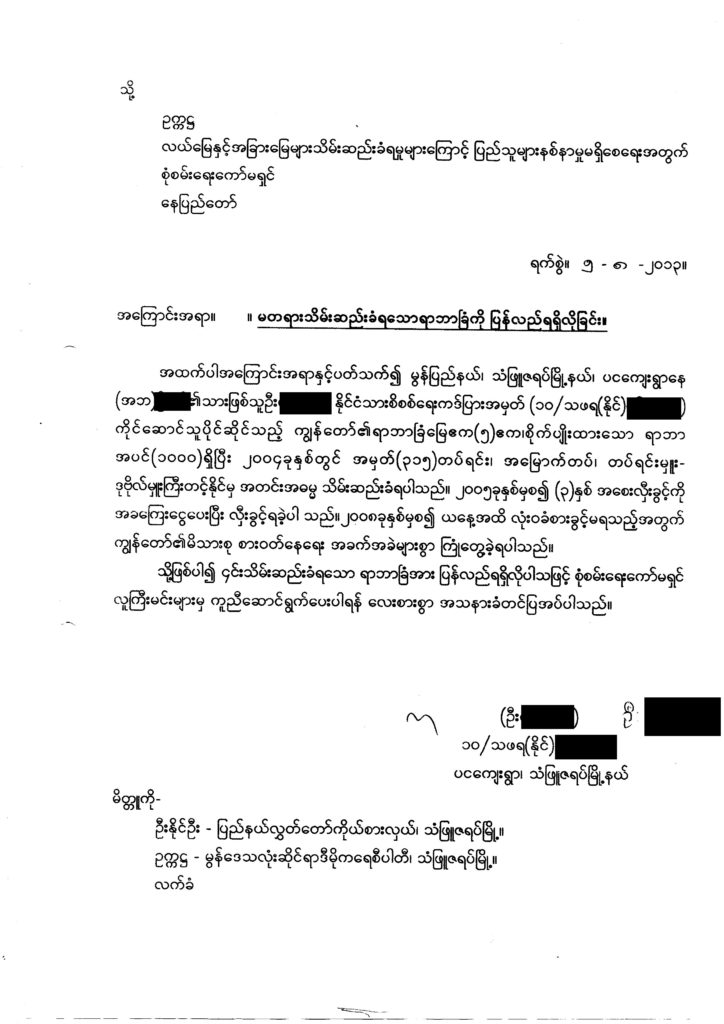 One Pa Nga resident who lost a 5-acre rubber plantation to the Burma Artillery Regiment Command No. 315 (ARC No.315) said, "After my plantation was seized, I had to work (as a daily laborer) at other plantations. I can't feed my stomach full. As soon as my plantation was confiscated, I couldn't sleep well. I was deeply depressed. I had to try a lot to recover from the situation. After I reported [what happened] to the committee, they said [they were working to solve] the land disputes [in the whole country]. So I hope [one day] the committee will also solve my land dispute."
The villager tended to about 1,000 rubber plants on his 5-acre plantation before the local army confiscated the plantation in 2005. The army did allow the owner to work in his plantation after paying a tax to them. However, in 2008, the army denied the villager a work permit and fully confiscated the plantation.
"Regarding land confiscation, I submitted reports (to particular departments or committees) several times. The land committee never called us. They never came to meet with us. I submitted reports so I hoped they would come to meet us. Now, the army chopped down the old rubber plants and substituted with new ones. But no one came to help us. Now we heard that the committee came to investigate the land disputes and we had a chance to get back our plantations. But in reality, we're the ones who have to suffer the loss," said the villager.
Plantation owners began submitting reports to the authorities dating back to 2013 but they have not received any remedy to date.
"We didn't complain if the army confiscated the plantation for [the] battalions expansion. But now they confiscated the land and sold them to other [villagers]. They did that under my very eyes. Is it fair for me to suffer this kind of pain?" asked the villager.
Nearby the ARC No. 315, there are 400 acres of rubber plantations owned by 57 local farmers and the local army has confiscated all the plantations.
Comments