Parents concerned following accident injuring 3 students from ceiling collapse
HURFOM: On 22 September 2019, 3 students attending their high school were injured when the interior ceiling, in their class fell on them.  The incident took place at the Basic Education High School (Sub) of Kyar Bo village, Ah Hlat village tract, Paung Township, in Mon State.
Parents are worried that other incidents may put their children in jeopardy.
Rain water had infiltrated into the classroom ceiling via roof hole during the recent heavy rains. The interior suspended ceiling became soaked with rain water and could not bear the weight, collapsing onto the students during class time. According to the school, 3 Grade 6 students – 2 boys and 1 girl, suffered minor injuries.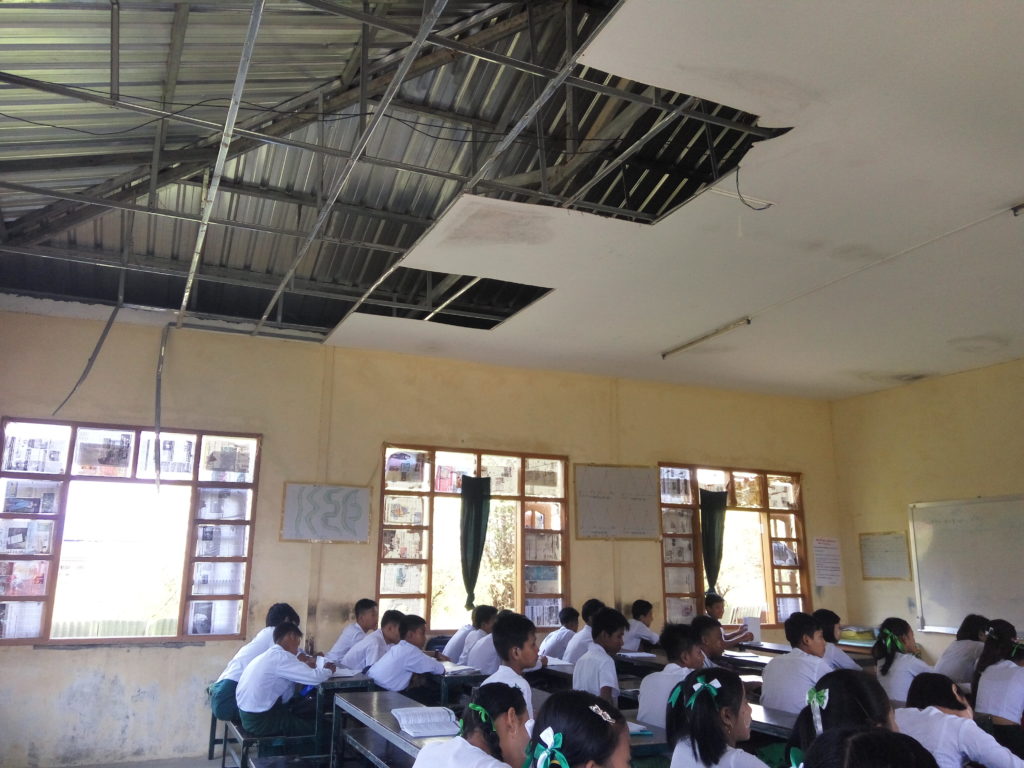 "I was angry with the company that built the school when hearing the ceiling fell down. Parents asked the principal, 'how many years
[has this school]
been built. [The principal] replied that it has been one year and few months. It was just over a year but it caused an accident so it is not good for [the] long term" said U Hla Win, one of the parents.
The government provided 43.2 millions kyat to construct the school and the Win Tha Pyay company was granted permission to build the school in August 2015. The school has been operating since June 2016, according to Paung Township Department of Basic Education.
"State Minister will fix this (school) for us but we do not expect much. We would like to fix it with our own money if possible. We want to improve this school condition. Even though it is high school, it has no fence," continued U Hla Win.
Estimates to repair the damaged roof will be covered in the upcoming budget year. The students are continuing their studies in the same room after the fallen debris was removed.
The local people want the government to supervise the construction company to make sure their buildings are strong, qualified and durable. Parents indicated they are willing to donate money to fix the ceiling and U Htun Min Aung, the Minister of the Mon State Ministry of Immigration and Human Resources, will ensure the necessary repairs take place.
"Most of locals here are farmers. They just know having a school is good but they do not know about the quality of the school building. However, the government has a supervision team and they should check the quality of the construction. We want the school [to be] strong" stated U Min Thu, Village Administrator.
According to the Administrator, the school filed a written report with photos illustrating the damage with the Township General Administration Department.
There are 500 students attending the Basic Education High School (Sub) of Kyar Bo village.
Comments