Government committee provides no solution for air pollution
HURFOM: On May 4, 2018, local people from Mawlamyine in Mon State called for the government to shut down air polluting factories in the Industrial Zone of Nyaung Pin Seik Ward, Mawlamyine.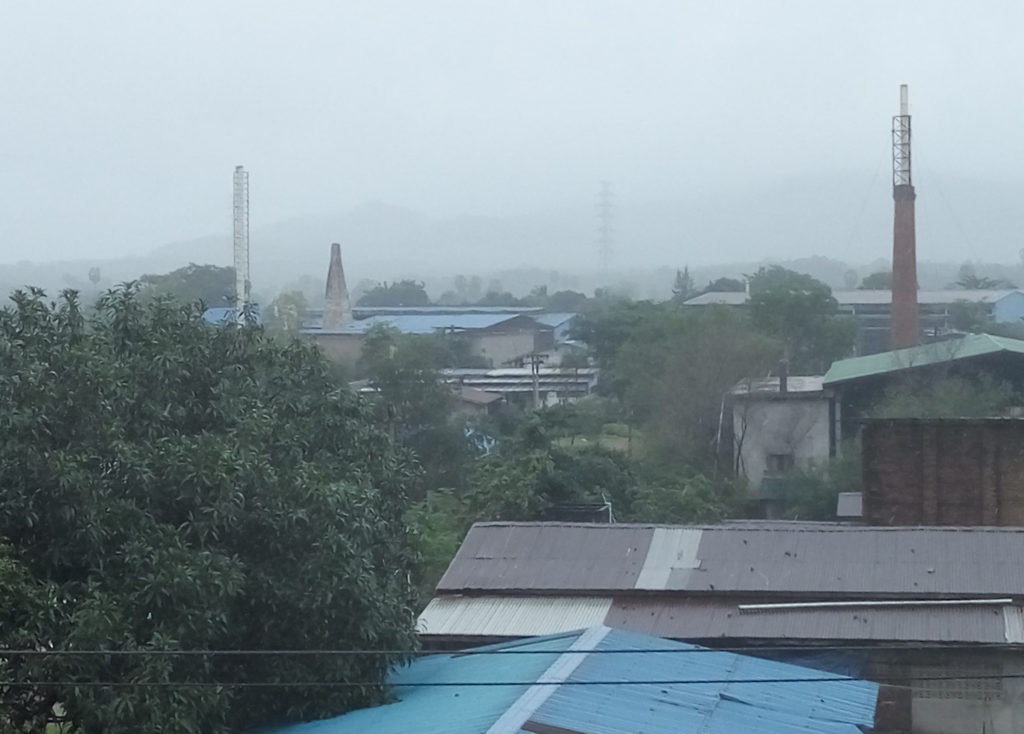 On July 22, 2018, approximately 400 residents organized a protest demanding the shutdown of the antimony factories. The Mawlamyine Industrial Zone had 6 antimony factories.
Local residents complained that the Myanmar Shin Shin Antimony Purifying Factory and the Myanmar San Zaw Antimony Purifying Factory emissions were affecting air quality.
Antimony is a highly brittle, bluish-white, semi-metallic element. It is often alloyed with lead to increase lead's durability. Antimony alloys are used in batteries, low friction metals, and cable sheathing, among other products. Antimony compounds are also used to make flame-proofing materials, paints, ceramic enamels, glass and pottery.
Antimony is considered extremely dangerous. According to the International Journal of Environmental Research and Public Health "occupational exposure may cause respiratory irritation, pneumoconiosis (a lung disease), antimony spots (pustules and eruptions near sweat glands) on the skin and gastrointestinal symptoms. In addition antimony trioxide is possibly carcinogenic to humans."
The Mon State government formed a committee to investigate those factories which are powered by coal energy, another source of air pollution. The committee led by the State Directorate of Industrial Supervision and Inspection had representatives from 6 different government departments including the Mon State Environmental Conservation Department.
According to local residents, although the committee has been investigating the factories, air pollution levels have not declined, nor has air quality improved, and no action has been taken against the factories. "They said they're elected government and are doing investigation. But there is no improvement. The bad smell is still emitting." offered one community member.
State Counsellor, Daw Aung San Suu Kyi during a public consultation trip to Mawlamyine on April 14, 2019 said the factories must be closed if they're emitting a bad smell.
The Mon State Minister of Natural Resources and Environmental Conversation has been conducting investigation and promised to take action against the factories.
Local residents are skeptical, "But everything has faded as time goes by. There was no legal action," said Ko —–, who lives 300 ft away from the Myanmar San Zaw Antimony Purifying Factory.
When community members initially reported their concerns in 2018, under U Thein Sein's government some factories were shut down within a week.
In May 2018, HURFORM reported the Myanmar Shin Shin, Myanmar San Zaw were able to obtain government permission to operate as pilot projects, under the supervision of the Mon State Environmental Conservation Department.
However, the Myanmar San Zaw Antimony Purifying factory was eventually shut down in August, 2019 but the Myanmar Shin Shin Factory continues to operate.
Although local residents have filed reports several times to the National League for Democracy (NLD) government, there has been no legal action. The government has never consulted with the local people regarding the concerns about the air pollution or air quality problems.
"The people have been reporting to the government a lot. By they didn't listen…There is no improvement (related to air pollution). This factory is life-threatening. Now, (air pollution) is getting worse and we can't even sleep at night (because of bad smell). Then, even another factory was constructed. We don't know the name of that factory. It has no chimney so the Ward has been full with smoke (emitted by the factory). Our disappointment at the government has piled up as time goes by," continued Ko —–.
The Chair of Mawlamyine Industrial Zone Management Committee U Aung Kyaw Nyunt said, "When the government came to investigate the factories, they didn't call me. I received no written instructions (related to an investigation). As the Industrial Zone Management Committee, we knew nothing. At the moment, there is no improvement (of air pollution or air quality). And there is also no (government) instructions on how to deal with the factory."
The State government claims they instructed the factories officials to increase the height of the factory chimney but emissions continued with a polluting odor. Local residents filed a report with their concerns to the President during his trip to Mawlamyine on December 14, 1918 and with the State Counsellor during her trip on April 14, 2019. They have also reported their concerns several times to the Mon State government.
Comments