New report finds personal security concerns, lack of protection measures greatest impediment to women's participation in politics
Women and Child Rights Program
In a new report on women's participation in politics released by the Jeepyah Civil Society Development Organization (JCSDO), the JCSDO research team found that real or perceived threats to personal security figured as the greatest impediment to women's participation in politics. Specifically, concerns about personal security coupled with a lack of special measures to protect women lawmakers when in the community, or on an extended business trip, were identified as major obstacles to increasing women's participation in politics.
In conducting this research, the research team met with 30 lawmakers, 11 of whom are women, from Mon and Karen states, and Tanintharyi Region. The JCSDO team gathered the opinions of lawmakers regarding the role of women in positions of leadership and throughout all levels of the political process.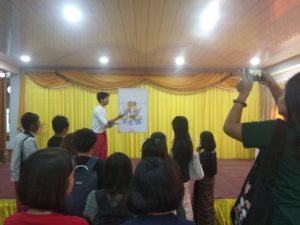 "Mainly, [concerns about] personal security, gender stereotypes, and the expectation to perform housework are barriers to women's increased involvement in politics. Another factor is that when given the choice between a qualified female candidate and a male candidate, [we found] most women choose to support the man. It's the mainstream way of thinking. The political community still doesn't favor women," said Mi Cherry Soe, the lead researcher and Program Director of JCSDO's Women Empowerment and Child Rights Program.
When approached by the research team, Dr. Aung Nyne Oo, the Deputy Speaker of the Mon State Parliament, stated that all political parties were lacking in systematically supporting their female members.
Beyond this lack of support, women's representation in parliament at both the state and union level does not reflect the composition of the population, with women making up 52 percent of the total population based on the most recent figures available. At the parliamentary level, such underrepresentation means that women's issues are often overlooked and not accorded the importance they so deserve.
"During the first parliamentary period under Thein Sein, the Mon State Parliament had no female lawmakers, but now 16 percent of its members are women. However, the Karen and Tanintharyi parliaments have an even lower percentage of female members. Some people think women face no barriers becoming involved in politics. The head of state, some chief ministers, and the speaker of the Mon State Parliament are all women. Even though some women hold a high rank, it doesn't reflect the composition of population. Women still face barriers when they want to become involved in politics and leadership" said Mi Cherry Soe.
A major finding of JCSDO's research, and one that will hopefully inform the parliamentary process at both the state and union level, is that issues that affect women will receive greater time and attention if there are more women in parliament. Further, female lawmakers may approach issues differently than their male counterparts, providing all lawmakers with a more holistic understanding of the issues faced by women and how they may be best addressed or resolved. The report also called for special measures to protect women lawmakers in the course of their duties.
Moving forward, Mi Cherry Soe stated that she will do her best to work as an advocate for women's increased participation in politics and will continue to raise awareness about the social and economic benefits that women's increased representation will bring.
The JCSDO has its roots in the Mon CSO community, mostly based in Thailand. In 2010, Jeepyah Education Services (JES) was established by members of HURFOM, and in 2012 HURFOM's Women & Child Rights Project (WCRP) added its support to JES to help form the Women Empowerment and Child Rights Program. In 2017, the name of the organization was changed from JES to JCSDO to better reflect the diverse activities being carried out through its programming.
Comments