"We Still Want Our Land Back": HURFOM interview with victims of land confiscation
HURFOM: On July 1st 2018, HURFOM met with two victims of land confiscation, Nai Lin Aung and Mi Aye Mi San, a couple from Wae Rat village, Thanbyuzayat Township, Mon State. Their land was confiscated by Burma Army Artillery Battalion No. 315 in 2004.
"The plot we bought for our house was about 40×60 ft. It was located between Wae Rat and Wae Gali villages [of Thanbyuzayat Township]. We bought it in 2004. Six months after we bought it, Artillery Battalion No. 315 confiscated it.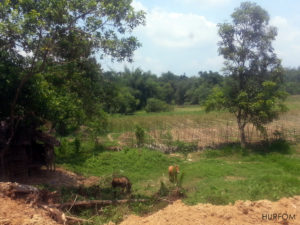 "We bought the plot for 1.35 million kyat in 2004 [equivalent to 30 to 40 million kyats or US $21,084 to $28,112 today]. When we bought the plot we had no immediate plans to stay on it. We worked in Thailand and left the plot in its original state. Other people were doing the same as us. After we bought the plot, we had no money to build a house. So we went to Thailand to work and save money to build a house. But even though we had been planning to build a house on the land, the military confiscated it and fenced it off with barbed wire.
"After the military confiscated our plot of land, we didn't ask anything about the land. We didn't do anything as we didn't know how to reclaim our land. We just made our livelihood in Thailand. We had no money to buy another plot of land. The price [of land] changes over time. Even though we've worked in Thailand for years now, we don't have enough money to buy land as the price is always going up. Since we can't buy land, we're staying in Thailand and making our livelihoods there.
"Our parents went to the Thanbyuzayat "Combined Office" [a one-stop service made up of township-level departments such as the General Administration Department, the Land Record Department, the Police Force, the Rural Department, the Education Department, and the Health Department] several times to try to reclaim our land. In 2014–15, our parents went to the office again before the rainy season and the office replied that if the land owners themselves returned to the village, the land would be given back. My mother asked the office to return the land to her as she had bought it on our behalf. But they replied they could only give back the land to the real owners. So my mother went back home and phoned us. We went back home before Songkran in 2015 and went to the office again.
"But the office said they were really busy and had no time to do an investigation as Songkran was drawing near. We were instructed to come back after Songkran.
"A week after Songkran, we went to the office again. When we got there, the officials asked why we had come to the office. We replied that we were there regarding the case of land confiscation by the military in Wae Rat village. We explained that the office had previously said that the land would be given back when the real owners returned to the village. We asked them to solve the problem now that we, the real owners, had come back to the village.
"The office told us that after Songkran, there had been a change in the officials on duty and the office was now run by new staff. The new staff could not find the old records [related to the land confiscation]. We had nothing to say after that reply.
"I want to get my land back. We had to pay 1.35 million kyat 13 years ago. Now the price is over 10 million (US $7,027). We have no money [to buy another plot] so we want our land back. If we could afford another plot, we wouldn't reclaim our land. We've built a hut near our parents-in-law's house, and right now we stay in that hut as we can't buy land of our own.
"My mother has filed reports many times to several departments. We paid 5,000 kyat (US$3.51) to the Secretary of the Wae Rat Village Administration to file a report to Naypyidaw, but we have received no reply. We also asked Nai Chan Aye of the All Mon Region Democracy Party to file a report, and we asked other organizations and parties for help too. We filed reports several times to several departments or offices. I think we would have got a reply if they wanted to give us back our land. Now, we aren't getting any reply so they aren't willing to give the land back, I think.
"We bought the land with money we earned by our labor. It's very painful to lose this land to others. We still want our land back."
Comments