Farmers suffer as electricity companies fight it out for power market
HURFOM: On May 22nd 2018, according to a local farmer, farmers from villages in northern Ye Township, Mon State, plan to petition the Mon State Parliament to remove utility poles from their farmland, which were installed by Bedok Construction & Engineering Co. Ltd. (BCE).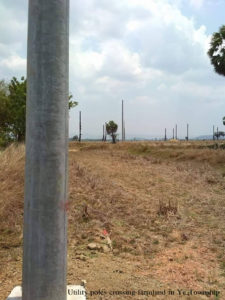 "They installed some poles in the middle of our farmland and some at the boundaries, all without our consent. That's why we are planning to file a complaint," one local farmer said.
In November 2017, the Mon State government granted Southeast General Energy and Power Co. Ltd. (SEGEP) permission to provide electricity to southern Ye Township. At the same time they granted BCE permission to provide electricity to northern Ye Township.
"We've asked Member of Parliament Nai Soi Ha to advise us. I think they are erecting between 30 to 50 utility poles. Perhaps even up to 80. Some farmers have had to accept two poles and some have had to accept five. The laying of the foundations for the poles has interrupted our ploughing. We can't farm any more. They didn't inform us before installing the poles. We, the farmers, are not satisfied. So we're planning to file a report to Nai Soi Ha, a Mon State Member of Parliament in the Amyotha Hluttaw (House of Nationalities)."
In Taung Pyin village, northern Ye Township, SEGEP and BCE have both installed utility poles. There is currently a conflict between the two companies.
"In our region, only BCE was granted permission to provide electricity. But now SEGEP has also installed their own poles. It's complicated," said Nai Oak Sar, a member of the Negotiation Committee for Electricity in Taung Pyin Village.
On May 11th 2018, the Taung Pyin Village Administrator instructed SEGEP to remove their utility poles, since BCE planned to begin rolling out electricity provision starting May 20th.
"SEGEP still haven't removed their utility poles, even after the May 20th deadline. So we're notifying them that we are going to remove the poles ourselves. We can't get electricity if the SEGEP poles are there. We'll inform SEGEP by letter before we remove the poles," Nai Oak Sar said.
Househol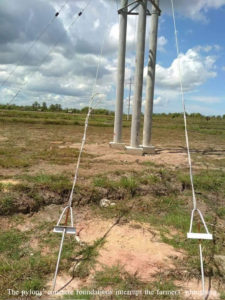 ds in northern Ye Township have to pay 285 kyat (US $0.21) per unit for electricity. The price fluctuates within 20% according to the price of petroleum.
Comments