Locals in Thanbyuzayat Township protest over encroachment on religious land
On February 19th 2018, about 200 residents from Kyaikkhami Town, Thanbyuzayat Township, Mon State, held a protest against the encroachment on religious land by local administration. The dispute concerns the use of land belonging to the Mya Sein Yaung pagoda by the local fire department.
"They [local administration] have gradually been infiltrating religious lands. We are worried that Mya Sein Yaung Pagoda will be swallowed by houses. We've organized this protest in order to protect our religious land," said Mi Win Mon, a Kyaikkhami resident.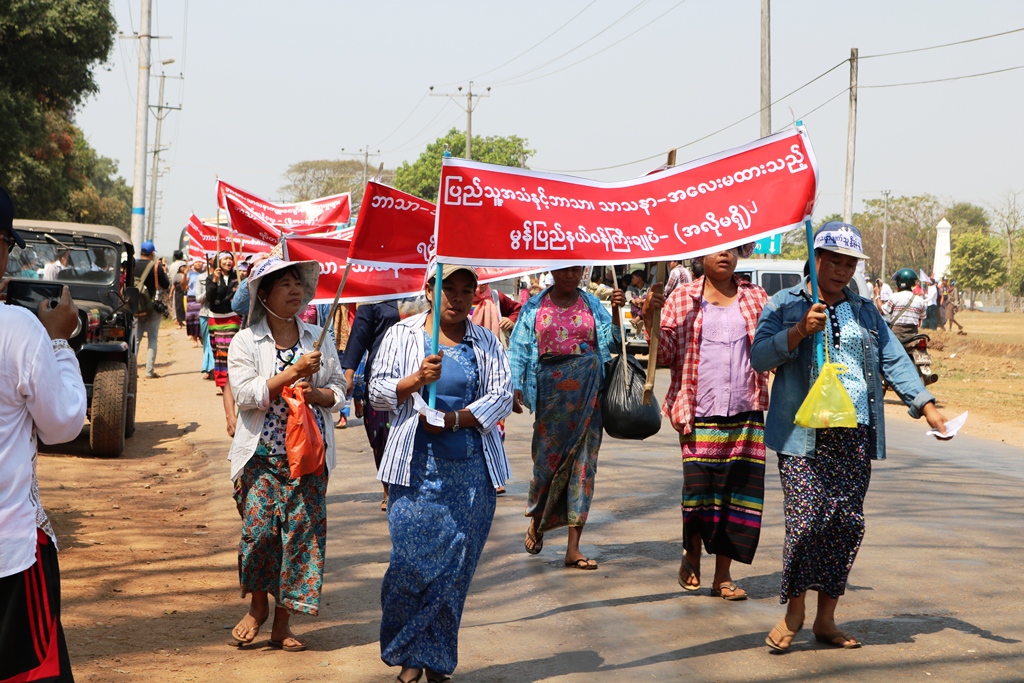 Protestors believe they were misled by the town administration over the original bid to use the land. Locals say the Kyaikkhami administration said the land would be used to build a water storage tanks for the local fire department, but once the pagoda agreed to the use of the land, the local administration began planning to build houses for the fire department's staff instead. Complicating matters more is the pagoda's lack of documentation for ownership of the land.
"The senior monks agreed [to the land use] after holding a meeting. The Local Senior Monk Association said building a water storage tank [for use in fighting fires] is in the public interest and it will benefit Kyaikkhami residents, so they decided to agree to the land use," said Ko Myo Myint Oo, Chief of the Thanbyuzayat Religious Affairs Office.
The protesters marched from the Thanbyuzayat War Cemetery in Kyar Kan Ward and marched to the Township General Administrator's office shouting for the end to the abuse of religion and calling for action to be taken against the Thanbyuzayat Township General Administrator. They also called upon the Mon State Chief Minister Dr. Aye Zan to take action on the issue.
Comments