Lack of signals and gates at level crossings endangering citizen lives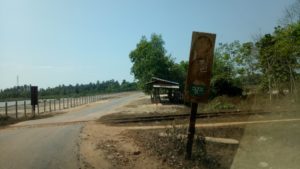 HURFOM: The lack of signals and gates at level crossings in Mon State are a hazard to drivers and pedestrians, and are frequently the cause of traffic accidents and fatalities.
On February 6th 2018, a car holding three senior monks crashed into a train at the level crossing between Nai Pa Rai and Kwae Wan villages in Mudon Township. One monk succumbed to his injuries at the scene of the accident.
Similarly, on January 12th 2018, a small truck was crossing the train tracks nearby Pa Nga village, Thanbyuzayat Township, when its engine suddenly died. A train passing through at that time smashed the car into pieces. The driver managed to escape death, but he lost his car and the rubber slices he was transporting.
Traffic accidents at level crossings have been reported throughout Mon State this year, including nearby Kha Rai Paring (Kywe Chan Kone) village, Paung Township on January 8th and on January 14th again in Pa Nga village.
"Traffic accidents frequently happen at our level crossing in Ka Log Tot village [Mudon Township]. A couple years ago a woman who wanted to escape the rain had sped across the railway crossing and was hit by the train," said Nai Zan, a Ka Log Tot resident.
On July 18th 2016, Mi Kon Ha Lae, 30, and Mehm Thein Win, 7, had hurried to cross the railway at Kaw Pee Htaw village, Mudon Township, as there was heavy rain. Their motorbike crashed into the train and was smashed into pieces. Mi Kon Ha Lae died immediately at the scene, while Mehm Thein Win was seriously injured.
"I think there should be some protection at level crossings because accidents are happening frequently right now. Level crossings inside the villages have no gate and busy people don't pay any special attention when crossing the railway. When this coincides with a train, it's dangerous," said Nai Bnyair Gajot, a Pa Nga resident.
According to U Tun Htay, the Mon State Minister of Agriculture, Livestock, and Transportation, two gates cannot be put up within less than a mile of each other, so level crossings inside villages cannot have gates. They only have signs advising motorists to "Stop, Check, and Go." The minister also warned that people should be careful when crossing the railway.
Comments