Andin villagers request investigation after committee members sacked over refusal to rezone farmland for Myanmar Offshore Supply Base  
HURFOM: Villagers are upset over the dismissal of two Andin village Farmland Management Committee members in Ye Township, Mon State. U Maung Ye (Villagers' Representative) and U Min Myint Thein (Farmers' Representative) were forced to resign by the Ye Township general administrator after they refused to agree to rezone farmland for use in the planned Offshore Oil and Gas Supply Base.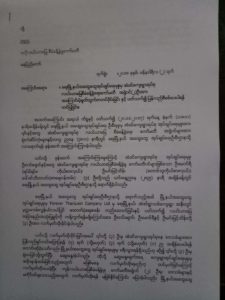 On January 2nd 2018, Andin village tract community leaders, monks, and villagers submitted a report which recommended an investigation over the dismissal of the pair to the Mon State Farmland Management Committee, Upper House of Parliament (Naypyidaw), Land Investigation Committee (Naypyidaw), Mon State General Administration Department, Mon State Parliament, and the Mon State Complaint and Appeal Letter Review and Assessment Committee.
"In my opinion, the general administrator doesn't have the authority [to dismiss farmland committee members]. The company [requesting the use of the land] must meet with the [entire] farmland committee first and request their consent. This is the official procedure. But the company didn't meet with the committee and directly negotiated with the general administrator. The administrator used his power [to get the approval of the farmland committee members] so the procedure wasn't in accordance with the law," said U Thaung Sein, a community leader in the New Andin village.
Reports surfaced last month that on November 20th 2017, Ye Township General Administrator U Tin Nyunt ordered Andin village Farmland Management Committee members to give their consent for farmland to be used for the Offshore Oil and Gas Supply Base project nearby New Andin village.
The only two elected committee members refused to give their consent citing a lack of transparency with local residents who knew nothing about the project. They were subsequently forced to resign from the committee.
Local residents disagree with the dismissal of the committee members and are requesting the re-appointment of the two committee members.
"The villagers have been unhappy with our dismissal. They want us to re-gain our position. I want to quit my duty. But if I am re-appointed, I will work for the committee again because I respect the desire of the villagers and want to serve the village," said former Farmland Management Committee member U Min Myint Thein of Andin village.
HURFOM contacted Ye Township General Administrator U Tin Nyunt, however he refused to comment on the situation.
Comments