Odours from the Fushin Rubber Trading Co. Ltd. factory in Mudon spoils local water resources
HURFOM: Local water resources are being polluted by waste run-off from a nearby Fushin Rubber Trading Co. Ltd. factory, according to residents in Mudon Oo Ward and eastern Kwan Tarr village in Mudon Township, Mon State.
"A bad smell has been emitting [from the factory] for a long time. Even the people in the ward are familiar with the smell. As the smell is very strong, the water in the wells nearby the factory is getting smelly. The stream water near the company has turned really black. This has been happening for a long, long time. The local people tolerate it as they're familiar with the smell. But if outsiders come here they suffer from shortness of breath. Even the travelers who use the main [Mudon-Mawlamyine] road have to hold their breath, so you can imagine how badly it smells," said Nai Ba Lai, a resident from Kwan Tarr village, Mudon Township.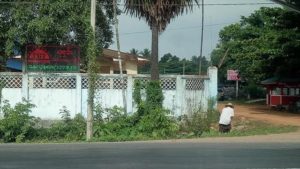 Many locals from Mudon Oo Ward and eastern Kwan Tarr village of Mudon Township have moved into downtown Mudon City as they could no longer tolerate the odour, according to Nai Ba Lai. However, it is unknown how many households have moved.
The Fushin Company had started its work with a small project; however, later it expanded its workload and now its project site has bought enough land that its compound has reached the paddy field near eastern of Kwan Tarr village.
There will be more expansion in the future, which has locals worrying that the company will be based permanently in the area.
"Now, the local people in the ward are starting to make complaints. The company staff have also heard about this. However, the company is very generous and make donations to the local monastery and fund projects to set-up local water supply systems. Therefore, the local people don't hate them too much. Not many people have complained about the bad smell. No one has a plan to make an official complaint," continued Nai Ba Lai.
Along side with the Fushin Company there is Yone Shin Company, Fu Li Company, Shwe Myanmar Company, and High Win Company in the area and they all have been dumping their waste water into the stream nearby.
From Mudon Oo Ward to Kwan Tarr village, there are five alcohol distillation plants and the travelers who have to use the Mudon-Mawlamyine highway have to hold their breath when they pass that area.
Comments