Mon State Minister resigns over bridge naming controversy
HURFOM: Mon State Minister, U Min Min Oo, has resigned following controversy surrounding the naming of the Than-Lwin Bridge between Chaungzone and Moulmein townships.
U Min Min Oo is also the Mon State Minister for Municipal Development and Construction. On February 8, 2017, local community members, including monks, began organizing protests against the naming of the newly constructed bridge after General Aung San.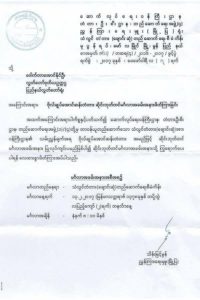 "If the Than-Lwin Bridge (Chaungzone) will be named after General Aung San, we'll oppose that, but we have to take time to avoid violent ways," said a Facebook post by Venerable Monk Wara Wunsa of Boe Nat Monastery in Chaungzone on February 8.
The issue was first made public when the Ministry of Construction sent an invitation letter to Vice Speaker of the Mon State Parliament Dr. Aung Naing Oo to join the opening ceremony of the General Aung San Bridge. Mon people from Chaungzone and other areas of the region began planning their opposition to the name shortly afterward.
"The matter is under discussion now. Our first plan is to send a petition [to the authorities] after collecting signatures from the locals. Our second plan is to mobilize a protest. For example, we will organize a protest at the [70th] Mon National Day event. We're still discussing [how to respond]," said activist monk Aot Jae from Chaungzone.
"Not just the Mon community, but also the Burmese people do not agree with the new bridge name. They should cooperate with the locals to oppose that a bridge in a Mon area will be named after General Aung San," continued the monk. Locals believe the name of the bridge should have more relevance to the local area.
"I'll oppose this issue in accordance with the laws. I'll show my opposition in parliament. Community-based organizations should find a way themselves to oppose the issue," said activist monk Aot Jae.
The 1,759-feet-long and 64-feet-wide Than-Lwin Bridge (Chaungzone) began construction under the previous government of U Thein Sein and was planned to be opened on February 13, 2016.
This is not the first time locals in Mon State have opposed the naming of a structure after General Aung San. A statue in commemoration of the general was planned to be erected in Kan Thar Yar Park, Mudon, however locals opposed the project as it was ongoing without their consent.
U Min Min Oo was pressured to quit by his own party, the NLD, following complaints over his leadership.
Comments