Over 1,000 People in Mon State Join Protest for Peace
On the morning of February 4, 2017, approximately 1,000 people participated in a demonstration for peace held in Mawlamyine, Mon State.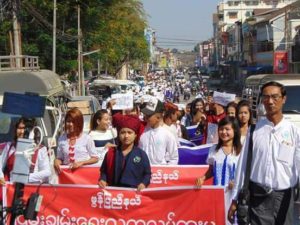 According to Nai Oung Mon, who is one of the organizers, "the purposes of this activity are to stop the conflict surrounding the ceasefire [talks] and to stop the violence in the country. The demonstration was organized through the cooperation of many people from various ethnicities including, Mon, Burmese, Pa'O, and Karen activists."
He added that, "when people exchange [debate] about politics in our country, we would like them to listen to the voices of the citizens very carefully. Then, they will know what our struggles are and can solve our problems as citizens."
U Saw Myo Myint Hlaing, a Karen ethnic who is working for a local Civil Society Organization (CSO) in Mon State said that, "there are a lot of domestic wars in the country. We don't want it. To get peace all over the country, we want all the Community Based Organizations (CBOs) and CSOs to participate in the peace process. Then we will see our country develop."
"When we [try to] solve the problem of conflict surrounding the ceasefire [talks], we have many ways to go about doing it, such as choosing to kill people or choosing to discuss [the end of conflict] peacefully. Everybody should have the right to survive, respect for human rights, and they must have the right to [freely] express [themselves]," said Nai Dhow Ong Chan, also present at the demonstration.
Daw Hla Myint who works for a CSO in Chaung Zone Township stressed the inclusivity of the protest, saying, "there are a lot of wars in the country. We don't discriminate based on race, or whether you are rich or poor; we only focus on bringing peace to the country and participating in activities such as this."
Nai Soe Thein from Ye Township, who also participated in the activity said, "the expense of the [current] war is much more than the expense allocated to education. When the political [system] is changed we shouldn't have war in the country. The ethnic groups are poorer and we wish to stop the war in the country and thus we organized this activity."
Comments