RESIST: Women's Courage Tested in Myanmar One Year Since the Failed Coup
Women in Myanmar have shown their strength over decades of armed conflict. They have also reshaped a landscape of patriarchal values that have long attempted to shape the country. Advocates have been calling for stronger legislation to protect women from physical and emotional violence,  but there has been a disappointing lack of desire to pass laws which would protect survivors and ensure access to justice. [Download the report in PDF format]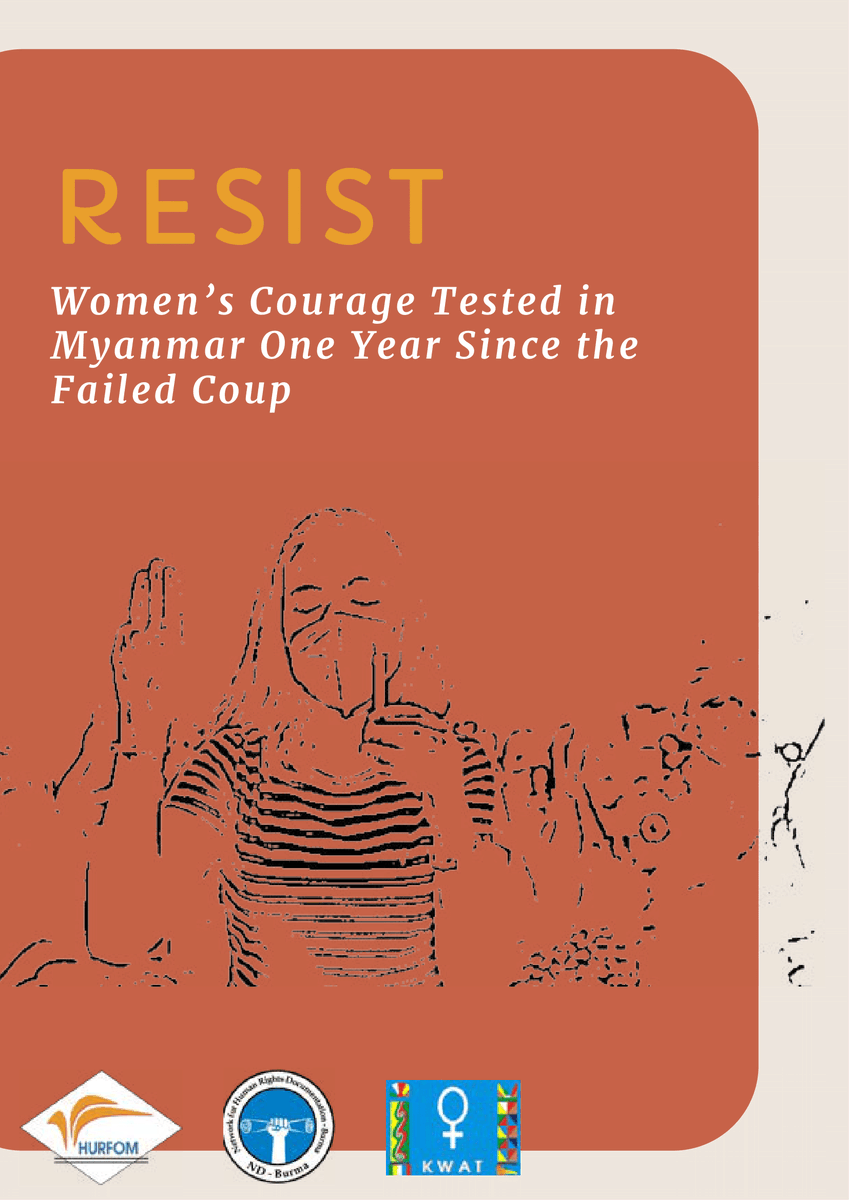 The malice exhibited by the Myanmar junta includes many years of sexual violence perpetrated during internal conflict. Under these harrowing circumstances, women and girls bear the burden. They are targeted by soldiers while trying to escape raids, and flee organized violence. Those who survive are left traumatized and often without adequate access to psychosocial  counseling. Their lives, along with their families, are forever marred by the regime's vehemence.
Pathways to justice are filled with roadblocks, including costly trials and protection granted to soldiers. The junta has been able to evade accountability and increase the likelihood of repeat offenses. Years of impunity has reinforced a deeply flawed legal system that denies the dignity, safety and security of victims.
Since the failed Myanmar coup on 1 February 2021, civilians have come under fire as soldiers have attempted to squander resistance movements through  any means necessary. Over 1,500 people have been killed and hundreds more injured, according to local documentation groups. Against this backdrop of unyielding violence, women's resistance movements have prevailed under the darkest of circumstances. Pro-democracy campaigns have taken place in spite of the threats and risks to their physical and digital security.
In the presence of the Myanmar military, women have never been safe. Nevertheless, women's voices for change continue to persevere. Against all odds, indeed, they continue to resist.
In this joint briefing paper, the Network for Human Rights Documentation – Burma (ND-Burma), the Human Rights Foundation of Monland (HURFOM), and the Kachin Women's Association Thailand (KWAT) will describe how women and girls in Myanmar have been threatened by the junta's violence, particularly in Kachin State, northern Shan State, Karen State, Mon State, and Tanintharyi region across the last year. The paper will also show how they have overcome the systematic threats and violence they've been faced with.
Organizational Profiles
The Human Rights Foundation of Monland was founded by pro-democracy students from the 1988 uprising and more recent activists and Mon community leaders and youths, and its main aim is for the restoration of democracy, human rights and genuine peace in Burma. HURFOM is a non-profit organization and all its members are volunteers who have the same opinion for the same aim. By accepting the main aim, we would like to participate in the struggle for the establishment of a democratic Burma doing our part as a local ethnic human rights group, which is monitoring the human rights situation in Mon territory and other areas in the southern part of Burma.
The Kachin Women's Association Thailand is a non-profit organization which works to eliminate discrimination and violence against women, enhance the living standards of women and enable them to participate in decision-making processes at all levels, and strengthen the quest for social justice, peace and development in the Kachin region.
The Network for Human Rights Documentation – Burma was formed in 2004 in order to provide a way for Burma human rights organizations to collaborate on the human rights documentation process. The 13 ND-Burma member organizations seek to collectively use the truth of what communities in Burma have endured advocating for justice for victims. ND-Burma trains local organizations in human rights documentation; coordinates members' input into a common database using a secure open-source software; and engages in joint-advocacy campaigns.
Comments