Weekly Overview: Human Rights Situation in Mon State, Karen State and Tanintharyi Region
HURFOM, Second Week of November
Now, perhaps more than ever since the failed coup, it has become abundantly clear that the military junta is losing the war it started. Widespread opposition to the regime's hostilities and attempted power-grab has resulted in military defections and a growing armed presence along the country's borders. On October 27, 2023, the Northern Three Brotherhood Alliance started a 1027 military operation in Northern Shan State. The military junta has lost many of their bases as a result.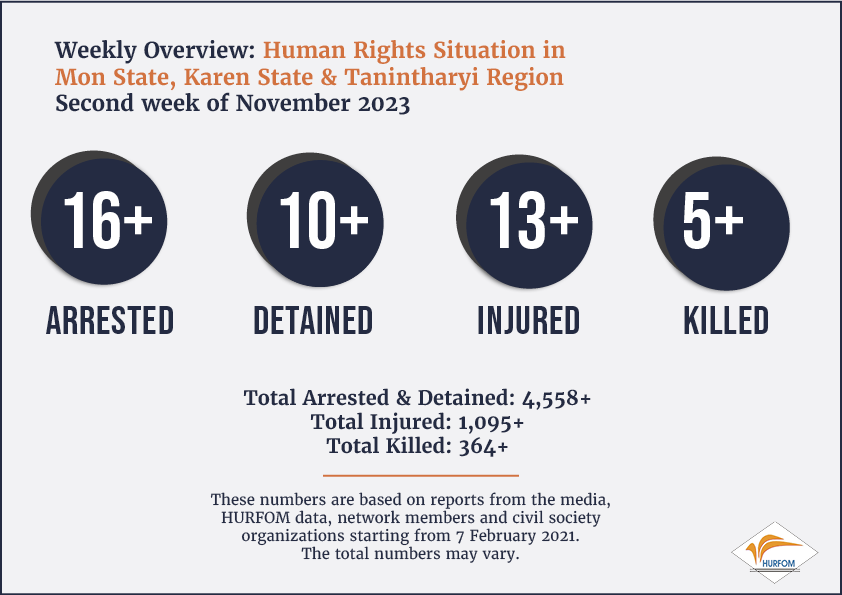 The 1027 operation also impacted Southern Burma, with the military junta tightening security more than usual in the Mon and Tenasserim areas, reported one resident. Combined groups consisting of soldiers, police members and security forces in civilian clothes are aggressively interrogating people at both entry and exit checkpoints to Mawlamyine in Mon State.
"I don't know why soldiers, police members and guards in civilian clothes have to interrogate us so much. They are stopping both cars and motorbikes. There was a lot of traffic at that place," said a driver from Ye Township.
In the wake of other heavy battles, the junta had not responded with such tight security measures. Locals have remarked that since the 1027 operation, the junta has been very serious.
"There were armed clashes before, but the security wasn't tightened like this. I think the Mon areas have tightened security due to escalating armed clashes in Shan State and Sagaing Division," said a resident.
The junta has also tightened security in Myeik City, Tenasserim Division, even though they have reduced some martial law measures. On November 1, 2023, the military junta announced that the curfew hours in Myeik City would be in place only for three hours per day — from midnight to 3 am. However, security forces have installed many barricades at junction points within the city.
"The Myike City Police Station created a barricade with a vehicle and installed barricades at many junctions. Now, there is tightened security. We must be careful with our movement," said a Myike resident.
The security forces have installed barricades in Kan Phyar, Shwe Hnin Se, Shwe Pyi Tan, Myo Thit Traffic Light, Ga Nan Yoke, East Thein Lan and Ka Yar Ne junctions and at the entrance of Highway Bus Station New Street in Myeik City.
Residents reported to the Human Rights Foundation of Monland (HURFOM) that although many barricades have been erected throughout Myeik, the junta forces are not yet conducting "stop and checks" of anyone.

Meanwhile, violence against civilians and their properties is ongoing. The number of houses burnt down by the military junta in October in Tanintharyi region was more than forty, the highest number in five months. Thirty-six houses in Yebyu Township, one in Long Lone Township, nine in Tha Yet Chaung Township, and 5 houses in Pu Law Township, and 51 houses were burnt down.
The villages where houses were torched down are Ba Gaw Soon, Ya Laing, Mu Du, Pa Ra Dud and Lal Shaung villages in Yebyu Township, Inn Ne Twin in Long Lone Township, Wae Yit, Thane Gone and Kyauk Kha Mauk villages in Tha Yet Chaung Township and Kyal village in Pu Law Township.
"To this day, I still feel sad about losing my house. Now we have to flee," said a woman whose house was set on fire in Yebyu Township.
Comments