Junta desperate for US dollars tries to exploit migrant workers
HURFOM: After the attempted coup,  many countries in the international community undertook some economic sanctions as a way to show their opposition to the junta. The World Bank also decided to halt loans to Burma.
As a result export income has declined, and economic sanctions of the international community are proving to have some impact.
Singapore recently decided to cut its dealings with two banks controlled by the junta.
These efforts are making it more difficult for the junta to access US dollars.
In response the junta has turned to exploiting migrant workers abroad, as a short term remedy to access US dollars.
On September 1, 2023, the junta declared that migrant workers abroad must transfer back 25% of their salary to Burma via official transfer systems to domestic banks. If not, they would be banned from working abroad for three years.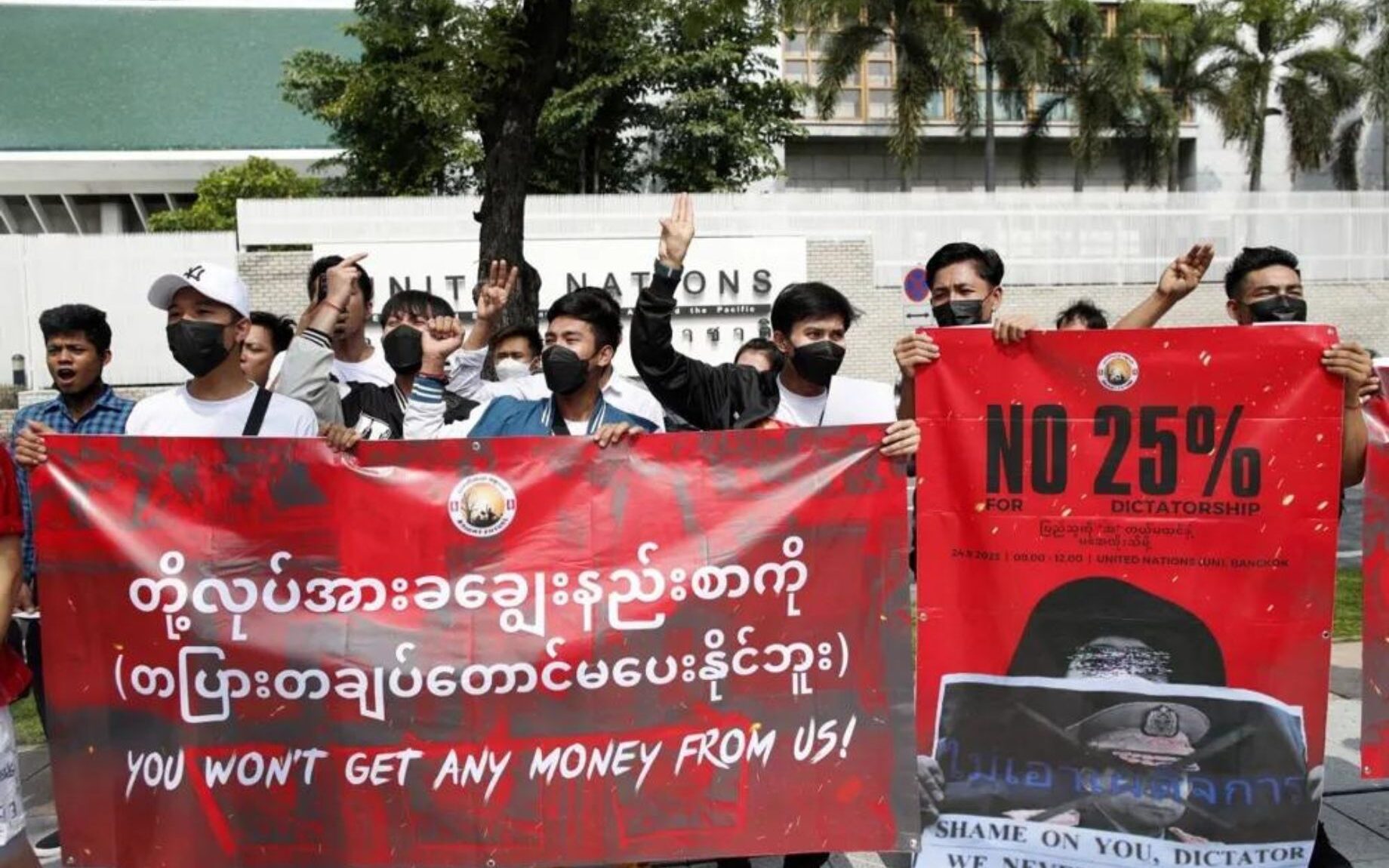 "We've worked like slaves to get this money and we have to send 25% to the junta. It's totally unfair. When we were in trouble abroad, no one came to help us," said a Burmese migrant worker in Thailand.
When transferring their salary to their families, most migrant workers use a fast, simple and illegal money transfer agency, rather than the complicated and often delayed official banking system.
After declaring the new law targeting migrant workers, the junta began to arrest illegal money transfer agencies and their brokers in Mon State.
From September 15 to 17, 2023, five illegal money transfer brokers were arrested in Kyike Hto, Paung and Thaton Townships and face charges under section 171 of the Monetary Association Laws Act.
"They've arrested illegal money transfer brokers to increase the pressure on migrant workers to use the official banking system. If so, they (the junta) will get 25% (of their salary)," said a local source.
Critics of the new law note the junta already exploits income from natural resources extraction to kill its own people. Migrant workers are unwilling to send their salary back to banks controlled by the junta as they don't want their salary to be a contribution to killing people in Burma.
In addition, the junta controlled banks use an exchange rate that is much lower than the exchange rate being used in the actual market.
On September 19, 2023, one Thai Baht was equivalent to 96.5 MMK in the actual market but the junta-controlled banks say the Thai Baht is equal to 55 MMK. One US dollar is equivalent to more than 3,000 MMK in the actual market but one US dollar is priced at more than 2,000 MMK in domestic banks.
After the attempted coup, the numbers of workers interested in working abroad sharply increased and many go abroad via legal Memorandum of Understanding (MOU) pathways with select countries, or via undocumented routes.
"Migrant workers who came under MOU agreements often have to do jobs which are different from the job classifications described in their MOU contract. Even though they came with an MOU, they couldn't get that type of job when arriving here. They had to wait for months. It's terrible," said a migrant worker in Thailand.
The junta is now also pressuring "foreign work agencies" to make sure that migrant workers had signed documents agreeing to send 25% of their salary back to their mother country before they leave the country.
"I had to sign the document. But I don't know how to transfer back my salary," said a migrant worker who recently left Burma.
"One of my friends had gone to Korea for work and he/she had to sign a document before their departure agreeing to send back 25% of their salary. It's compulsory," said another local source.
The National Unity Government says this latest move by the junta is a breach of the 1999 Foreign Work Law, and is abusive and oppresses migrant workers.
Comments