Weekly Overview: Human Rights Situation in Mon State, Karen State, and Tanintharyi Region
Fourth Week of September 2022
HURFOM: As the month of September 2022 comes to an end, the Human Rights Foundation of Monland (HURFOM) continues its monitoring of the security situation on the ground in Southeastern Burma, particularly in Mon State, Karen State and Tanintharyi region. Over the last few weeks, the situation is worsening against the backdrop of growing hostilities. Grave atrocities continue to be perpetrated by the military junta.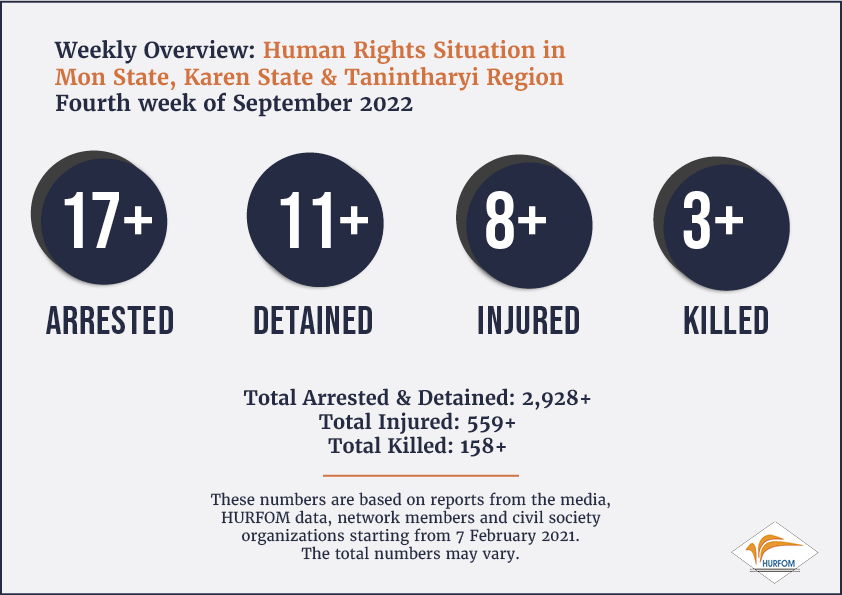 The Burma Army has relentlessly shelled civilian areas and endangered the lives of innocent villagers. On 17 September 2022, an internally displaced woman, originally from Taung Zu village, Mone Township, Nyaung Lay Bin district, was killed when a mortar shell struck her. The deceased, Naw Thu Lae Pae, was 46 years old and the mother of several children. She was hit while trying to find food. A bag of rice was found at her feet. Between 17 and 21 September 2022, many villagers, including Naw Thu Lae Paw, were forced to relocate with their families as indiscriminate firing targeted civilian locations. A local reported to HURFOM: "No one knows who the next victim will be. We can be killed at any time." At the time when mortar shells hit Naw Thu Lae Paw, there was no active armed conflict. Women living in conflict zones are facing increased risks when they leave temporary shelters to find food.
Last week also marked International Peace Day which was commemorated on 21 September 2022. In a statement with the Network for Human Rights Documentation – Burma (ND-Burma), HURFOM Program Director Nai Aue Mon remarked on the state of peace in Burma: "Peace means freedom, equality, and justice. These are the essential values for every human being. When we talk about peace building, it is clear that federalism is the only pathway for a country like Myanmar."
Young people, primarily men, are routinely arrested by the junta on false, baseless accusations of having loyalty and involvement with armed groups. Ko Aung Wai Yan Tun, who was unjustly arrested on the morning of 11 September is still missing, according to his family. He is a Technology University Student from Dawei Tech University, originally from Kyet-Sar-Pyin Ward, Dawei. The junta took him away on suspicion of being affiliated with local People's Defense Forces. His aunt said that she does not think that the military will release him as the case has already been opened. However, where and how he was arrested is still unknown. Four others remain missing.
In Karen State, residents said a drone flew over a military base in Hpa-An, and then the junta opened fire and abducted at least two innocent civilians nearby, according to eyewitnesses on September 16th, 2022. At 8:00 PM a drone flew over the Light Infantry Battalion No. Armor Repair Unit. (151), which operates under the Military Council Division No. (22) in Hpa-an. Afterwards, villagers heard several indiscriminate gunshots and assumed the junta troops attempted to shoot down the drones. A source near the shooting described the arbitrary arrests: "An estimated 20 troops with guns pointed at the residents grabbed two young men by accusing them of using drones and attempted to attack them. These young locals were ordinary civilians, and they were innocent."

In Dawei, civilians continue to experience a complete and utter lack of safety. Locals reported that a villager was killed, and at least five were arrested by the Light Infantry Battalion No. 401 in Kalone Htar village, Yebyu, on the morning of September 21. A total of 100 troops entered the village and killed a civilian, by knife, during the rubber plantation. The remaining three villagers pleaded to not be killed and were arrested. "These troops went into the village's Buddhist Monastery and abducted two more villagers for no reason," said two witnesses who talked to HURFOM. Nonetheless, young brave activists in Dawei are still pursuing peaceful protests despite the grave danger and numerous challenges in their areas. "We must continue raising our voices as the revolution is longer than we predicted. We are worried that the movement's momentum will slow down."
While civilians battle ongoing uncertainty, international bodies including multiple affiliates of the United Nations are signing MoUs with the military junta signaling that impunity is likely to continue. HURFOM joined a statement alongside over 600 human rights groups condemning the UN's compliance with the military junta's war crimes.
Comments